Winter Wellness Retreat
The Season To Rest and Restore
February 16 - 19, 2022
This February, join us for our very special Winter Wellness Retreat at Los Poblanos. The new year brings a renewed sense of hope and the opportunity to pause and focus on one's health and well-being. Here at Los Poblanos, we define well-being in a holistic way, and have designed this retreat experience to enlighten four areas: physical, mental, social and personal growth. From creating a personalized wintertime skincare regimen and centering with a sound healing session to a guided tea tasting demo, each expert-led session will help you come away refreshed and equipped with new ways to incorporate wellness into your daily life.
All sessions will be held in small, socially distanced groups to ensure safety and comfort, with a thoughtfully planned schedule to allow for plenty of time to relax and experience the farm at one's leisure. Throughout this retreat, enjoy organic meals prepared by our award-winning culinary team and rest easy in our healthy, relaxing guest rooms.
This Retreat Includes
A luxurious three-night stay at the Inn - check in after 4 pm on Wednesday, February 16, check out before 11 am on Saturday, February 19
Welcome cocktail reception
Five guided winter wellness sessions
Winter Seasonal Facial at the Hacienda Spa
Six-course Savor de Legumbres Dinner with sommelier pairings on Friday, February 18 at La Quinta
Breakfast daily at Campo (excluding alcohol and gratuity)
20% off in-store purchases at the Farm Shop between February 16 and 19
Additional Amenities to Enjoy
Additional treatments at the Hacieda Spa (booked separately)
Daily classes at the Wellness Yurt
Fitness center
Cruiser bicycles
Please note, this retreat involves walking outdoors on gravel paths and uneven farmland. Come prepared with comfortable walking shoes and weather-appropriate attire.
The retreat was just great. Perfect length of time, perfect amount of workshops.
Winter Wellness Sessions
Winter Skincare Workshop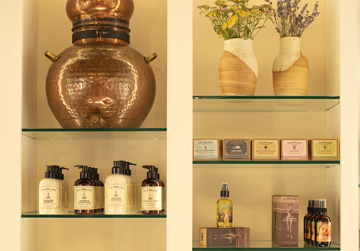 Brandilyn Fagan, Licensed Esthetician and Director of Lavender Sales at Los Poblanos, will guide you through an interactive skincare routine designed specifically for dealing with the effects of harsh winter weather. This will be a unique opportunity to deepen your understanding of skincare, learn about the naturally healing properties of our organic lavender, and engage with our in-house expert. Time will be allotted to ask questions regarding a personalized routine and you'll take all the items used in the regimen home with you.
Guided Meditation & Sound Healing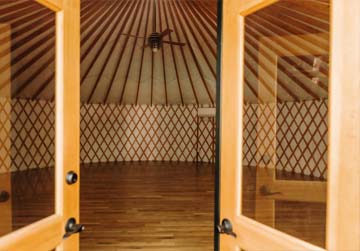 Sound has been used since ancient times as a tool for healing and awakening to our fullest potential. The practice creates an opportunity for a profound experience of release and well-being, by freeing physical tension and shifting emotional and mental blocks. The session and meditation will include breathing, light stretching and relaxation techniques involving sound. Reconnect with your breath and the earth.
Aimee Conlee is certified in Sound, Voice and Music Healing from the California Institute of Integral Studies and a teacher of 'Yoga of the Voice' method. She has a deep connection to the land and sounds of Los Poblanos having worked in this special place for more than a decade.
Lavender in the Greenhouse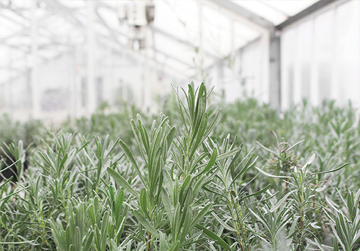 Lavender farming is a year-round process here at on the farm. Although most people associate June and July with peak lavender season, the winter is actually a very special time of year in the annual lavender cycle. Our Historic Lord & Burnham Greenhouse will be filled to the brim with young lavender plants that were propagated by hand by our farmers and will be planted outside come springtime. During this session you'll be treated to a behind-the-scenes tour of the greenhouse and meet some of our expert lavender farmers. Then, we'll guide you in making a bath salt kit using our organic lavender essential oil. The natural healing properties of lavender and detoxifying elements of Dead Sea salt make for a relaxing retreat this winter.
Artisan Tea Tasting & Blending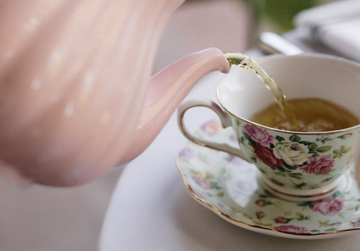 Tea is an essential medicine for our body and spirit, especially in these most delicate of times. Dana Blair, owner and founder of Taos-based tea.o.graphy, will share her expertise in blending and preparing fine teas. Tea.o.graphy's small batch teas are hand-crafted using traditional methods and creative botanical blends. Each one has unique properties that are balanced, nourishing and perfect for a cozy winter day. You'll have the chance to sample herbal, green and black teas - including the ones tea.o.graphy makes exclusively for Los Poblanos – and learn about the health benefits of each type.
Fireside Music & Stargazing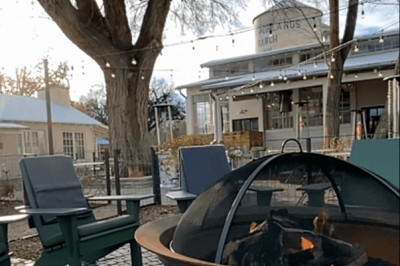 Warm up with a mulled winter cocktail crafted by the Bar Campo team as you enjoy an evening of fireside music and stargazing. Our high altitude, low population density and dry climate make New Mexico a perfect destination for dark skies. Whether you're moved by the scientific or spiritual aspects of stargazing, you'll come away deeply relaxed and inspired by the majesty of the night sky.
Loved the skincare class and the knowledge that was shared. The yoga was nice to relax and gain focus. Loved the sound session with Aimee - she was so full of life and energy and good tips for using sound to calm the mind.
Savor de Legumbres Dinner
at La Quinta
A Celebration of earth's bounty
Friday, February 18 | 6:30 PM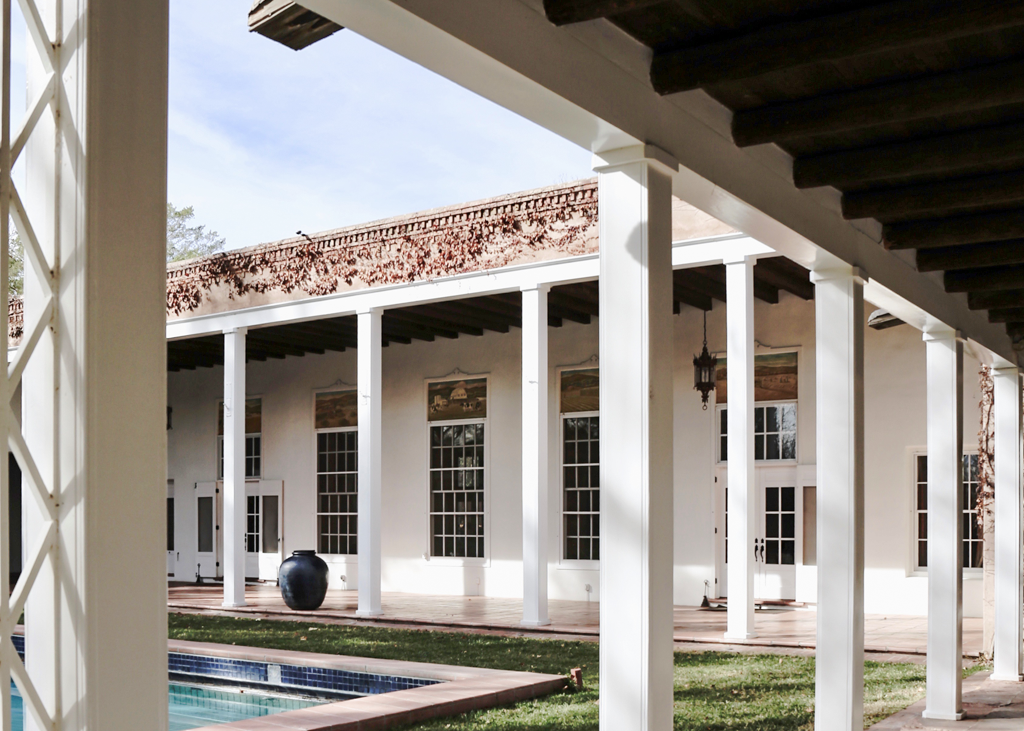 At Los Poblanos, our year-round commitment to local produce means following the rhythms of the seasons, both on the farm and in the kitchen. Come winter, cool season crops like root vegetables and hearty greens help keep our hoop house – and plates – full when the temperatures drop. Our culinary team, led by Executive Chef Jonathan Perno, lean heavily on these seasonal vegetables, as well as crops harvested in the summer and fall that have been carefully preserved to maintain, and in many cases augment, their fresh flavor. This evening's vegetarian menu dishes will be thoughtfully paired with beverages selected by Los Poblanos Director of Wine & Spirits, Dylan Storment, that similarly reflect the alchemy of preservation and fermentation.
menu
FIRST COURSE
Toasted Yellow Corn Polenta
sauteed greens, roasted onions, pecorino
paired with Domaine Ostertag "Les Jardines"
SECOND COURSE
Sauteed Mixed Mushrooms
potato broth, Sonoran wheat berries, lemon, fresh herbs
paired with Kruger-Rumpf Pinot Noir Trocken Rosé
THIRD COURSE
Marinated Red Beets
green chile, celery root, potato puree
paired with Sheehan "Elyce Vineyard" Chambourcin
FOURTH COURSE
Quinoa Pancake
carrot ribbons, maple mustard sauce
paired with Punta Crena Rossesse
FIFTH COURSE
Baked New Potatoes
parsley arugula sauce, Tucumcari feta
paired with Catherine et Pierre Breton, Bourgueil Nuits d'Ivresse
DESSERT
Sweet Potato Cheesecake
caramelized milk jam, ginger sable, roasted grapes
paired with Fonseca 20 Year Tawny Port
Please note, menu is subject to change.
Exactly what I needed. Short of moving into a room there, it was as enjoyable as could be.
Reserve Your Space
Double occupancy package rates start at $3,012 ($1,004 per night) plus tax and service charges.
Single occupancy package rates start at $2,016 ($672 per night) plus tax and service charges.