John Gaw Meem
The buildings at Los Poblanos were designed by famed architect John Gaw Meem, widely considered New Mexico's greatest 20th century architect and whose name is synonymous with Santa Fe style. Meem, famous for combining traditional regional architecture and twentieth century sensibilities, inspired New Mexico's classic style, known as Territorial Revival.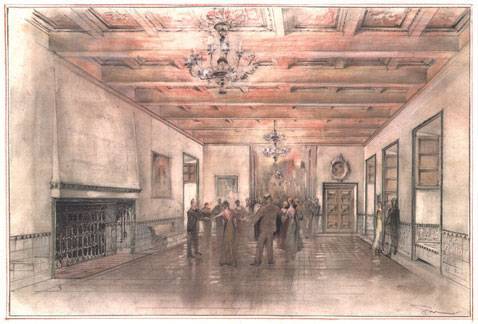 From the moment Meem first stepped onto the Santa Fe Plaza, in the early 1920s, while recovering from tuberculosis at the Sunmount Sanitarium, he was captivated by the city's unique architectural mix. After recovering from his illness, Meem made the city his permanent home, and set out to make his own architectural vision fit into the composition. Meem made his mark by reinterpreting New Mexico's centuries-old Hispanic and Native American architectural traditions. The resulting Spanish colonial, or Pueblo Revival, style would be Meem's greatest architectural accomplishment.
Nearly all of Meem's designs are rooted in the traditional residential and ecclesiastical buildings that he saw in Hispanic villages throughout northern New Mexico. From the La Fonda hotel in downtown Santa Fe, to the University of New Mexico, where he designed 35 major buildings, to the Fuller Lodge in Los Alamos and Cristo Rey Church in Santa Fe, Meem's architectural influence is firmly established throughout New Mexico. The modern art deco Colorado Springs Fine Arts Center that Meem designed in 1934 earned him a national architecture award and is a further testament to his architectural genius.