Artisan Lavender Products
Crafted with care in small batches, Los Poblanos artisan lavender products have a sense of place. Directly from the land of New Mexico, each product carries the story of our family-run organic lavender farm and historic inn. Our lavender fields are tended by hand and harvested at the optimal time each year to yield the highest quality essential oil.
A Handmade Story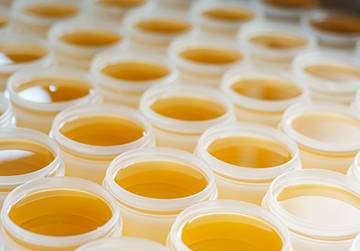 Time and care go into each product. Our signature Lavender Salve has been healing dry hands since its inception decades ago. It was originally created by founder and owner Penny Rembe as an intensive treatment to soothe hard-working hands around the farm, and her original recipe is still used to this day. As farmers and artisans, we care about our ingredients and pay attention to the details.
Healing Lavender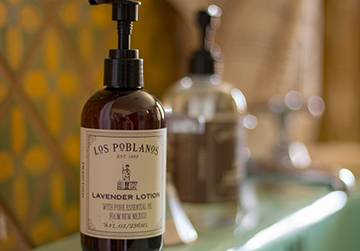 Lavender's soothing medicinal and aromatic properties have made it a versatile and popular herb for centuries. An effective herb for healing cuts, burns and so much more, lavender has a soothing effect on the nervous system. Our lavender body products serve as room amenities in our historic inn. Inn guests truly experience the healing properties of our lavender fields. The full line of products are also available in our retail shops and online.
The farm is a vibrant example of local, sustainable practices and products that come from land fertilized by the Rio Grande watershed for ages.

from "Plants that Nourish" in Local Favor Magazine
Los Poblanos Retail Partners
Los Poblanos is currently seeking retail partners to represent our artisan lavender product line. To be considered for partnership, please complete our inquiry form.