The Historic Hacienda
An Intimate Space Rich With History
Nestled in an original, historic home designed by the father of Santa Fe style, John Gaw Meem, the Hacienda Spa is an intimate space that encourages a sensory spa experience. The stunning courtyard, luxurious lounges and surrounding landscape evoke a sense of well-being that awakens all the senses. Informed by the elements of nature, the unique treatments and elegant space work harmoniously to provide the ultimate immersive experience.
Hacienda Courtyard

Reception

Women's Changing Room

Waiting Lounge

Sala Grande

Treatment Rooms
Hacienda Courtyard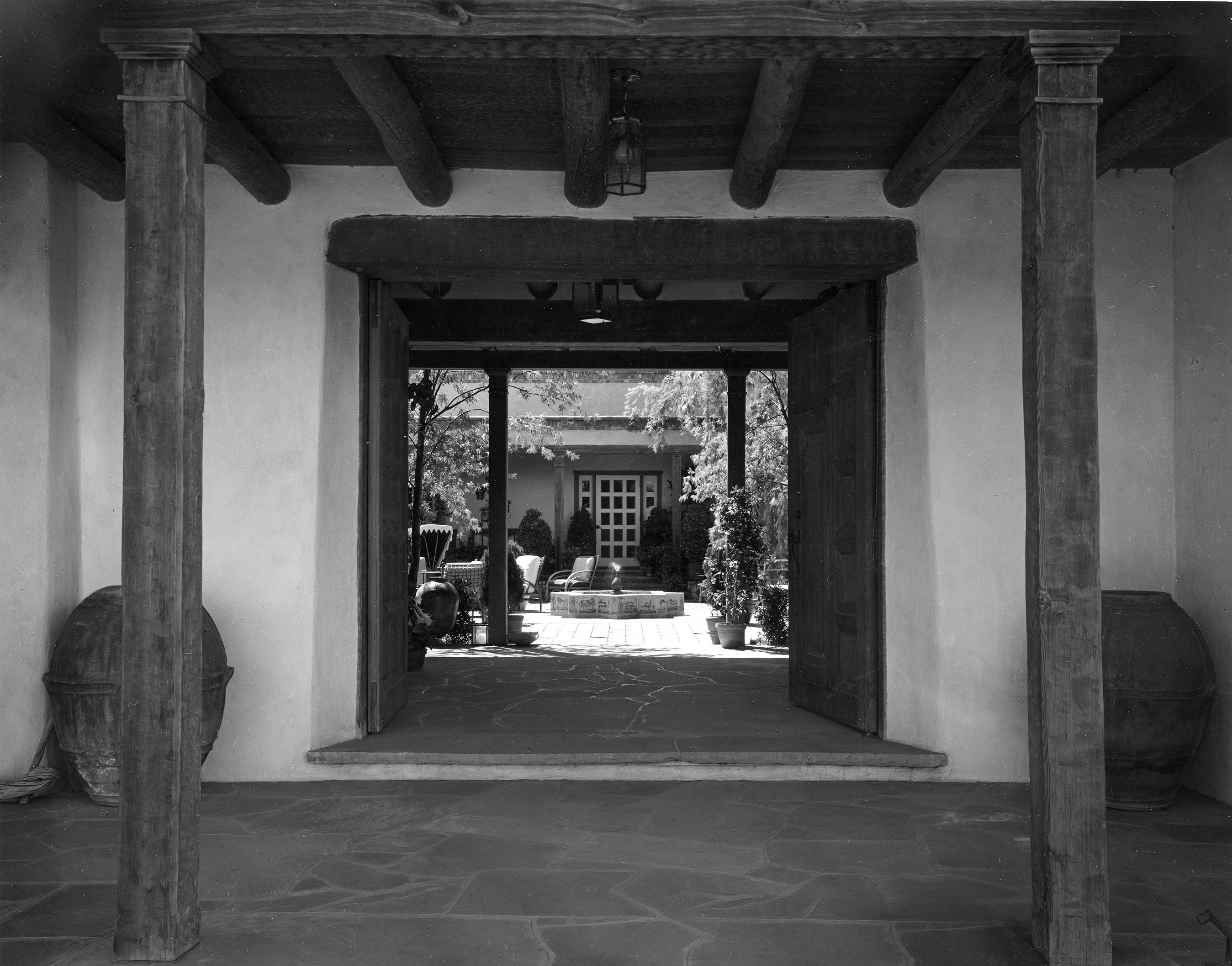 Beautifully photographed by Laura Gilpin in the 1930s, the Hacienda's Spanish courtyard, dripping with Lady Banks' roses and lush greenery, offers an enveloping, welcoming space with its star-shaped Moorish fountain, massive carved doors and kiva fireplace. The glistening fountain tiles, along with the brick, flagstone and tile walkways provide color and texture throughout the seasons. This intimate setting embraces guests before and after treatments, offering a nourishing space to soak up every restorative moment.
Reception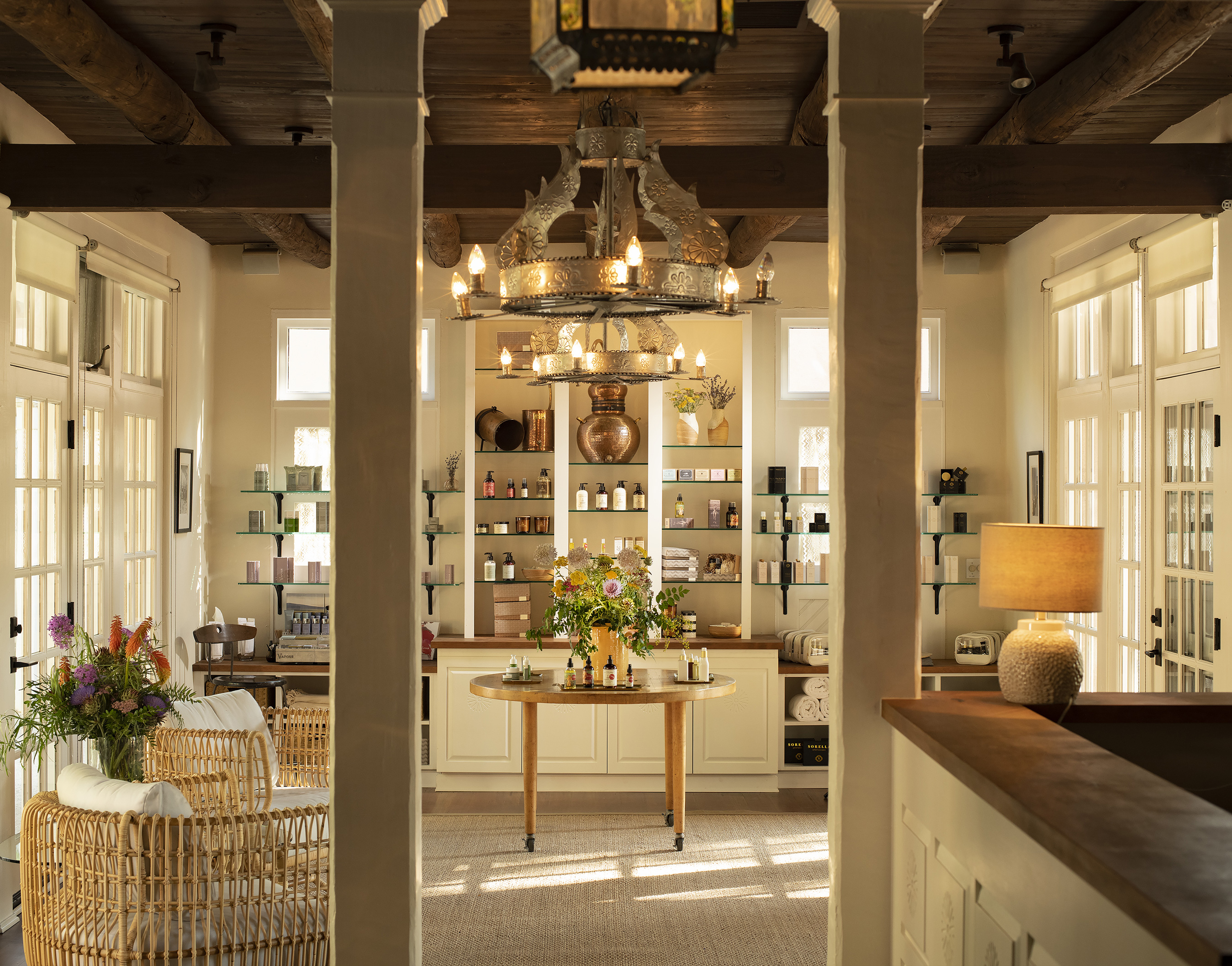 As you enter the Hacienda Spa, be welcomed in this bright, window-lined room. From intricate punched tin light fixtures to custom made cabinetry, every detail was thoughtfully considered to create a relaxing and tranquil space from the moment you enter.
Women's Changing Room


Lining the walls of the women's changing room are intricate, staggering panels painted by Paul Lantz in 1936. These gorgeous bathing scenes originally functioned as doors in the ladies' changing room at La Quinta, for bathers luxuriating in its swimming pool. You'll also find this artwork replicated on the Los Poblanos Organic Lavender Skin Care Oil and Facial Toner product labels.
Waiting Lounge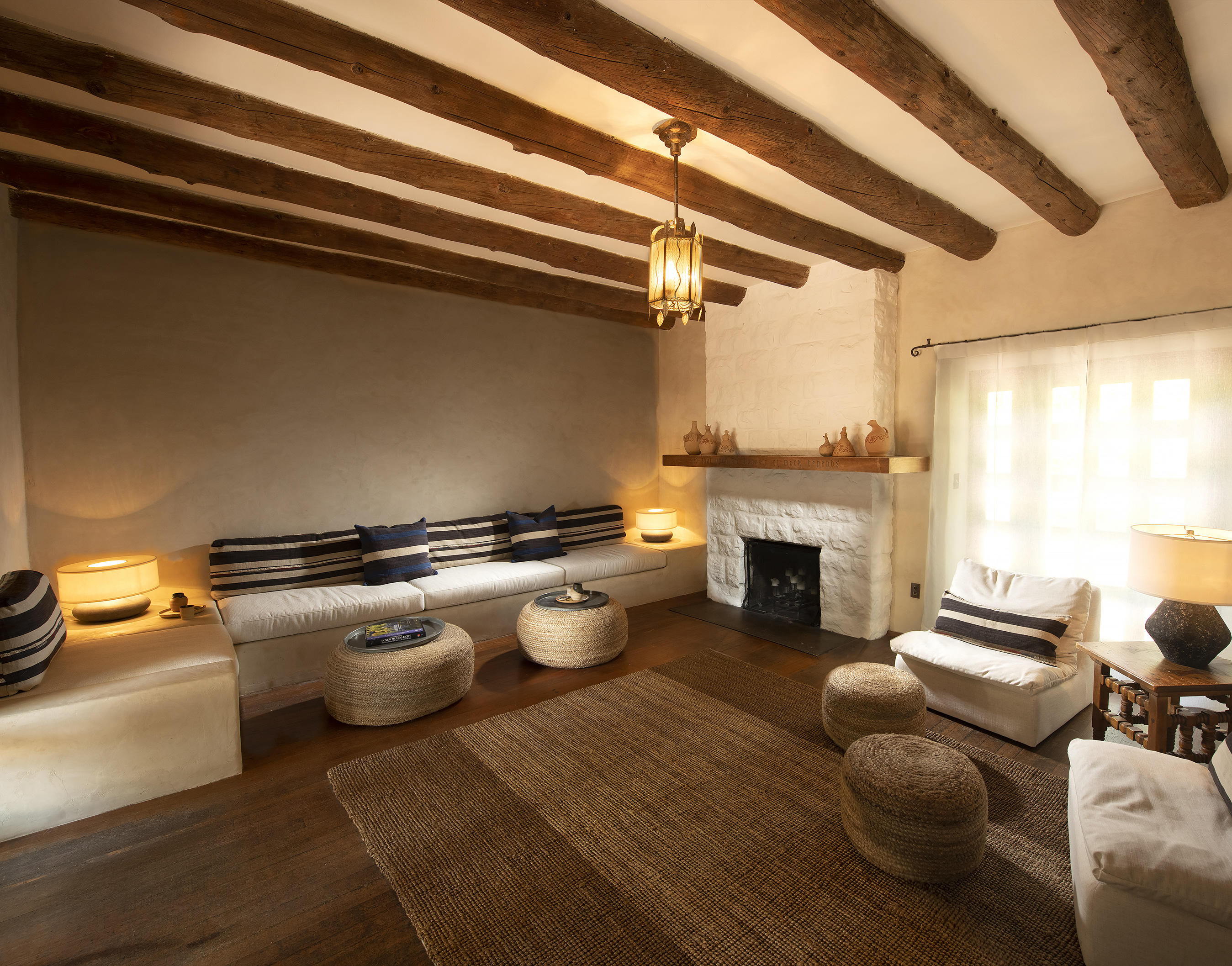 Guests will feel calm and grounded in this quiet space filled with natural textures and textiles. From the adobe banco and fireplace to the wooden beams and hardwood floors, this room evokes a sense of calm and is the perfect space to transition from the outside world to the serene Hacienda Spa environment.
Sala Grande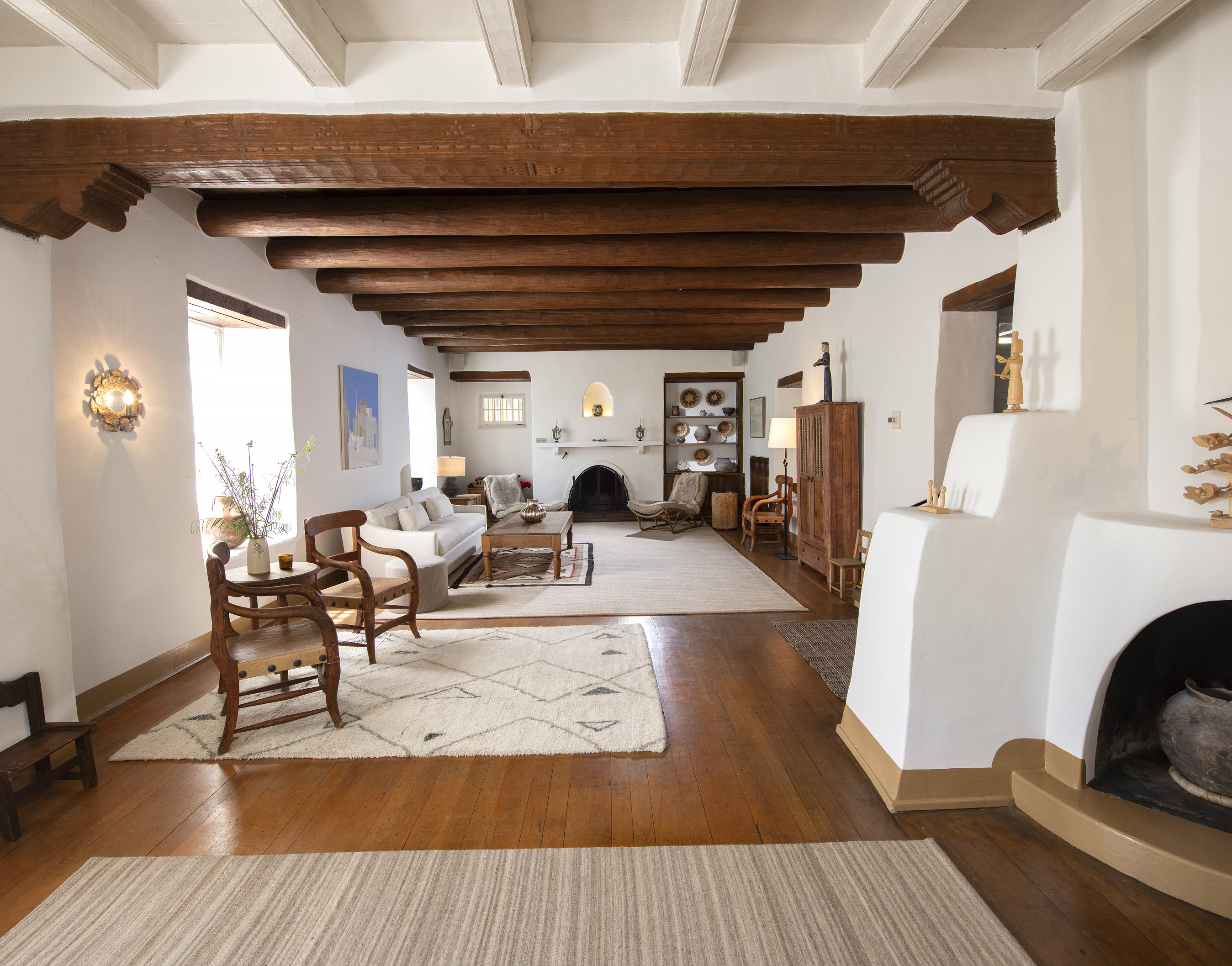 A stunning example of John Gaw Meem's architectural style, the fireplace centered on the far wall draws attention first. After descending the two steps into the room, you'll notice the informal alcove to the left with its own fireplace. Emphasizing the sculptural massiveness of adobe, Meem designed the Sala Grande to be rich with detail and dignified monumentality. Great wooden vigas, deeply set windows and luxurious furnishings make this cozy lounge the ultimate space to relax and soak up moments of serenity.
Treatment Rooms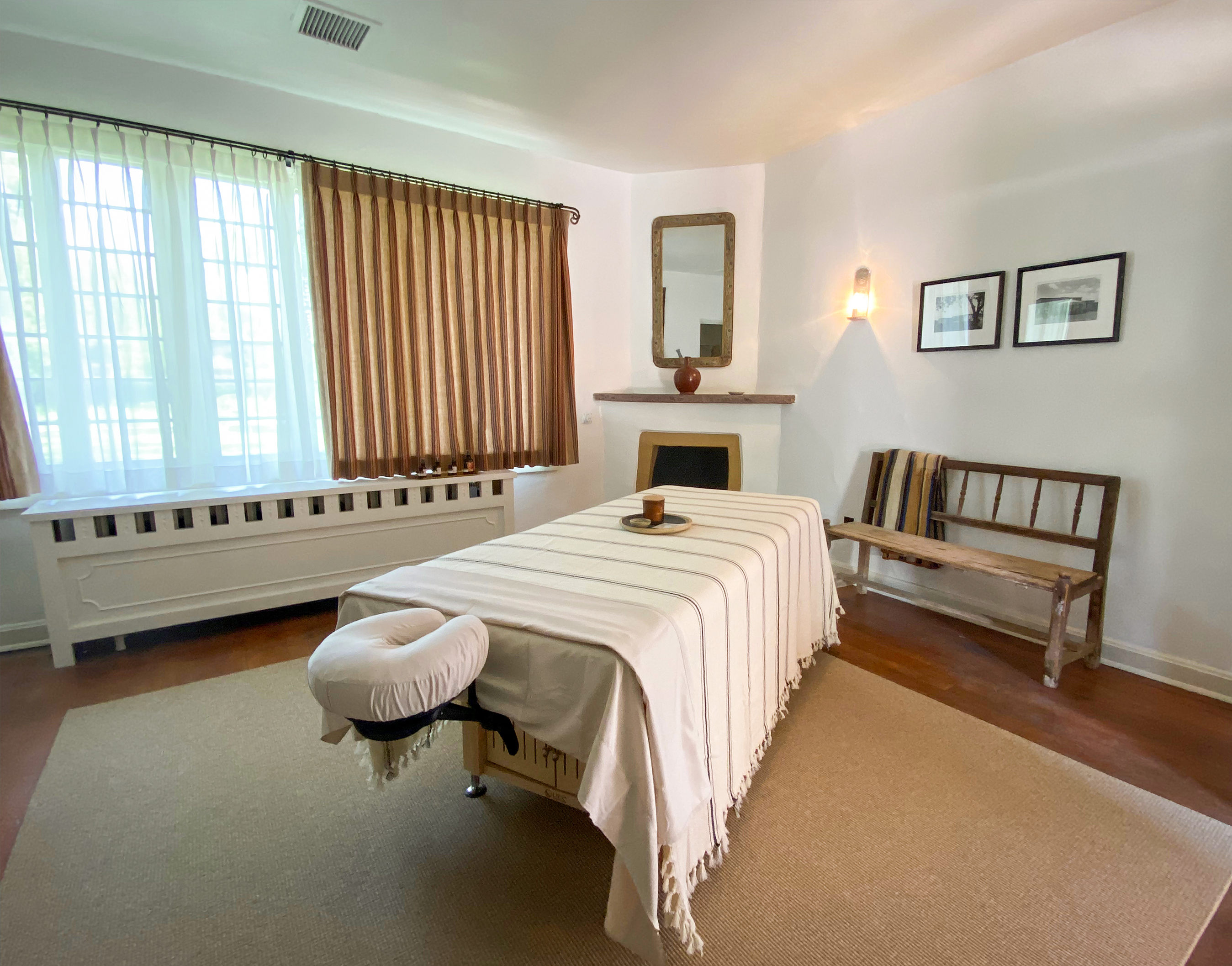 The six treatment rooms of the Hacienda Spa boast more of John Gaw Meem's architectural design with kiva fireplaces, massive vigas and deeply set windows that overlook the lush grounds, Greely Garden, lotus pond and Sandia Mountains. Classic New Mexican furnishings, luxurious textiles and original art come together to create a magnificent spa environment that honors our historic roots and is distinctly Los Poblanos.