Visit Us
Visit any of our locations for a unique experience with distinct Los Poblanos flavor. While each shop is different, you will always find Los Poblanos lavender products, our Farm Foods collection and a variety of objects to elevate your table, pantry or picnic. We work with local artisans, craftspeople and growers, and look far and wide for pieces that delight and inspire. Historic preservation is at the core of our mission and each of these destinations inhabits a space that tells a piece of the New Mexico story. Stop by to experience Los Poblanos hospitality and celebrate La Vida Generosa – the generous life.
The Farm Shop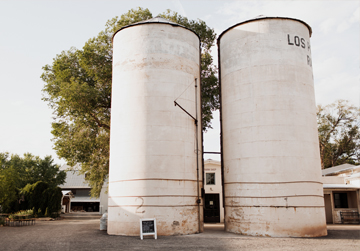 Our flagship location, the one-and-only Farm Shop, is housed in renovated, historic dairy barns at the feet of our iconic 1934 silos. The Farm Shop wares reflect our wonderful corner of the Rio Grande Valley and include Los Poblanos' signature lavender products, the Farm Foods collection, fresh baked goods and items to enliven your table, garden, bookshelf and more. The Farm Shop is the perfect destination for out-of-town guests and locals alike to escape to the farm and find that perfect something for yourself or someone special.
Farm Shop
Daily | 9:00 am – 6:00 pm

Farm Foods Counter
Daily | 9:00 am – 4:00 pm
Town & Ranch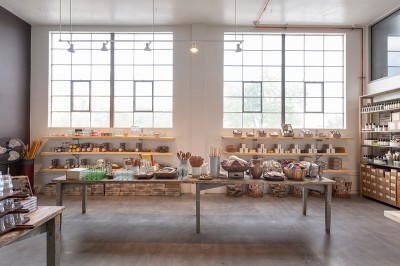 Town and Ranch is a destination in downtown Albuquerque to enjoy Los Poblanos Botanical Spirits Gin, and shop for New Mexican beer, wine and spirits and artisanal market foods. We offer a unique selection of barware, objects for the home, and our complete line of Los Poblanos lavender apothecary products. Visit Town and Ranch to find provisions for an elevated nosh board, the perfect gift or your favorite bottle of Los Poblanos gin.
Opening Tuesday, Oct. 4, 2022
Farm Shop at Town and Ranch
Tuesday through Saturday: 11 am – 7 pm
Town and Ranch Tasting Room
Tuesday through Friday: 5 pm – 9 pm
Saturday: 2 pm – 9 pm
Norte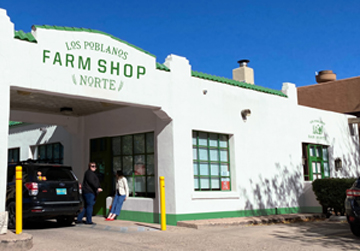 Farm Shop Norte offers a unique Los Poblanos experience in downtown Santa Fe. One block north of the Santa Fe Plaza, Farm Shop Norte is housed in a renovated 1935 Sinclair Oil gas station/farm supply store. Farm Shop Norte invites Santa Fe locals and tourists to experience Los Poblanos lavender products and Farm Foods in this one-of-a-kind environment, alongside curated objects for the home and New Mexico wine and spirits. The tasting room (Bar Norte) is an intimate space to experience Los Poblanos Botanical Spirits and enjoy a light tasting menu.
Farm Shop Norte
Opening October 2022