Small Weddings
Thank you for your interest in weddings at Los Poblanos.
It has been our honor and delight to be part of so many special days throughout the years, from beautiful weddings and destination retreats to joyful birthday celebrations and baby showers. It is with heavy hearts we must inform you that our medium and large event and wedding reception business is on hold indefinitely. This was an incredibly difficult decision to make, yet with our state officials announcing that mass gatherings may not be possible for another 12-18 months, combined with restrictive social distancing protocols, the challenge to host these events has become insurmountable. What worried us the most was the challenge of keeping our community safe with the celebratory nature of larger events – with dancing, hugging, drinking, lounging, and close-talking all being natural components of gathering in celebration. It would have been extremely challenging to meet client expectations and keep our team safe.
For couples who are interested, we are offering an intimate, elopement-style celebration for a small number of guests, allowing for a special ceremony on the farm followed by a memorable culinary experience with their closest friends and family. Currently, under state mandate, these elopements are limited to five people, and we are hopeful that limit will be increased in the near future. As the future of large gatherings is unclear, our vision of memorable weddings at Los Poblanos consists of intimate outdoor ceremonies in nature followed by a special culinary experience shared with the people that are closest to you, with a maximum capacity of 18 guests, given state permissions.
As we wait for new state mandates on gathering sizes, all currently booked social and corporate events are also on hold. We are accepting inquiries for social and corporate events of five people or fewer at this time, and envision these types of gatherings to remain small in the future, with a maximum capacity of 18 guests, given state permissions.
Looking forward, we are evaluating opportunities to utilize La Quinta for more cultural and well-being programming related to our mission, such as culinary events, book talks, art shows, yoga, music, lectures on art and architecture and small-scale private dining experiences. This more sustainable direction is part of our long-term strategy to become more of a destination for well-being experiences and transformative travel.
All our decisions have been driven by trying to do the right thing for our clients, our staff, and the long-term sustainability of our business. We thank you for your patience and understanding as we work through these new challenges, and are grateful for your continued support. If you have any questions, please don't hesitate to contact us.
Year Round Elopements
Spectacular views of the Sandia Mountains and private gardens offer a fitting backdrop for your serene, intimate nuptials. Beautiful indoor and outdoor spaces are available for celebrations with your closest family and friends.
Private Dining
Consider private dining at Campo for intimate bridal showers, brunches, rehearsal dinners and receptions featuring our award-winning Rio Grande Valley Cuisine. To inquire, call 505-338-1626.
Lodging
For an immersive Los Poblanos experience, reserve rooms at the Inn for your guests. Spend memorable days on the farm with those near and dear to you, and experience luxurious suites and warm hospitality.
Honeymoons & Anniversaries
The ideal escape for the perfect honeymoon, our guest rooms are well appointed, private and luxurious. We welcome our happy couples back each year for anniversaries, view our Accommodations page for packages and specials.
Our wedding at Los Poblanos was a literal dream come true! The venue is gorgeous and rustic. We wanted a venue where we did not have to decorate much; we wanted the natural beauty to shine through... Planning an out-of-state wedding can be stressful but the team at Los Poblanos made it much easier.

Married December 15, 2018
Locations
La Quinta Grand Ballroom

Gilpin Gallery in La Quinta

La Quinta Grand Portal

Fireplace Terrace at La Quinta

The Hacienda

The Barn Commons Meeting Room
La Quinta Grand Ballroom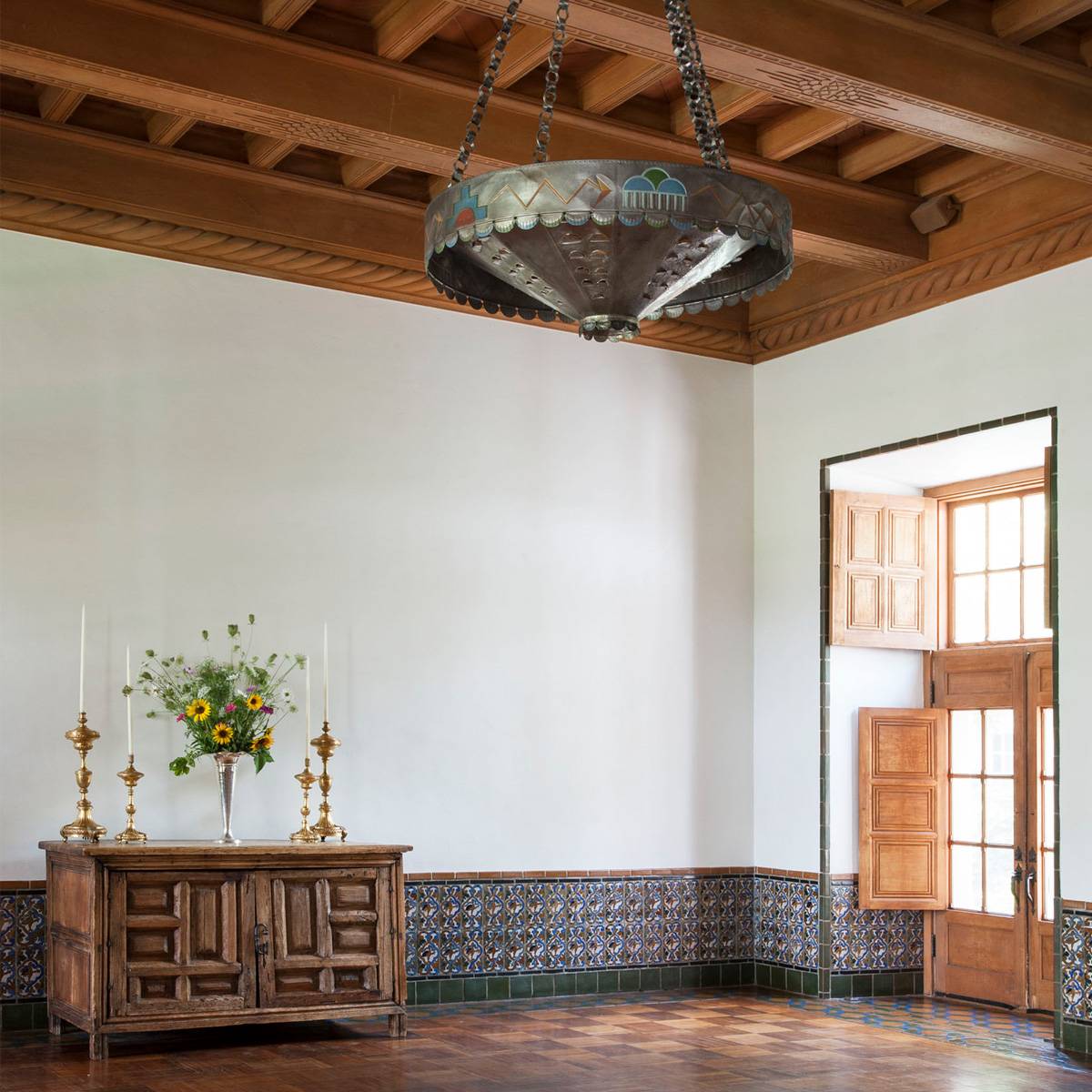 One of John Gaw Meem's architectural masterpieces, the Grand Ballroom is undeniably one of the most stunning venues in New Mexico. The room's parquet walnut floors, hand carved ceilings, decorative Spanish tile and monumental fireplace make it a magnificent setting for truly memorable events. Four sets of French doors open to the surrounding gardens, the Grand Portal and the Fireplace Terrace.
Gilpin Gallery in La Quinta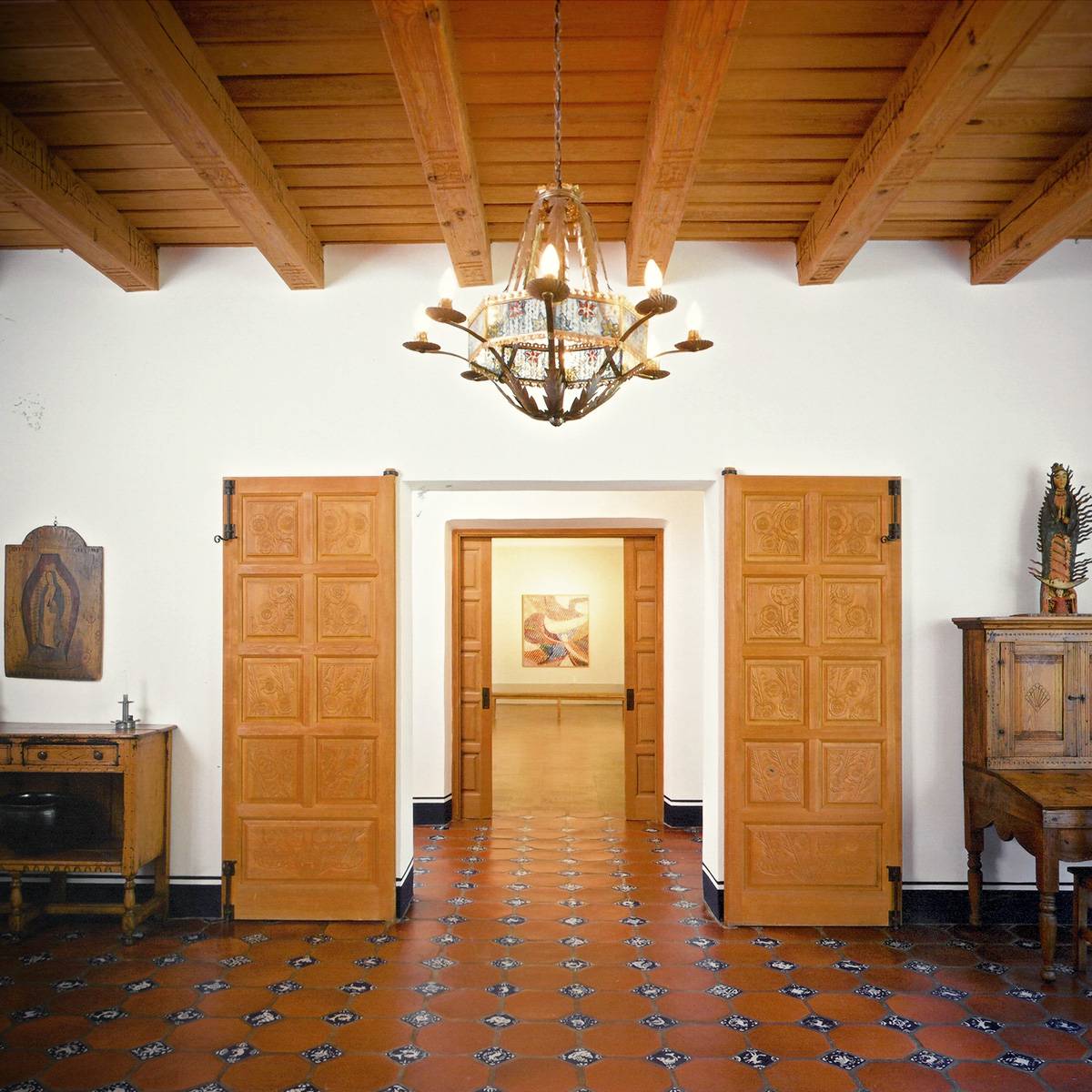 Opened in 1936 as Albuquerque's first art gallery open to the public, the Gilpin Gallery is ideal for board meetings, retreats and cocktail receptions. The room features four large windows for natural light, original cork floors and a permanent exhibition of black and white photographs taken by Laura Gilpin depicting the ranch in the 1930s.
La Quinta Grand Portal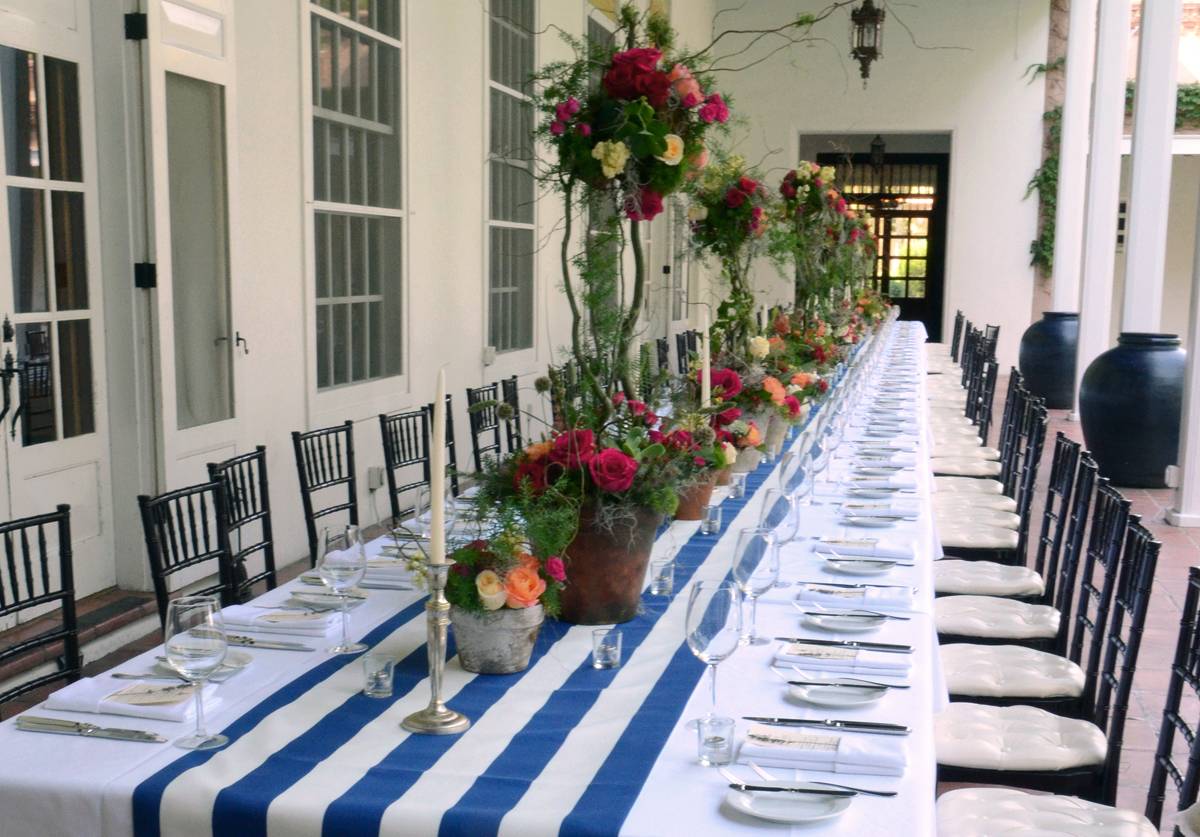 With magnificent views of the Sandia Mountains, the Grand Portal has a twenty-foot deep covered portico surrounding a Portuguese tiled swimming pool. The space features a true fresco painted by Peter Hurd depicting San Ysidro, the patron saint of farmers, and a series of small mural panels of pastoral farm scenes. The classical styling, size and grandeur create the perfect setting for al fresco dining and cocktail receptions.
Fireplace Terrace at La Quinta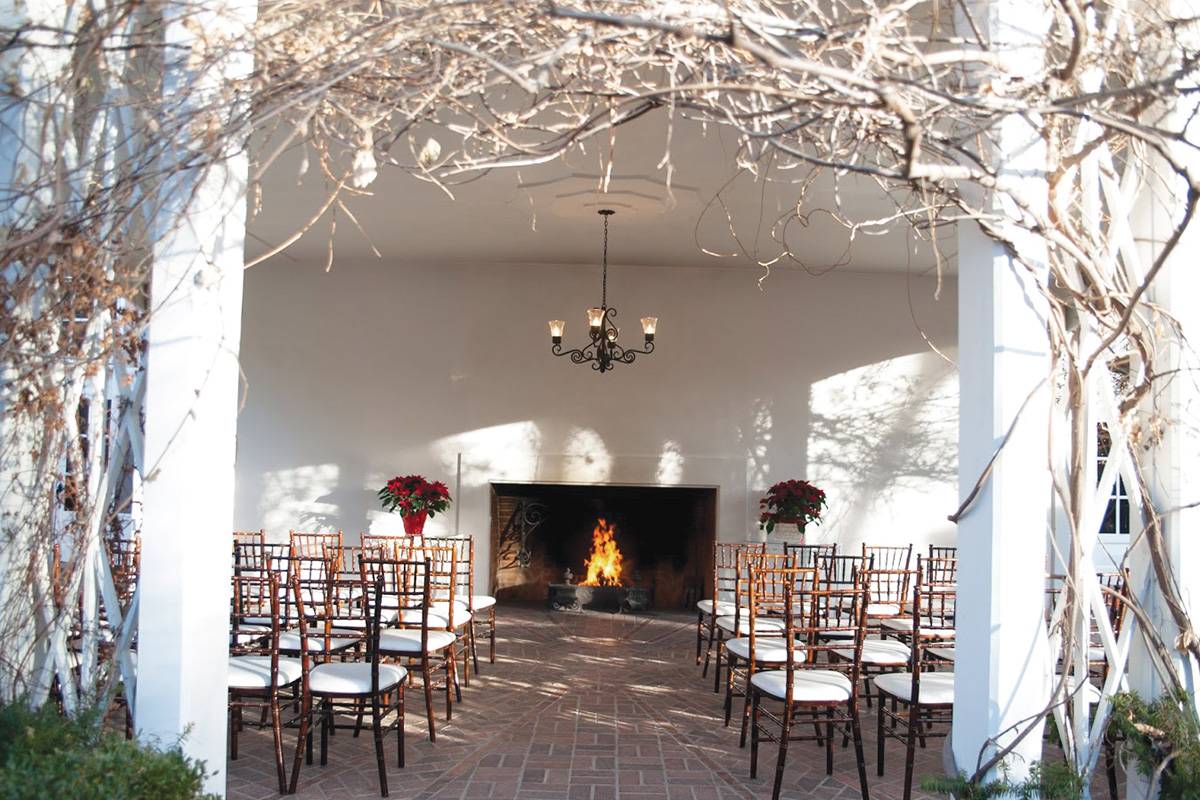 Located just west of the ballroom, this octagonal pavilion features a dramatic outdoor fireplace and lattice between paired posts. With its adjacent lawn and lush gardens this space can be used for small meetings, intimate dining, ceremonies and afternoon teas.
The Hacienda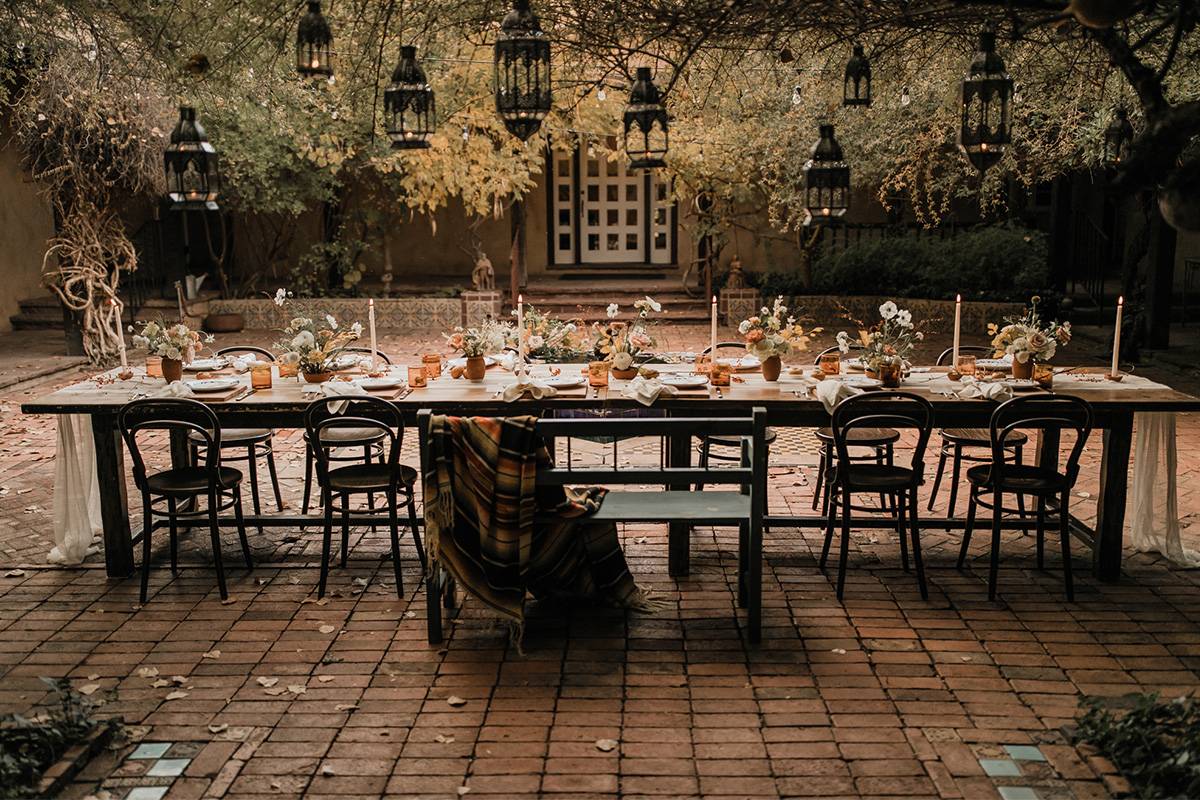 The Hacienda, one of John Gaw Meems residential masterpieces, is perfect for more intimate weddings, rehearsal dinners and farewell brunches. The Spanish courtyard, dripping with Lady Banks' roses and lush greenery, provides a dramatic backdrop with its Moorish fountain, massive carved doors and kiva fireplace. Dining in the Ventana Room offers beautiful views of the lotus pond, lawns and Sandia Mountains. And cocktails and passed hors d'oeuvres in the coziness of the Sala Grande can elevate the experience of any small gathering.
The Barn Commons Meeting Room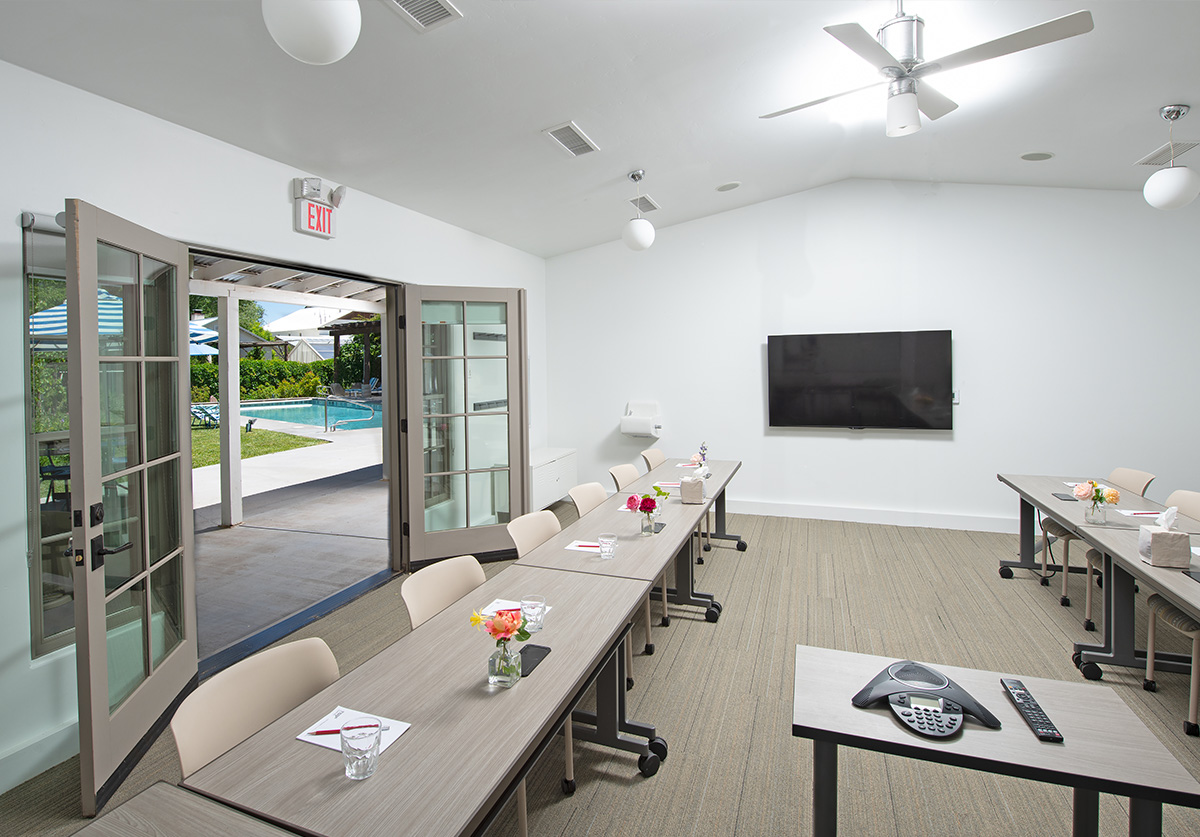 Located approximately 100 yards away from the Hacienda, this multi-purpose meeting and multimedia room can be used for a variety of functions – from business meetings to yoga classes. Spacious and airy, this space can be used for groups of up to 16 people.