Intimate Weddings
Wed, Relax and Retreat
Steeped in history with a distinct New Mexican sense of place, Los Poblanos weddings represent the very best of what we have to offer. From the stunning architecture of the historic La Quinta building to the award-winning Rio Grande Valley Cuisine, our 25-acre farm is so much more than just a wedding venue.
Every season offers something to revel in -- gardens bursting to life in spring, lavender fields in full summer bloom, sandhill cranes overhead on a clear winter day and fireside drinks in the library.
Weddings are capped at a maximum of 60 people to provide an ideal setting to gather around the shared table, enrich relationships and make meaningful connections. With 45 guest rooms, farm-to-table dining, a spa, daily yoga classes, tours and programming, there are many ways to enrich and elevate your wedding weekend.
We are currently accepting inquiries for 2024 weddings through the online form. Available 2024 wedding dates are updated on a rolling basis.
Please note: We are now fully booked for 2023 weddings.
The planning and attention to detail leading up to and during the event was just next-level. All of our family and friends traveled from Southern California and beyond for the wedding and couldn't have been more captivated by the Southwest thanks to Los Poblanos.

bride, married July, 2023
The Wedding Experience
The dreamy Albuquerque farm that might make you rethink your life.
The Wedding Package
Weddings at Los Poblanos reflect all aspects of our dynamic well-being model: the warm hospitality of our seasoned staff; well-appointed, luxurious guest rooms; award-winning cuisine and wine lists; and the chance to truly relax and recenter at our Hacienda Spa. Iconic, elegant buildings and historic gardens provide a backdrop that needs little adornment. Whether you have close ties to Albuquerque or are choosing Los Poblanos for a destination wedding, our team will work with you to create an utterly unforgettable wedding experience for you and your guests.
Inclusions
Exclusive use of the La Quinta grounds and building on the wedding day for a five-hour window from the start of the ceremony to the end of the reception (all events must end by 10:30 PM)
Four hours of event coordination on the wedding weekend, including a 60-minute rehearsal the day before the wedding
Photo pass for the Los Poblanos property on the day of the wedding
A luxurious two-night stay for the wedding couple in a suite at the Inn
One-hour cocktail reception with hors d'oeuvres
Four-course dinner, including wedding cake
Beverages including beer, wine, choice of two signature cocktails, non-alcoholic drinks, coffee and tea
Sparkling wine toast
Tables, chairs, linens, candles, flatware, glassware and plates that complement the elegant La Quinta setting
Customized directional signage, menus and place cards
Customized Los Poblanos wedding favors
A list of preferred professional partners
pricing
2 - 20 guests: starting at $20,000
Two-night minimum room block of 2 rooms required
21 - 30 guests: starting at $27,000
Two-night minimum room block of 5 rooms required
31 - 40 guests: starting at $35,000
Two-night minimum room block of 10 rooms required
41 - 50 guests: starting at $42,500
Two-night minimum room block of 15 rooms required
51 - 60 guests: starting at $50,000
Two-night minimum room block of 17 rooms required
Please note, guest count includes the wedding couple. Pricing includes service charge but excludes tax. Pricing does not include a required minimum room block at the Inn, which varies based on your group size.
You helped us to realize our vision of beauty and harmony. We know it takes a great deal of work to make such an event appear so simple and choreographed. We'll always have the memories of that day, and thanks to you, they are perfect. We got such great feedback - guests uniformly said it was one of the most beautiful weddings they'd attended, and the food and beverage received very high praise. You put together a day that made us feel special, yet somehow carefree. It was all we could have asked for.

Married November, 2021
La Quinta Grounds
Grand Portal

North Lawn

Ballroom

East Lawn

Gazebo

Terrace Lawn

Gilpin Gallery

Library

Sycamore Patio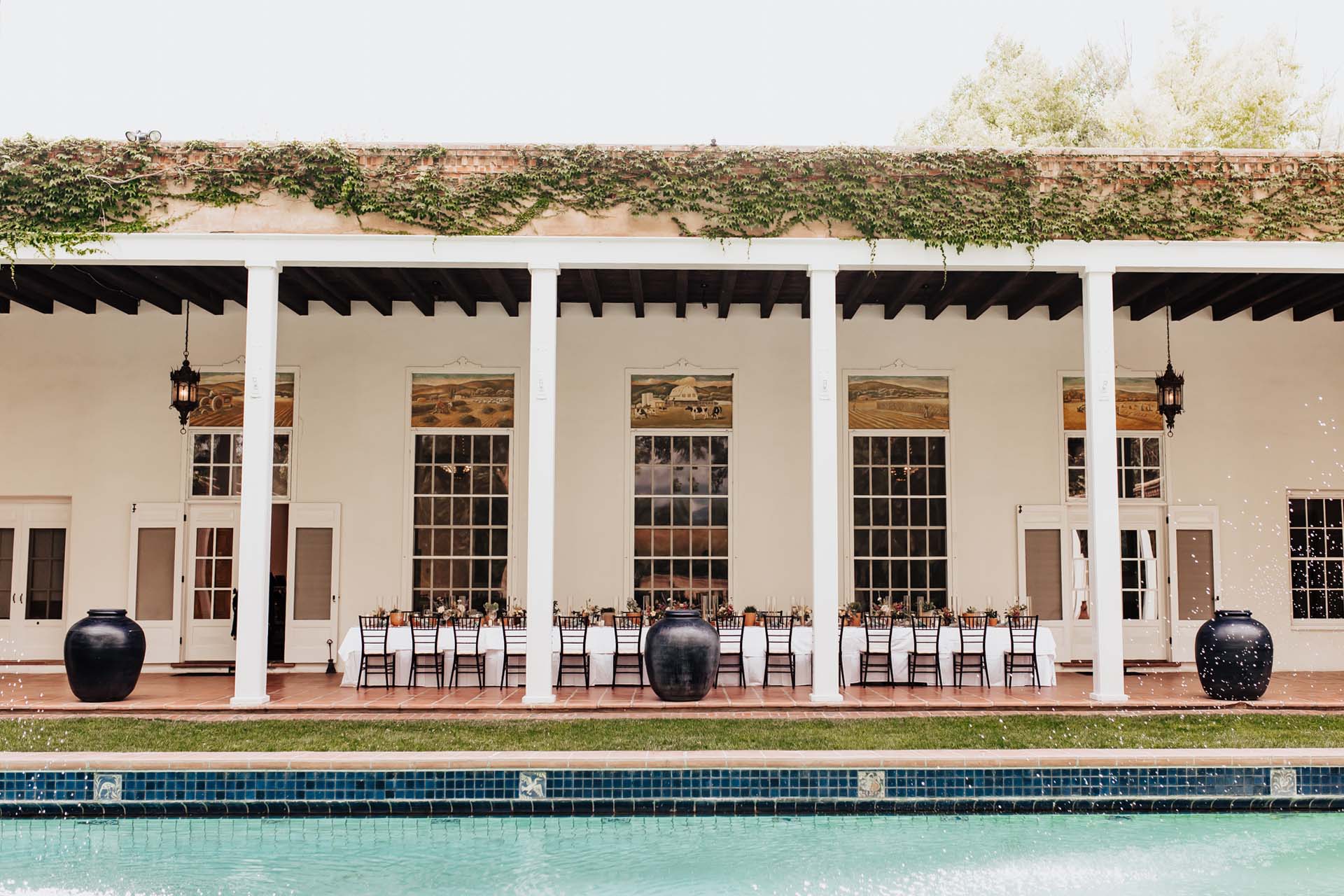 The classical styling, size and grandeur of this space, designed by John Gaw Meem in 1934, creates the perfect setting for outdoor ceremonies and dining. With magnificent views of the Sandia Mountains, the Grand Portal has a twenty foot deep covered portico surrounding a Portuguese tiled swimming pool with fountains. It features a true fresco painted in 1937 by Peter Hurd depicting San Ysidro, the patron saint of farmers, and a series of small mural panels of pastoral farm scenes by Harry Miller.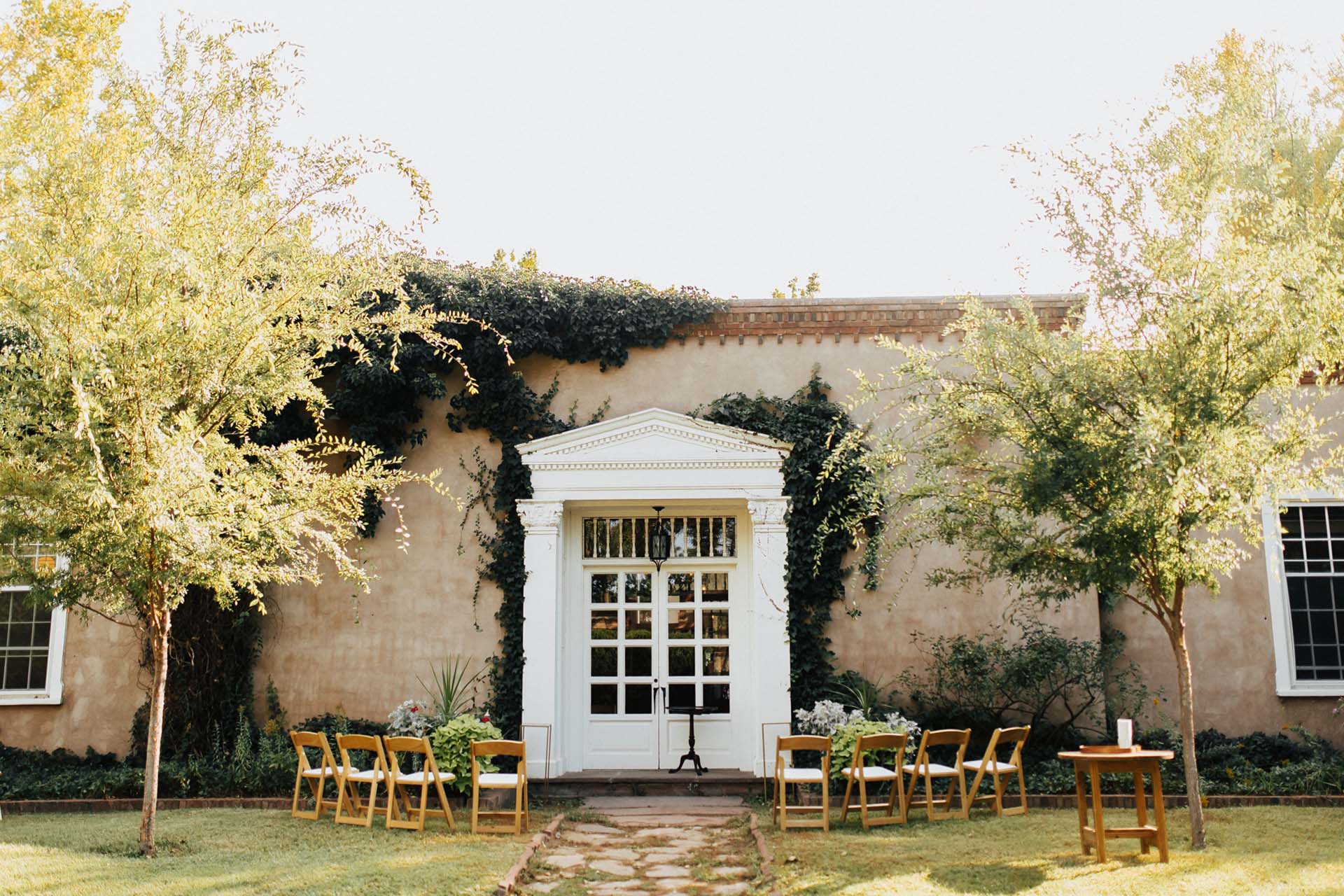 Enveloped by thick hedges and adobe walls, the North Lawn is an intimate, lush area that is perfect for a private ceremony. Striking massive doors framed by creeping ivy and young elm trees provide an elegant backdrop with little need for added decoration.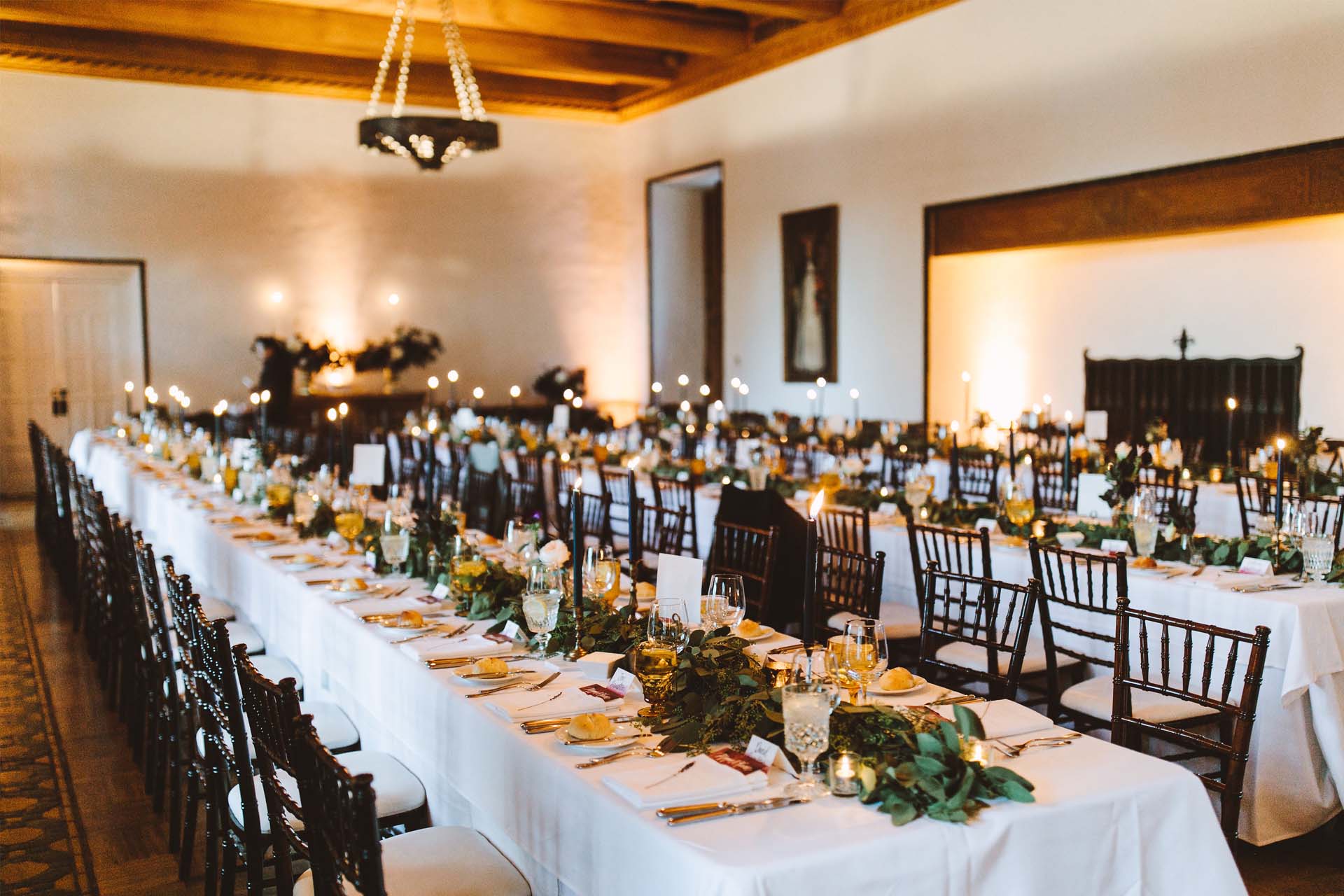 One of John Gaw Meem's architectural masterpieces, the Grand Ballroom is undeniably one of the most stunning venues in New Mexico. The ballroom's parquet walnut floors, elaborate carved ceilings, decorative Spanish tile and monumental fireplace make it a magnificent setting for truly memorable events. Four sets of French doors open to the surrounding gardens and the Grand Portal.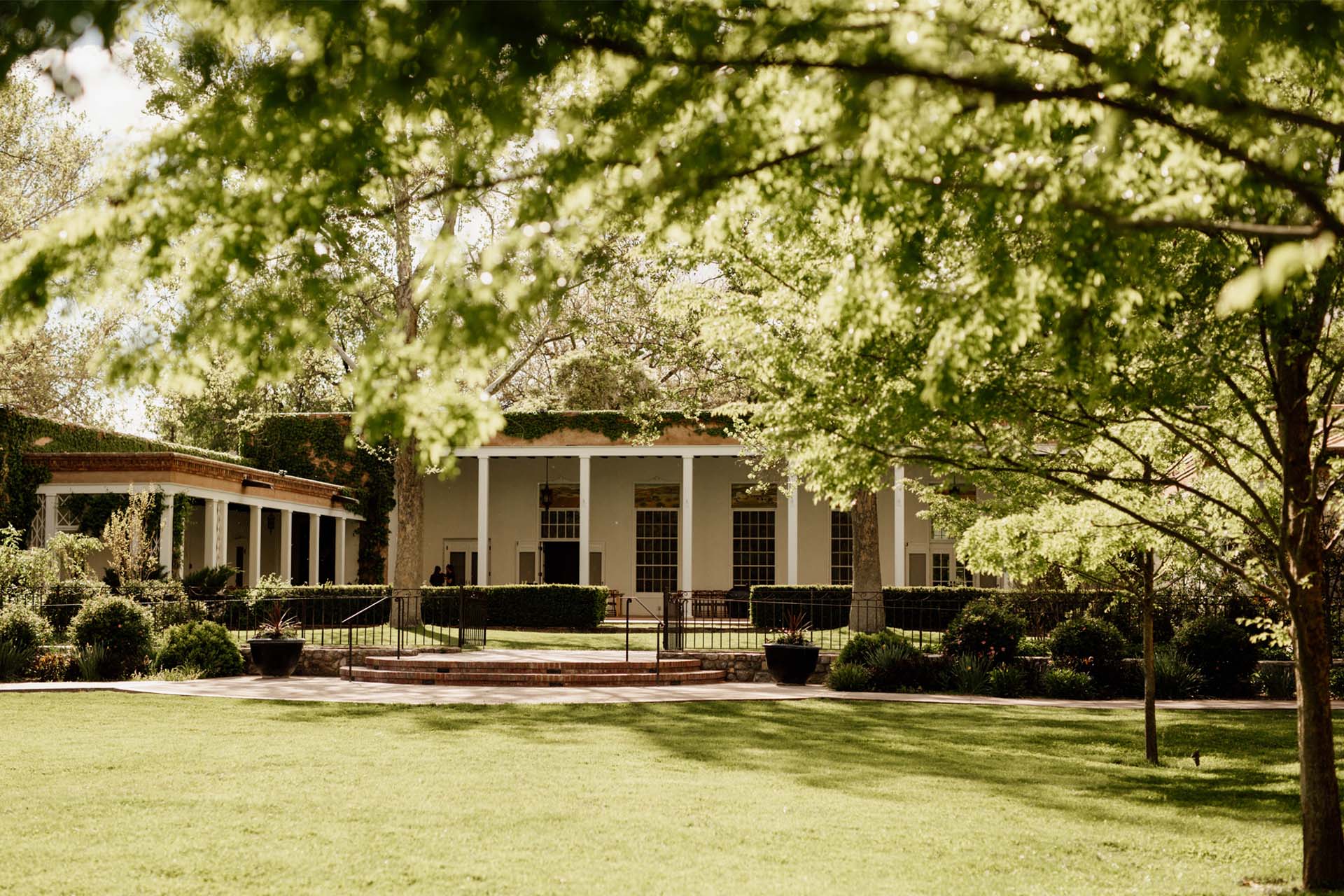 Spilling out from La Quinta, the vast, tree-lined East Lawn is a stunning location for a ceremony. With John Gaw Meem's architectural masterpiece and symmetrical sycamore trees to the west and views of the Sandia Mountains to the east, the grand space sets the stage to make beautiful memories.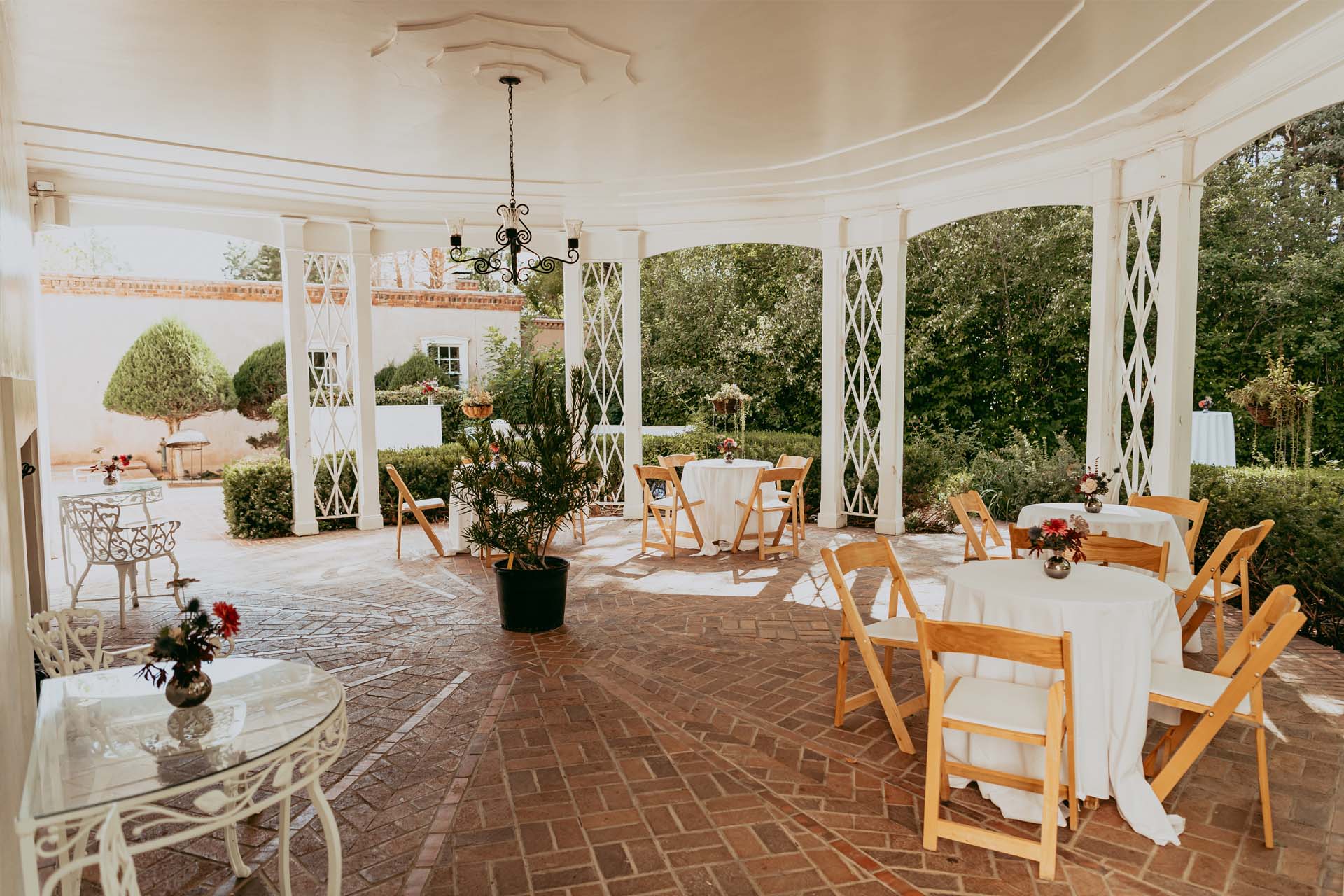 The Gazebo is set behind John Gaw Meem's architectural masterpiece, La Quinta, and is an ideal space for intimate ceremonies, dining and afternoon teas. Tucked in a lush, secluded garden, this octagonal pavilion is our most private setting and features a dramatic outdoor fireplace and lattice between paired posts.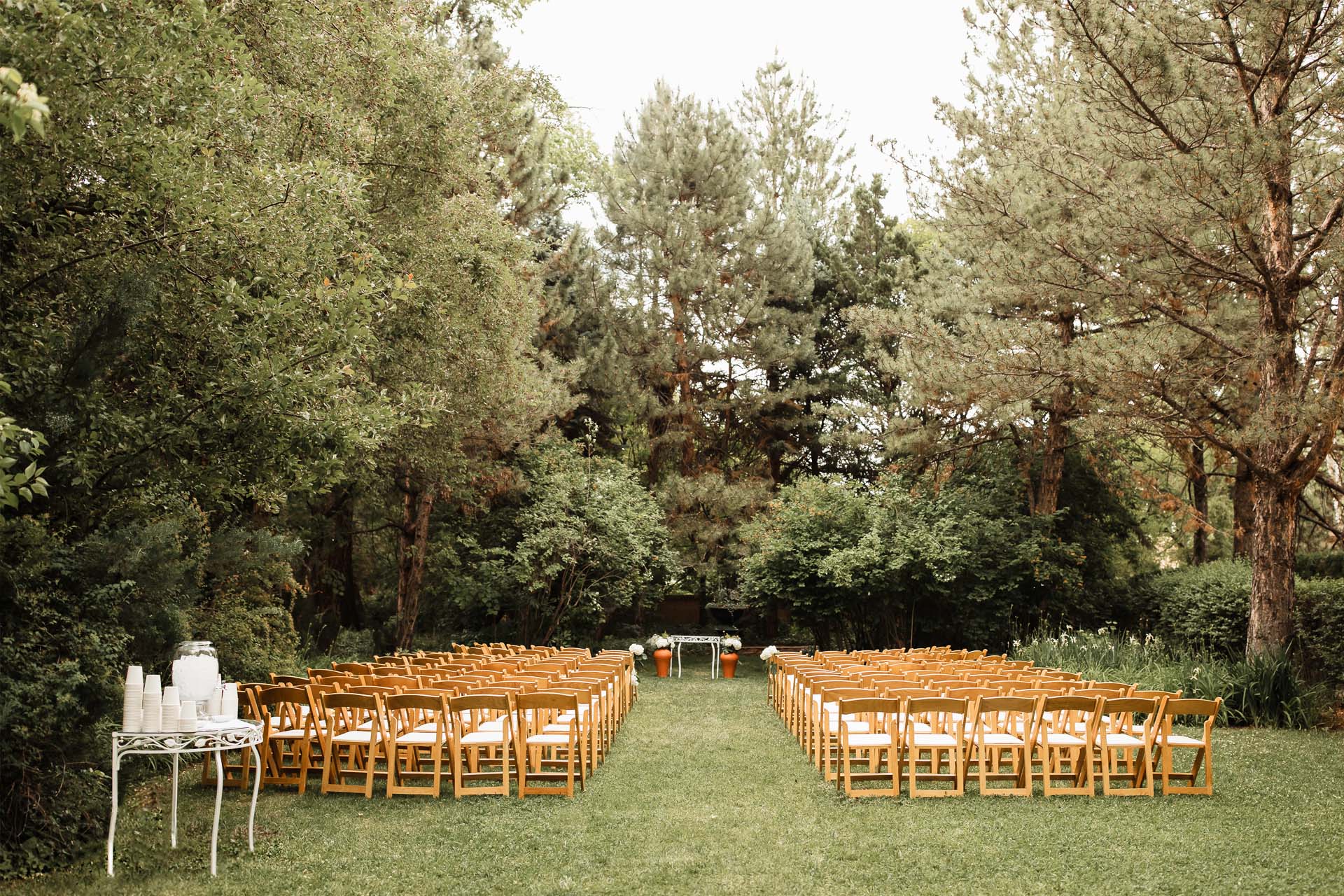 Just beyond the Gazebo, the Terrace Lawn is filled with tall, mature evergreen trees, making it a lush and inviting space no matter the time of year. An acequia (an ancient ditch irrigation system) runs just west of the trees, making it possible to faintly hear rushing water in the summer season.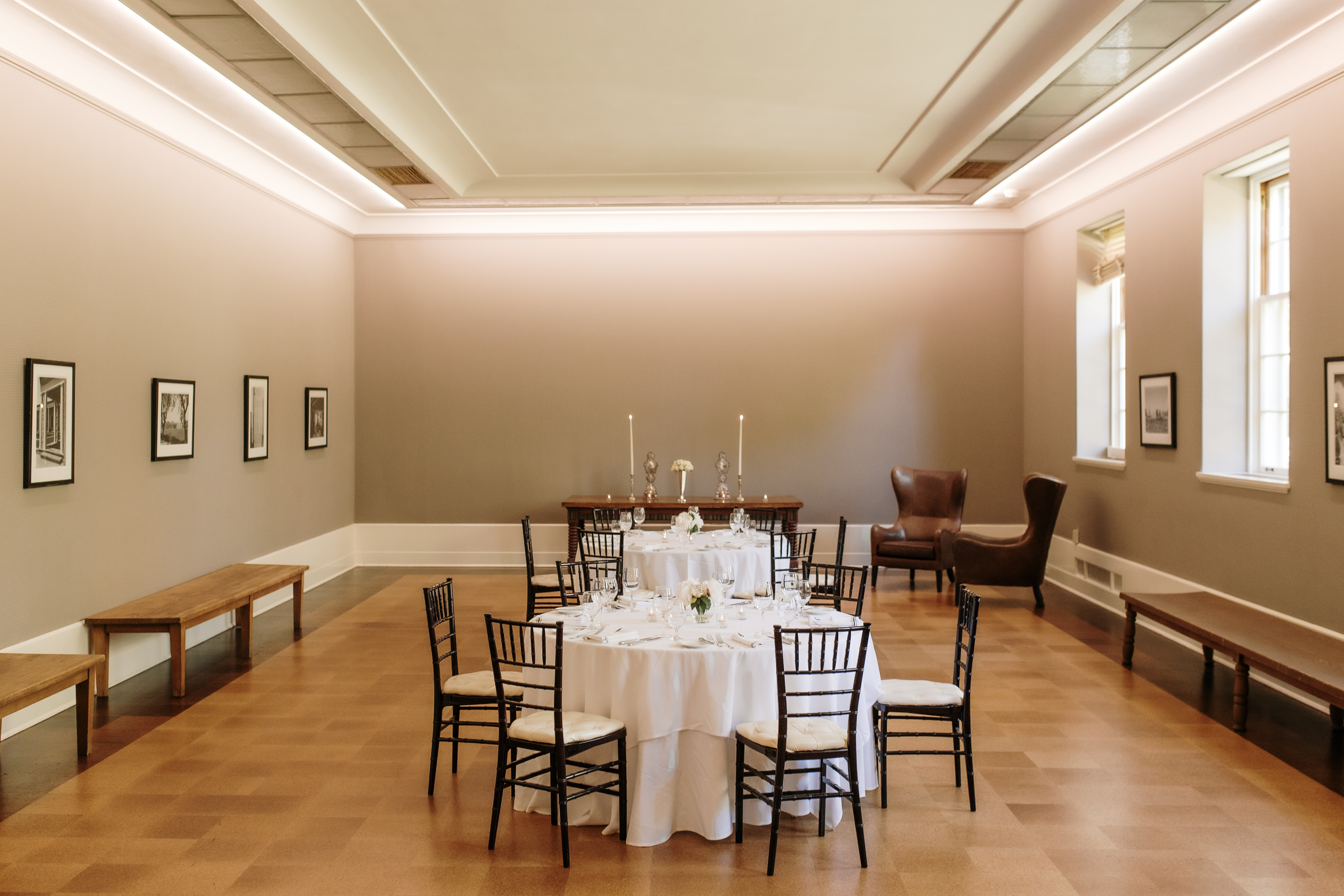 Albuquerque's first art gallery open to the public, the clean, contemporary Gilpin Gallery features four large windows for natural light, original cork floors and a permanent exhibition of black and white photographs by Laura Gilpin from 1937.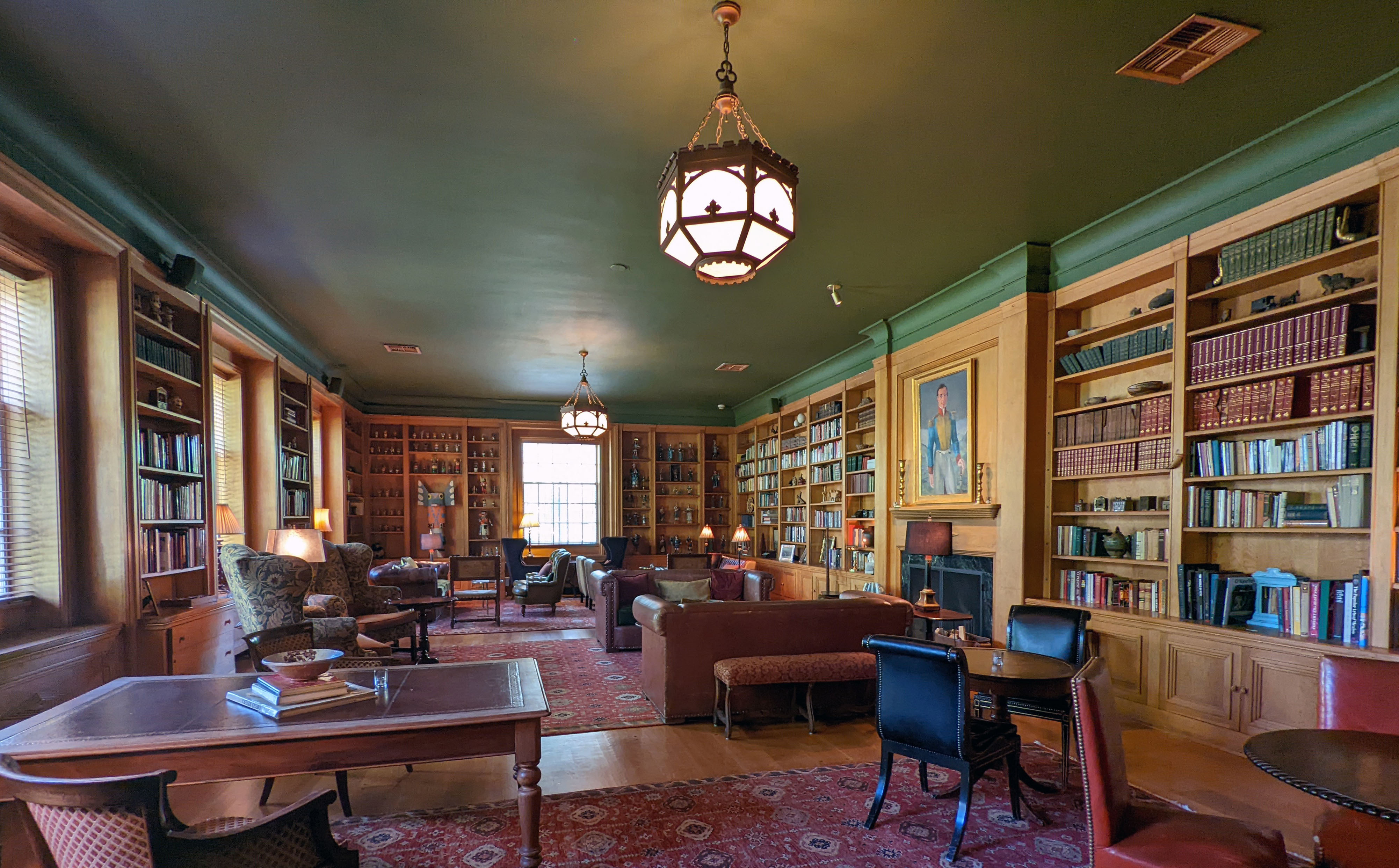 Entering through famed New Mexican artist Gustave Baumann's carved deco doors, the Library is a grand yet warm space filled with a collection of books, vintage photographs and art. With its leather couches and deep wingback chairs flanking the fireplace, it is the perfect gathering place for cocktail hours and intimate parties.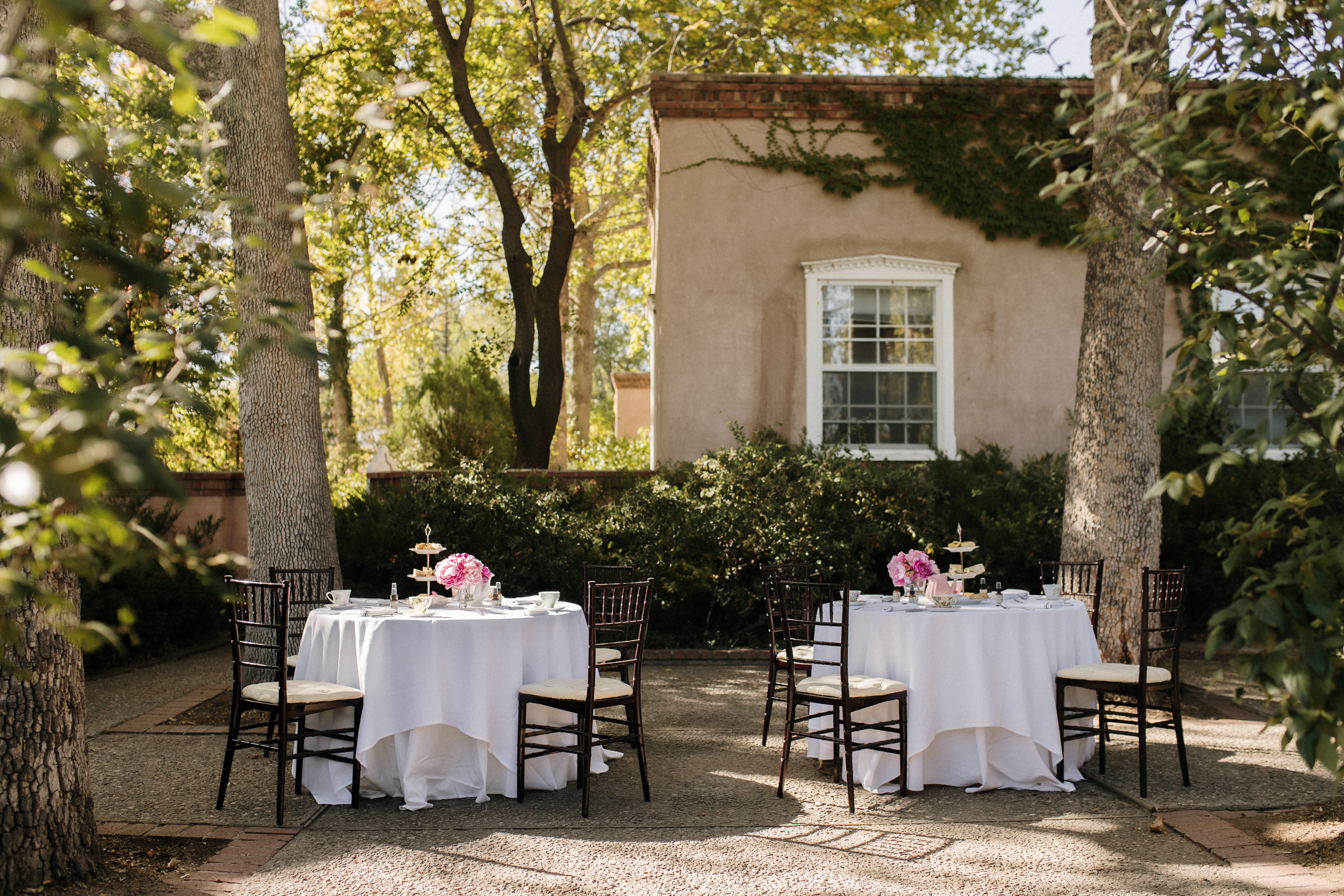 Dine under the shade of four stately sycamore trees on this private gated patio surrounded by lush ivy and winding wisteria.
The Booking Process
Inquiries must be submitted through the online form on our website. Inquiries over the phone will not be accepted. All 2024 wedding dates will be filled on a first-come, first-served basis. Our list of available 2024 wedding dates will be updated on a rolling basis. Once all 2024 dates are booked we will add couples to our waitlist and reach out if spaces become available.
We invite interested couples to sign up for a meeting or phone call with a member of our Event Sales team to learn more about our Wedding Package and booking process.
2024 Wedding Weekends
January 5-7
January 19-21
January 26-28
February 2-4
February 16-18
February 23-25
March 8-10
March 15-17
March 22-24
April 12-14
April 19-21
April 26-28
June 7-9
July 12-14
July 26-28
August 9-11
August 16-18
September 6-8
September 13-15
October 18-20
October 25-27
November 15-17
December 6-8
December 13-15
The Wedding Weekend
Spend your wedding weekend on our historic property and enjoy a range of unique private activities and experiences. Spa treatments, private tours, yoga classes and guided bike rides along the Rio Grande Bosque bring the spirit of Los Poblanos to life and allow you special moments to connect with your nearest and dearest. Our team can help craft an itinerary to make your celebratory weekend even more memorable.
Stretch and Meditate

Dine Together

Experience Well-being at the Hacienda Spa

Take a Tour

Explore the Neighborhood

Enjoy the Barn Commons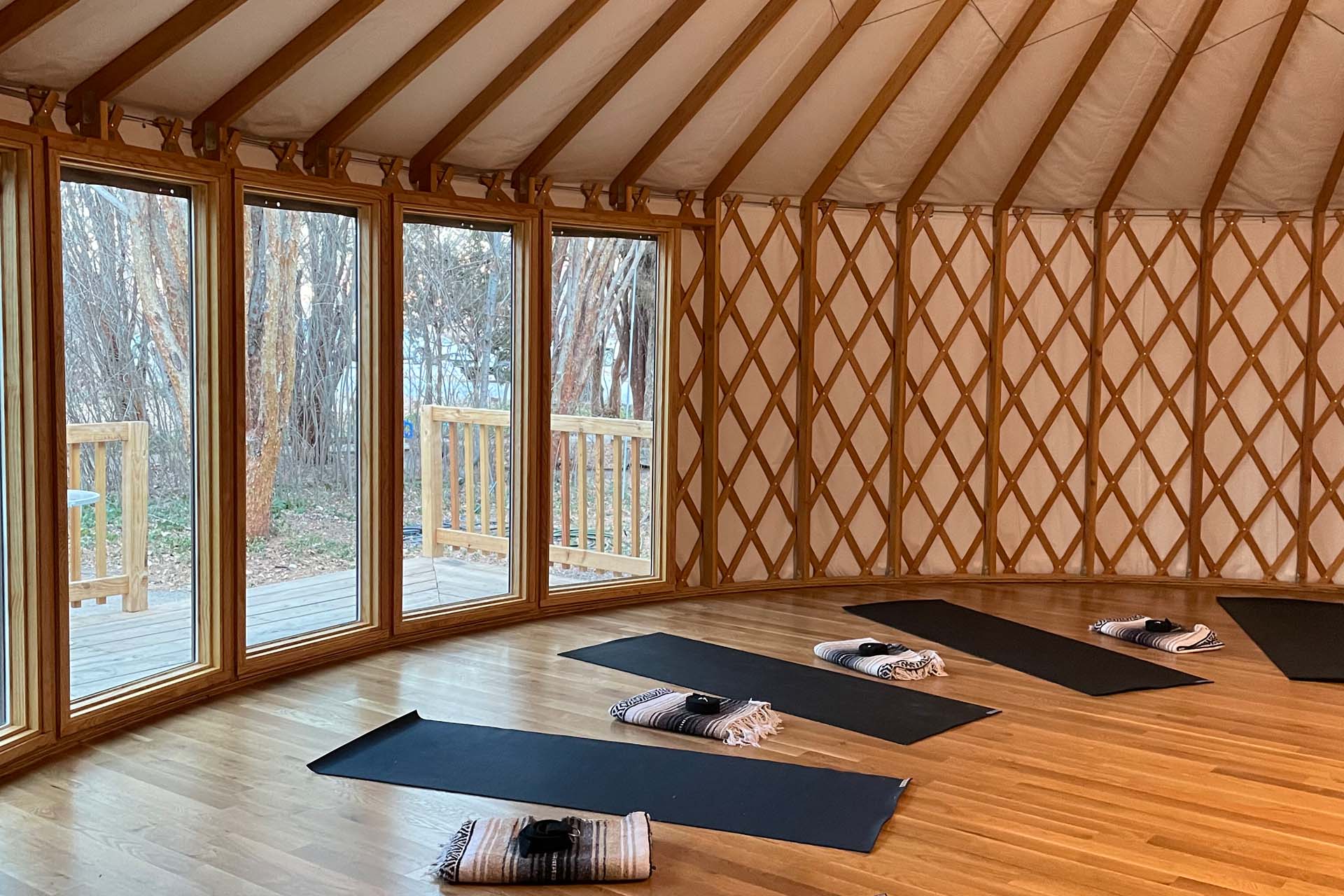 Find serenity with daily yoga classes in the Wellness Yurt, which are complimentary for our lodging guests. Private yoga and meditation classes can be arranged with advance reservation.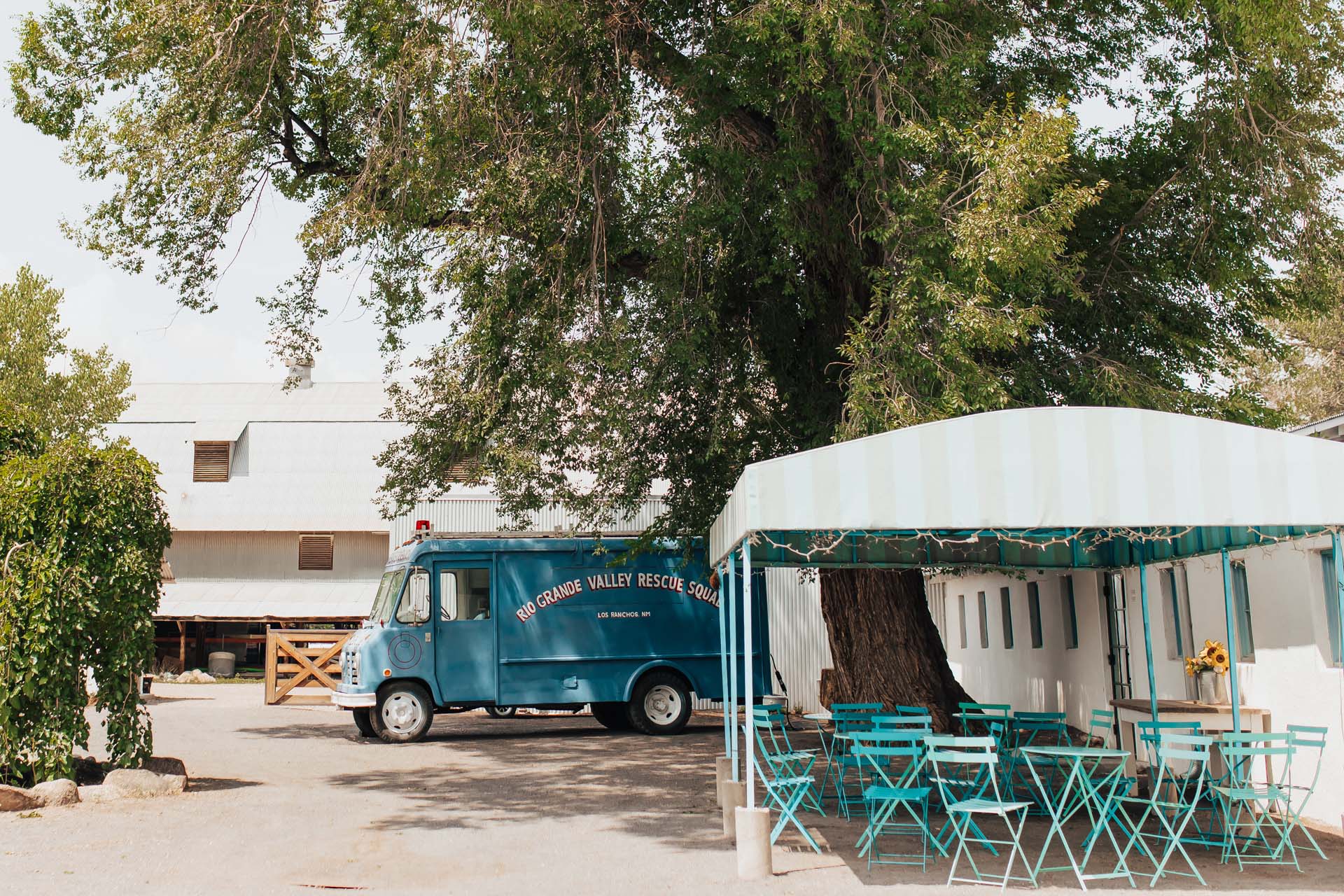 Extend your celebration and gather around the table together with private meals, from your welcome reception, rehearsal dinner and farewell brunch. Whether you choose to dine in Campo's private Cellar Room, enjoy afternoon tea on the Gazebo or indulge with tortas from our Rio Grande Valley Rescue Truck, we have menus and settings that range from casual to grand.
Welcome a profound sense of well-being and experience true relaxation at the Hacienda Spa. The surrounding landscape and serene ambiance evoke a sense of wellness that truly awakens the senses. Informed by the elements of nature, the unique treatments and elegant space work harmoniously to provide the ultimate immersive experience that is both relaxing and rejuvenating.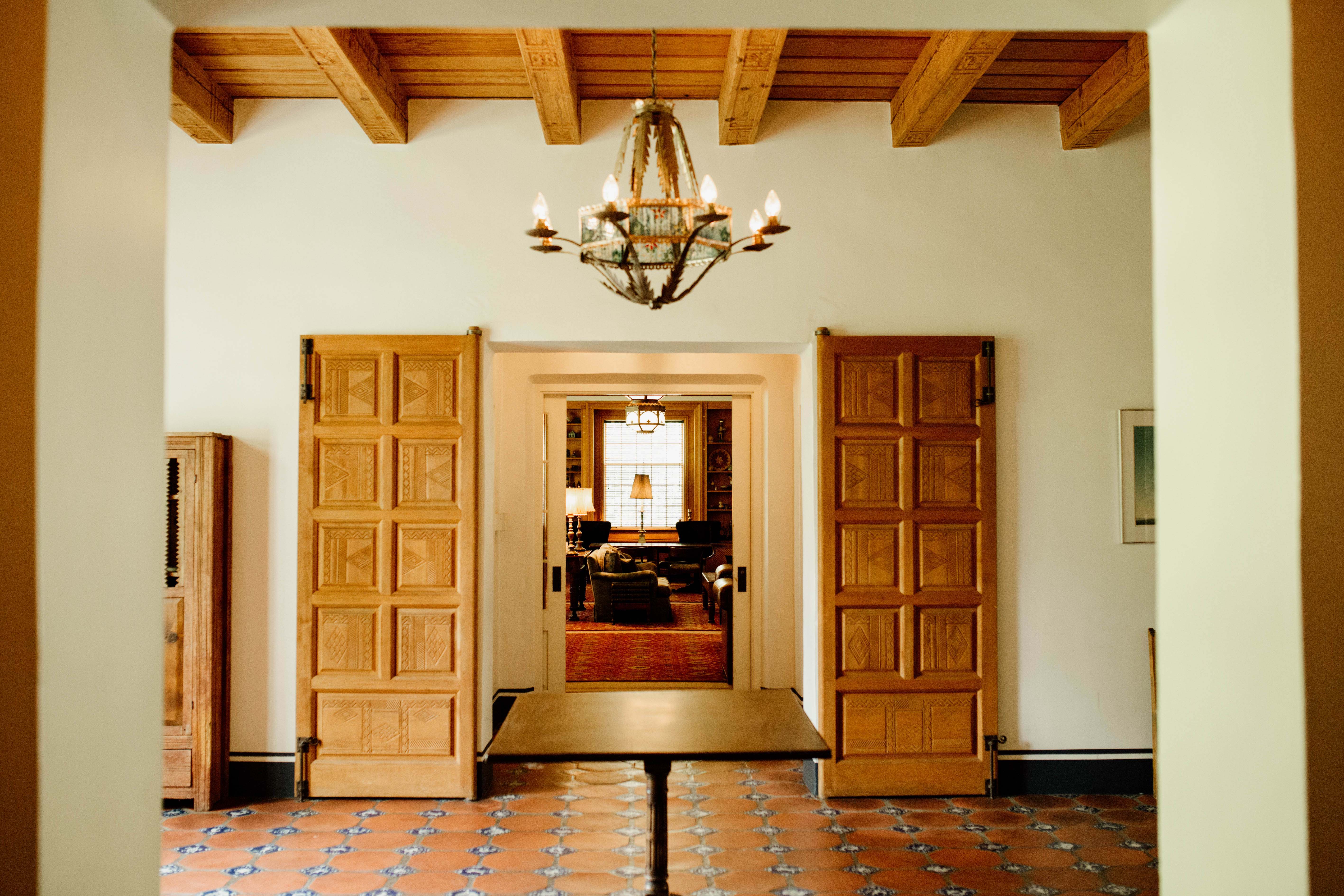 Whether you're interested in learning more about our farm, art and architecture or our lavender distillation and manufacturing process, arrange a private tour and enjoy a behind-the-scenes peek of Los Poblanos.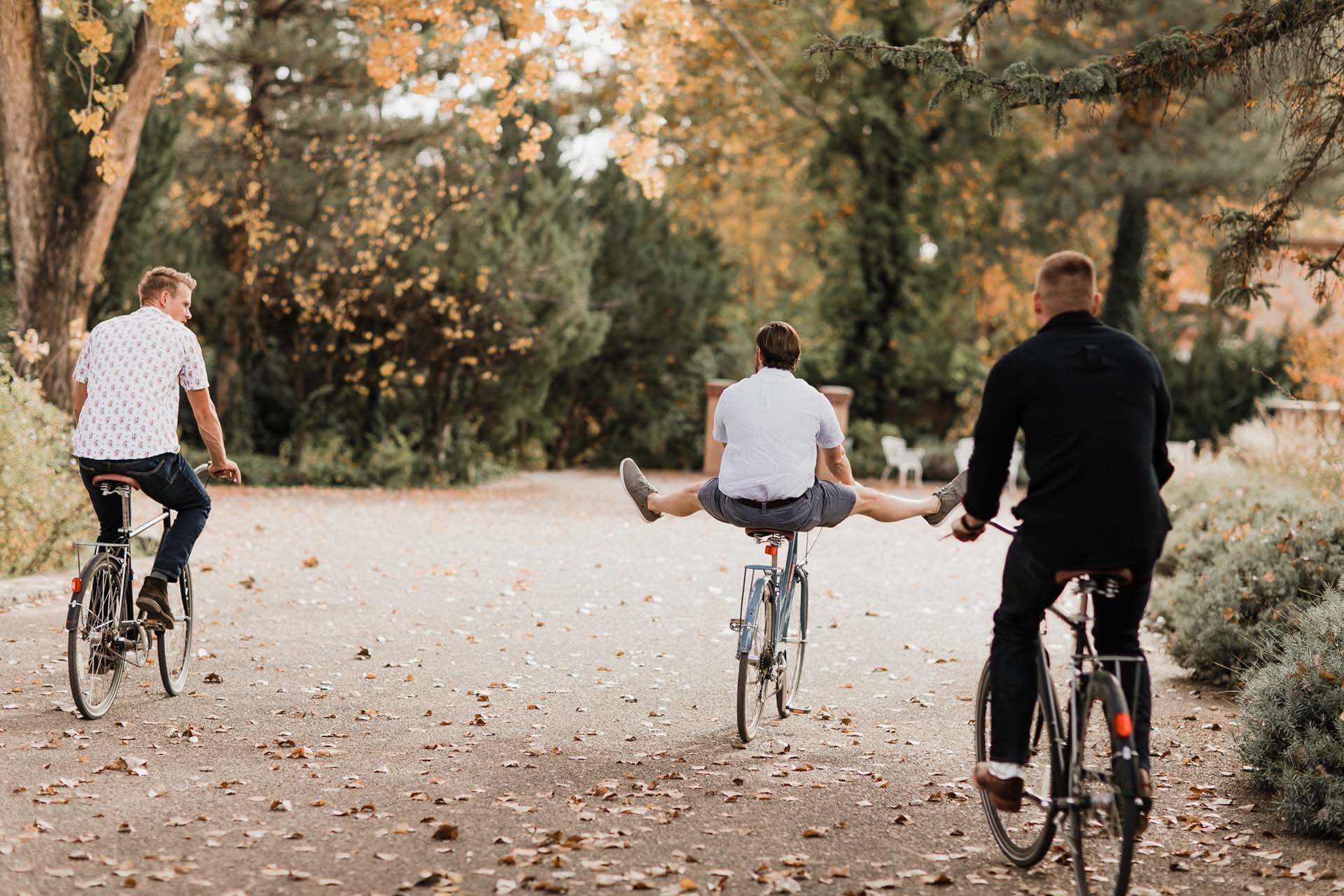 Borrow a cruiser bicycle and meander through our beautiful North Valley neighborhood at your leisure or walk across the street to the Los Poblanos Open Space to wander the paths. Professional guided bike tours are also available with advance reservation for a leisurely two-hour ride along the Bosque Trail.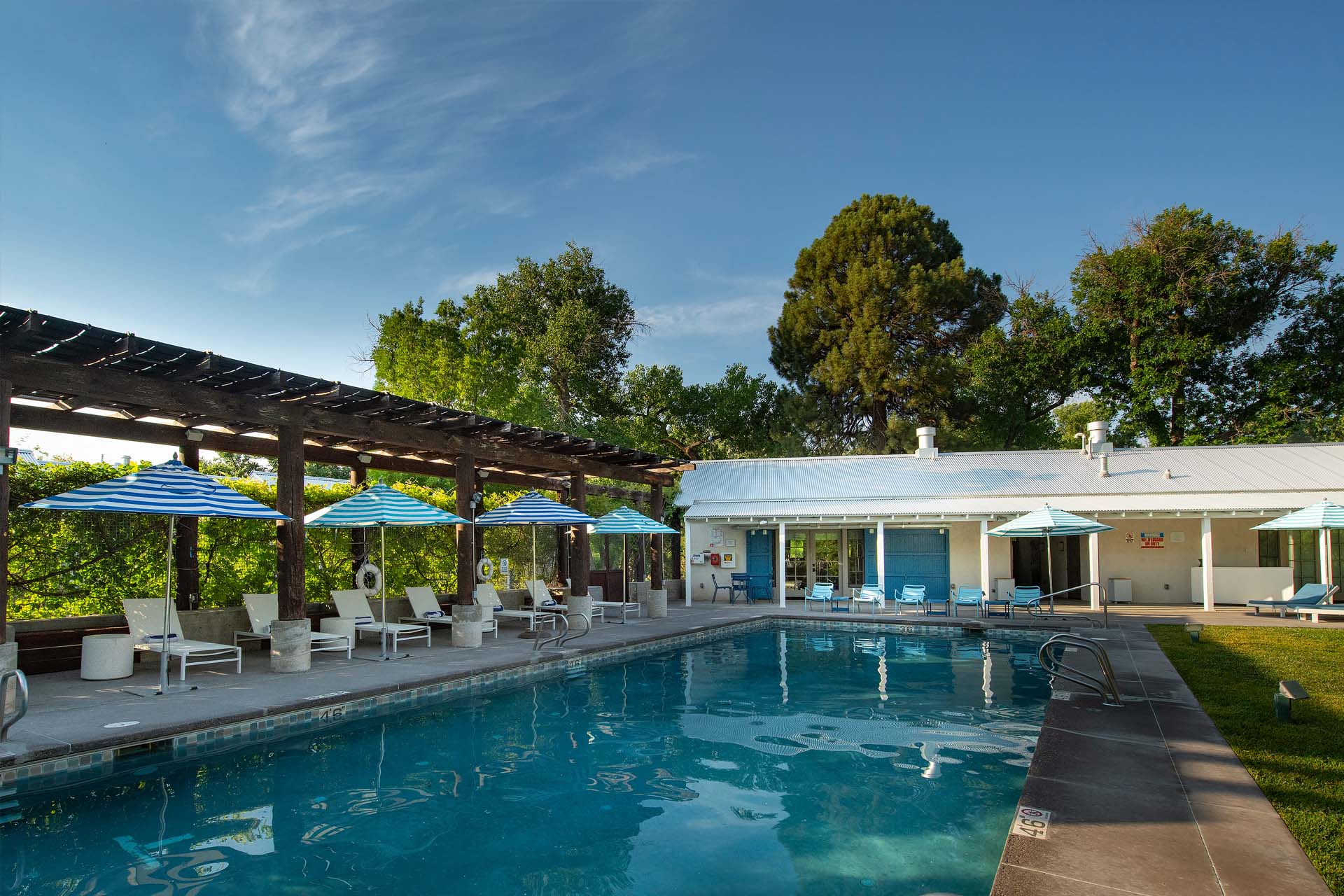 If you want to work up a sweat or lounge by the pool, head to Barn Commons. Maintain your routine with a workout in our fitness room, then kick back and relax by our seasonal outdoor saltwater pool with a good book and cold beverage.
Frequently Asked Questions