Preservation
We perpetuate the agricultural history by maintaining an active organic farm which provides produce to our own restaurant and on-site events, and by cultivating lavender. The original residence now serves as an award winning historic inn; and the cultural center operates as it was originally intended – hosting meetings, parties, educational and cultural events.
We have collaborated with some of the leading preservationists and planners in the country on a recently completed renovation project to provide a high level of guest amenities and environmental standards, transitioning the property into the 21st century. The additions are modeled after other successful preservation projects of historically significant properties to compliment and preserve the essential agriculture, architecture and gardens that make the Los Poblanos experience unique.
We promote ecological consciousness in providing hospitality to our guests. We use all natural biodegradable cleaning products, feature organic ingredients in all of our menus and prioritize water conservation programs throughout the property. Bicycles are available to guests to encourage a low emission vacation and local experience.
Our mission is to preserve the historic Los Poblanos Ranch by cultivating a dynamic business dedicated to sustainable agriculture, hospitality, historic preservation and community.
Moule & Polyzoides

OLIN

Judith Phillips

Chris Wilson

AOS Architects

Other Contributing Designers & Planners
Moule & Polyzoides
Architects & Urbanists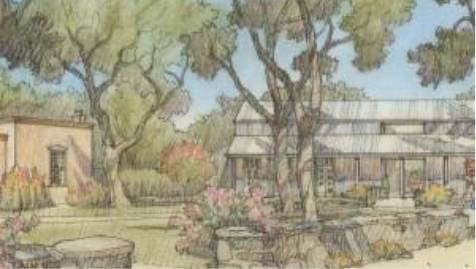 A transformation of Los Poblanos into a country inn, conference center and regenerative farm was accomplished with the assistance of Moule & Polyzoides even with complex preservation and development pressures faced by historic structures.
A three-part solution was proposed in response to the complex preservation and development pressures that faced the estate. The first preserves two-thirds of the estate as a permanent agricultural trust. The second limits residential entitlement to a small area and configures its 20 guest rooms/casitas in a southwestern compound form. The third transforms the original Meem buildings into the core of an expanded country inn and meeting center. Environmental measures include maintaining the acequia network, conserving all historic buildings, employing green specifications, and enhancing regenerative agriculture and agritourism on the property. Los Poblanos' organic farm supplies all produce to the Inn, continuing the estate's farming traditions.
OLIN
Landscaping & Gardens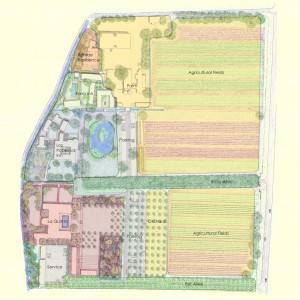 Olin successfully planned new landscaping and gardens throughout the property with sustainability as a central tenet of their holistic approach, uniting natural processes with technical innovation to produce contemporary and beautiful places.
Judith Phillips
Landscape Design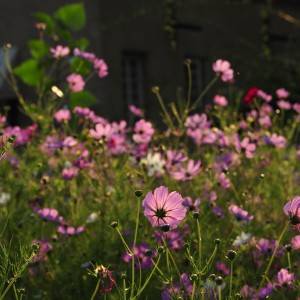 Judith Phillips is a landscape designer with 30 years experience in designing arid-adapted and native gardens in the high desert. She helped with landscaping and planting of the Los Poblanos gardens.
Chris Wilson
Central Sustainability Strategy
J. B. Jackson Professor of Cultural Landscape Studies at the University of New Mexico School of Architecture and Planning in Albuquerque, and founding director of its Historic Preservation and Regionalism Program, Chris Wilson, has written widely on architecture, tourism and the politics of culture in the Southwest, and on cultural landscape studies. His current focus is on the role of the on-going re-urbanization of the U.S. as a central sustainability strategy.
AOS Architects
New & Renovated Architecture
AOS Architects create spaces that inspire, taking into account their clients' culture and values into their designs. The results are buildings that are sympathetic to their historic surroundings, that speak to contemporary life, and that offer a new perspective on our future. AOS Architects are the architects and planners behind the addition of 28 new guest rooms in our north pasture and the renovation of our historic dairy buildings to house our new Farm Shop and restaurant, Campo.
Other Contributing Designers & Planners
Artisanal Details
Erin Adams brings heart and soul to her work. Providing custom designed tile work in rooms.
Ginny Arellanes reproduced historic tin light fixtures and tin restoration throughout the property.
House Industries is known throughout the world as a prolific type foundry and has made a considerable impact on the world of design. Andy Cruz and his team gave graphic design and signage consultation.
Custom furnishings in rooms designed by local artists, some reclaimed from historic building
remodels and bedding by Coyuchi Organic and Curran NYC.
Plus many more…
Our mission is to cultivate a conservation ethic by preserving the agricultural fields, formal gardens, art and architecture of Los Poblanos through regenerative, sustainable practices.
Our Green Team of employees is continually researching ways to reduce our environmental impact in every department of the hotel, a mission that is supported at the highest levels. We take great comfort in knowing that every step we take helps to preserve a cultural institution, city and environment we treasure for future generations.
The majority of our guests favor a non-smoking environment. The only way to provide this experience is to not allow smoking within and around the Inn and La Quinta. We do provide designated smoking areas outside the building to accommodate the needs of guests who smoke. Complying with the smoke-free policy reinforces our commitment to being an environmentally friendly company.
Recycling cardboard, plastic, glass, aluminum, and paper. Recycling bins are conveniently located throughout the property.
Implementing water-saving measures, including guest towels and linens changed by request, and restaurant water served by request.
Installation of low-flow toilets and shower heads.
Installation of energy-efficient, double pane guest room windows in new guest rooms.
Reducing paper consumption, relying on email and message boards, as well as washable cloth napkins, towels, and tablecloths.
Recycling computer equipment and fluorescent bulbs.
Using recycled materials in note pads, brochures, flyers, and other necessary hotel collateral.
Minimal use of biodegradable and eco-friendly, recycled takeout containers for food and beverage operations.
Reducing electricity demand by using energy-saving light bulbs and flat-screen televisions.
Upgraded guest room insulation.
Using low-VOC paints, and environmentally­ friendly cleaning products.
Donating lightly used soft goods and amenities to local charities.
Sourcing food locally at our restaurants and catering operations.
Restaurant cooking oil is donated for recycling to bio diesel.
Los Poblanos is also an experimental farm, and one that is an inspiration to all the farmers in this rich fertile valley which has been farmed for 300 years…."

Country Life Magazine