Intimate Weddings
Wed, Relax, Retreat
Please note, we are fully booked for weddings in 2021. For updated information about 2022 and 2023 availability and pricing, please subscribe to our Noticias newsletter and follow us on social media for an announcement coming in late 2021. We will not be taking any new wedding bookings until that time.
Celebrate your love with an intimate weekend at Los Poblanos with your closest friends and family. From award-winning culinary experiences to relaxing leisure time on our 25 acres of lavender fields and lush formal gardens, we will help you plan a romantic celebration you will never forget. Immerse yourself in the spirit and artistry of Chef Jonathan Perno's Rio Grande Valley Cuisine for your special wedding dinner, featuring seasonal, local flavors from our food shed. Our sommelier, Dylan Storment, will complement the culinary experience with thoughtfully-paired wines. Enjoy at least two nights in one of our luxurious rooms, complete with original artwork, organic bedding and our signature lavender spa amenities. With several stunning ceremony locations to choose from, and private activities available to enhance your weekend, nuptials at Los Poblanos promise to be an unmatched, idyllic affair.
Further enrich your wedding weekend on our historic property with a range of private activities and experiences that are unique to Los Poblanos. Private tours, yoga classes and guided bike rides along the Rio Grande Bosque bring the spirit of Los Poblanos to life and allow you special moments to connect with your nearest and dearest. Our dedicated team can help craft an itinerary to make your celebratory weekend even more memorable.
Rehearsal Dinners &
Farewell Brunches
Extend your wedding celebrations with a kick-off rehearsal dinner and farewell brunch for your guests to indulge and enjoy, featuring our award-winning Rio Grande Valley Cuisine. To inquire, call 505-338-1626.
Honeymoons & Anniversaries
Whether you are newlyweds or celebrating a milestone anniversary, we'd love to host you at our boutique inn for a romantic getaway for just the two of you. View our Accommodations page for more information about our luxurious, well appointed guest rooms.
Our wedding at Los Poblanos was a literal dream come true! The venue is gorgeous and rustic. We wanted a venue where we did not have to decorate much; we wanted the natural beauty to shine through... Planning an out-of-state wedding can be stressful but the team at Los Poblanos made it much easier.

Married December 15, 2018
Private Dining Locations
La Quinta Grand Portal

La Quinta Ballroom

La Quinta Gazebo

La Quinta Library

La Quinta Gilpin Gallery

La Quinta Sycamore Patio

Campo Cellar Room
La Quinta Grand Portal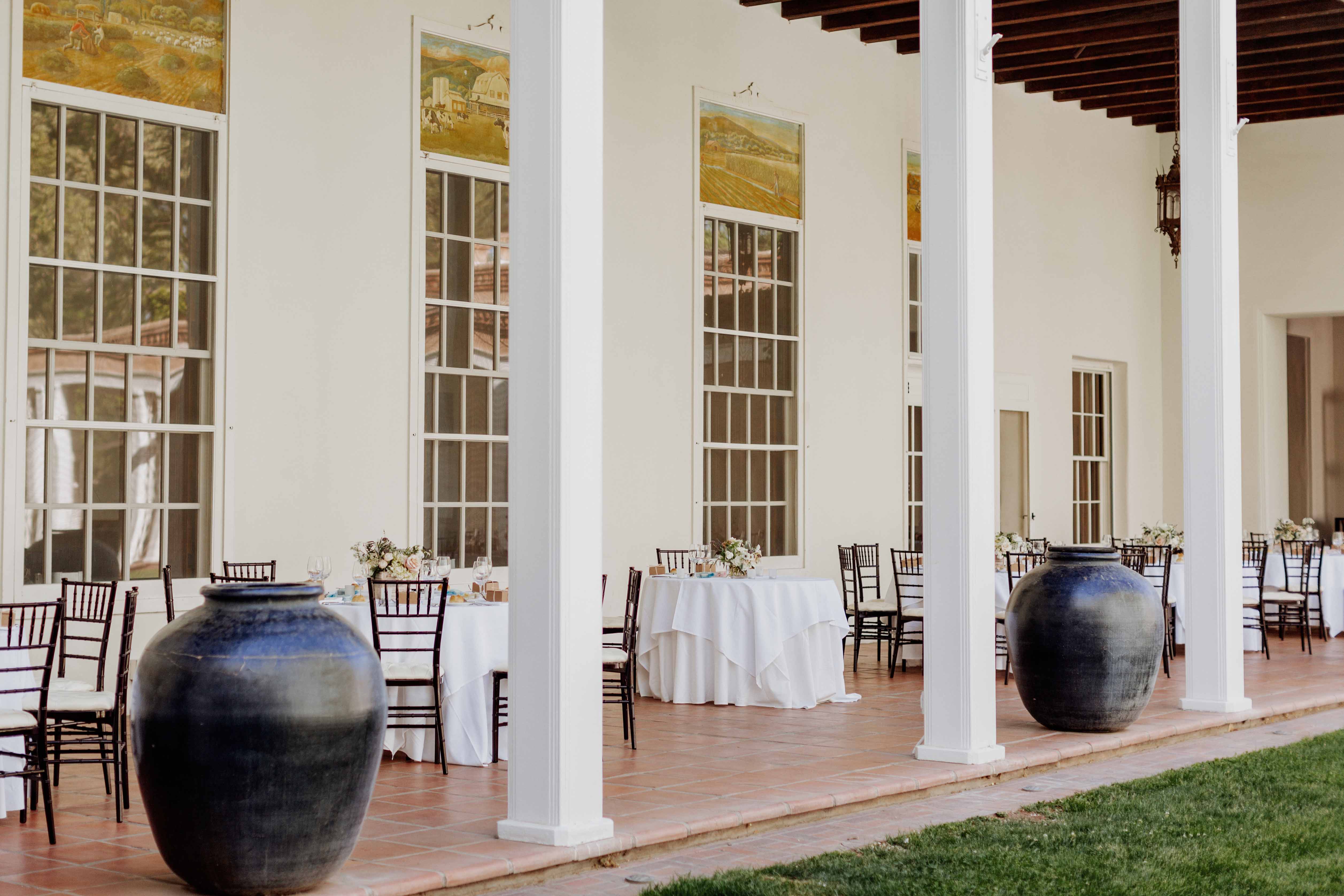 The classical styling, size and grandeur of this space, designed by John Gaw Meem in 1934, creates the perfect setting for al fresco dining. With magnificent views of the Sandia Mountains, the Grand Portal has a twenty foot deep covered portico surrounding a Portuguese tiled swimming pool with fountains. It features a true fresco painted in 1937 by Peter Hurd depicting San Ysidro, the patron saint of farmers, and a series of small mural panels of pastoral farm scenes by Harry Miller.
La Quinta Ballroom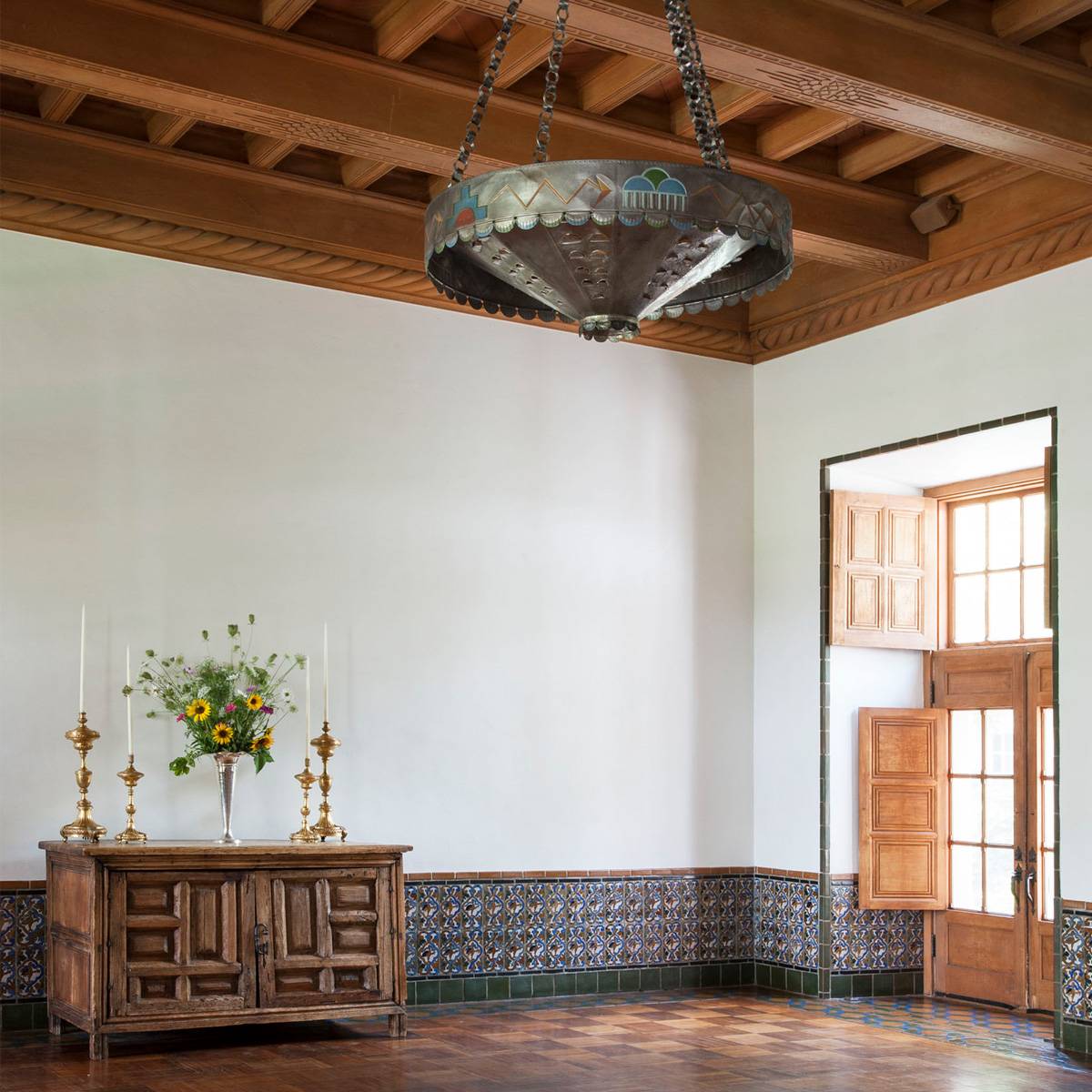 One of John Gaw Meem's architectural masterpieces, the Grand Ballroom is undeniably one of the most stunning venues in New Mexico. The ballroom's parquet walnut floors, elaborate carved ceilings, decorative Spanish tile and monumental fireplace make it a magnificent setting for truly memorable events. Four sets of French doors open to the surrounding gardens and the Grand Portal.
La Quinta Gazebo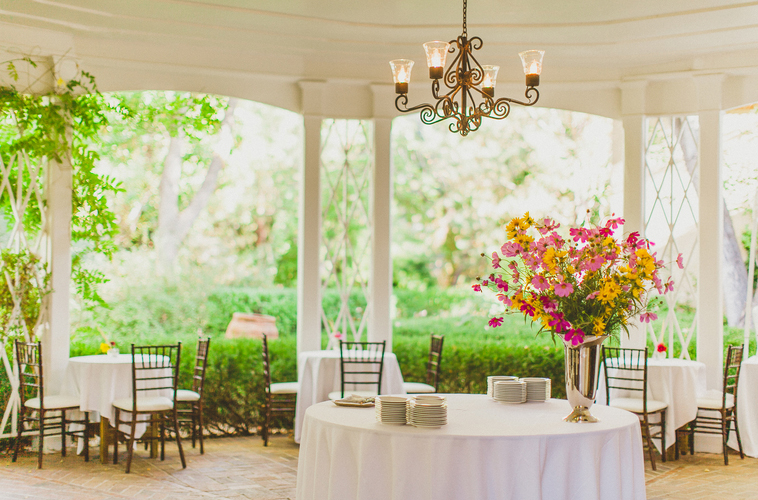 The Gazebo is set behind John Gaw Meem's architectural masterpiece, La Quinta, and is an ideal space for intimate dining and afternoon teas. Tucked in a lush, secluded garden, this octagonal pavilion is our most private dining setting and features a dramatic outdoor fireplace and lattice between paired posts.
La Quinta Library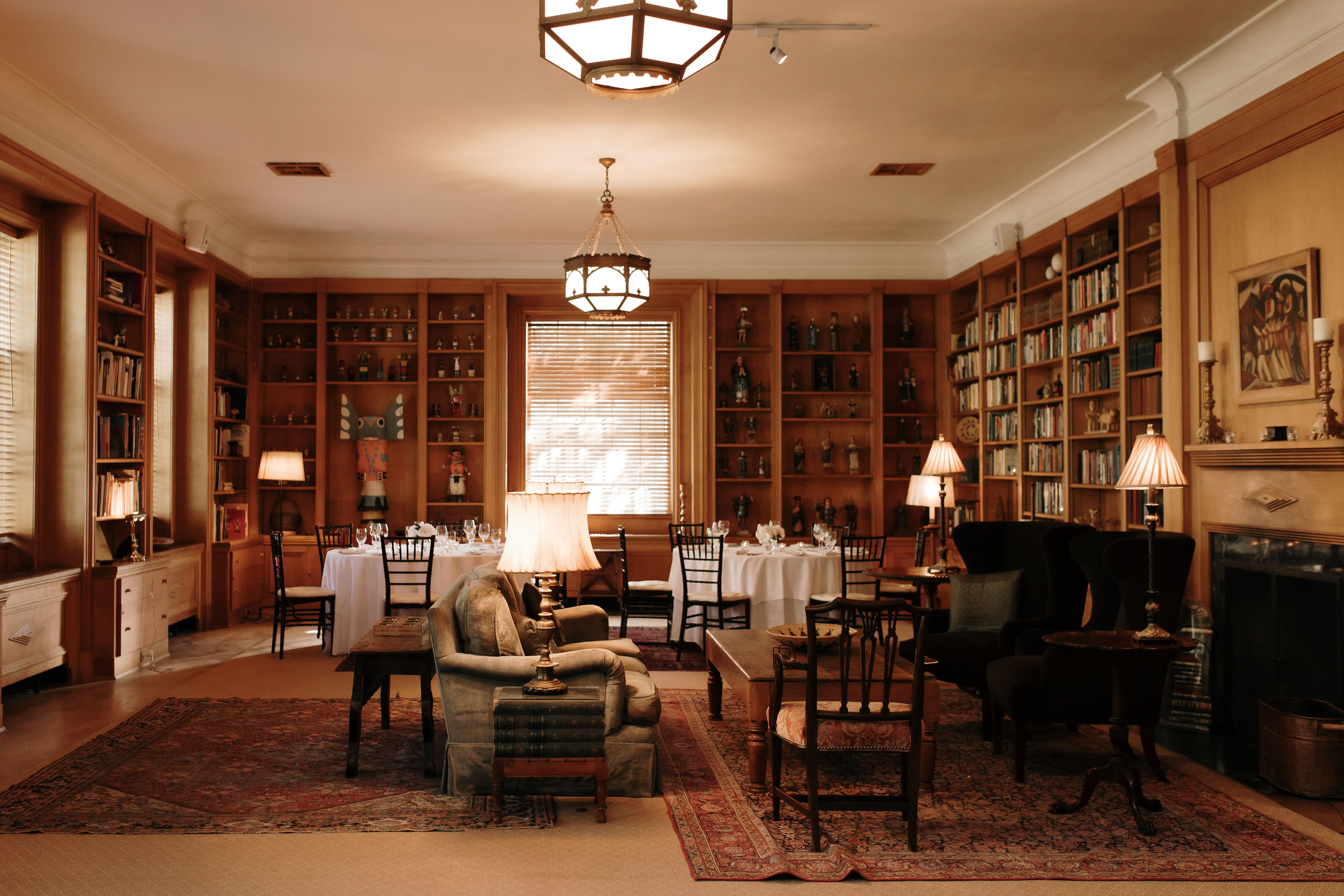 Entering through famed New Mexican artist Gustave Baumann's carved deco doors, the Library is a grand yet warm space filled with a collection of books, vintage photographs and art. With its leather couches and deep wingback chairs flanking the fireplace, it is the perfect gathering place.
La Quinta Gilpin Gallery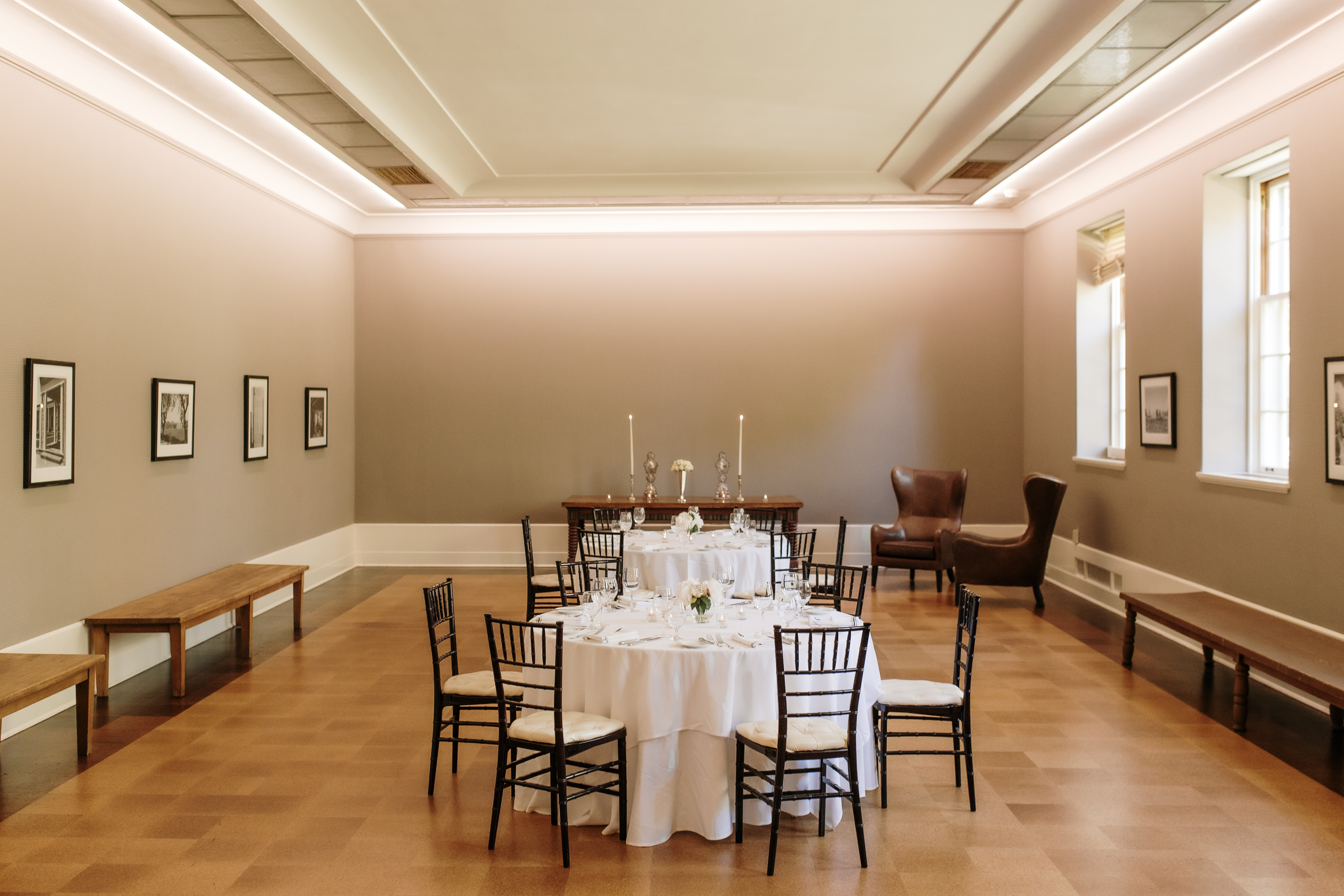 Albuquerque's first art gallery open to the public, the clean, contemporary Gilpin Gallery features four large windows for natural light, original cork floors and a permanent exhibition of black and white photographs by Laura Gilpin from 1937.
La Quinta Sycamore Patio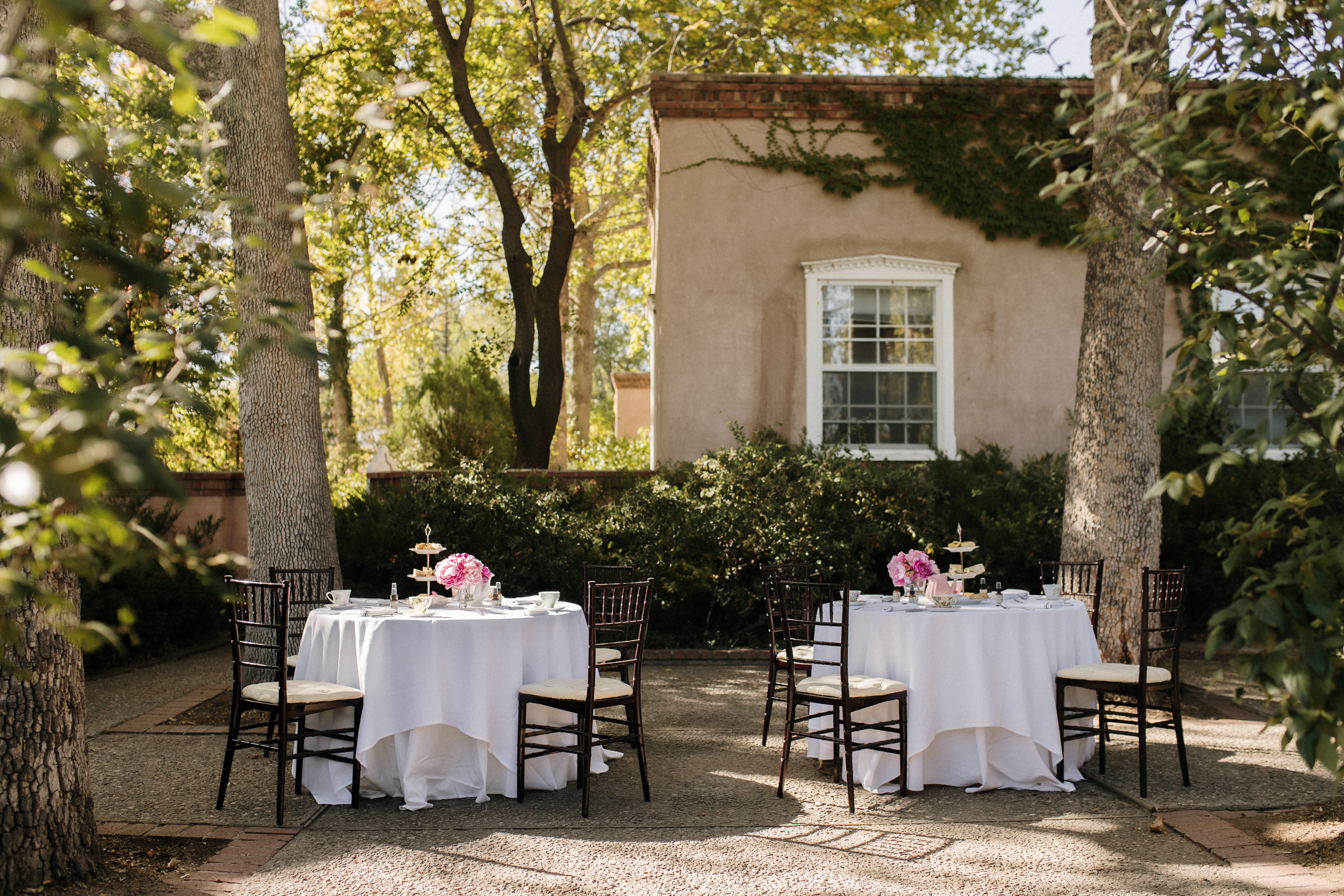 Dine under the shade of four stately sycamore trees on this private gated patio surrounded by lush ivy and winding wisteria.
Campo Cellar Room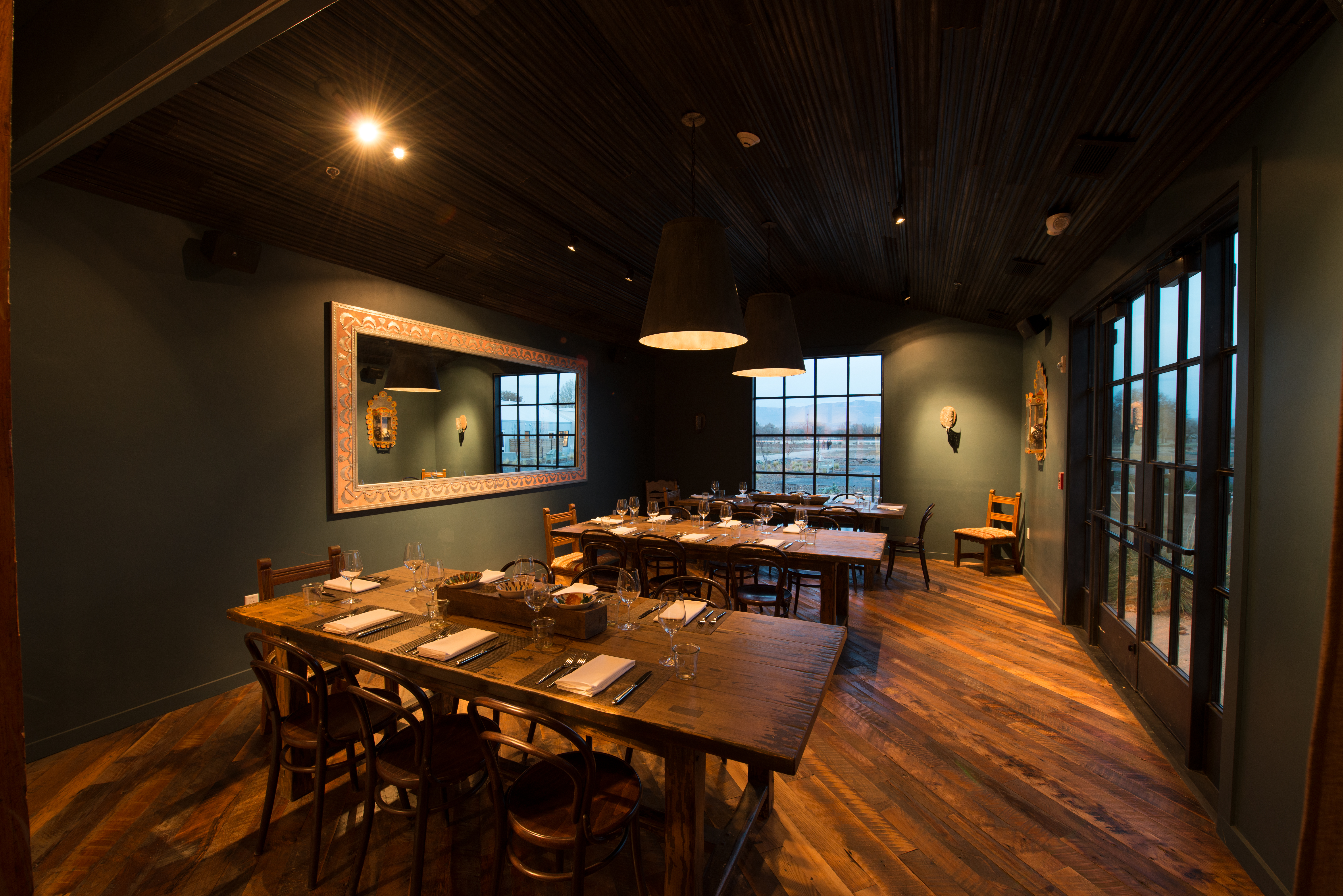 The Cellar Room is a semi-private room in Campo, perfect for special dining experiences. In addition to breathtaking views of the Sandia Mountains and our farm fields, the room boasts a 1930s vintage wine cooler that allows wine enthusiasts to engage with our sommelier as part of the experience. A curtain can be drawn for more privacy, however the room's proximity to the kitchen allows guests to experience the sounds and activity of our bustling open kitchen.