Our Well-being Hospitality Model:
Safety, Health and Comfort
Los Poblanos is NM Safe Certified, a training in Covid Safe Practices to ensure all customers and employees remain safe as New Mexico reopens for business and recreation.
Frequent cleaning and sanitation is occurring across the entire property.
Los Poblanos Lavender Hand Sanitizer is an amenity available in each guest room.
A streamlined arrival/departure process encourages minimal contact.
Campo in-room dining options are available for brunch, dinner and bar service.
Guest rooms are accessed via outdoor porticos, not interior hallways.
Each guest room has a dedicated heating, ventilation and air conditioning (HVAC) unit and these do not recirculate air.
Guest rooms feature many operable windows for fresh air and have dedicated outdoor patios.
Our fitness center is open. Our seasonal outdoor saltwater pool is open.
All Hacienda Spa treatment rooms feature air purifiers and separate HVAC units, and are fully sanitized between each service.
All Hacienda Spa therapists wash their hands at the start and end of every treatment.
If Hacienda Spa guests prefer, they may forgo access to communal spaces.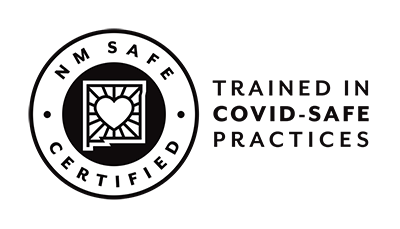 Visiting Los Poblanos
We are overjoyed to welcome guests to the farm, with safety, health and comfort as our highest priorities. With 25 acres of gardens and open space, the agritourism experience at Los Poblanos is ideal for physical and mental well-being.
stay
As a New Mexico Safe Certified property, the Inn is open to lodging guests at 100% occupancy. With operable windows to let fresh air spill in, organic cotton sheets and robes and a fully organic menu at Campo, Los Poblanos provides a healthy and serene retreat. As we adjust to create an environment that is both memorable and in line with all current Covid Safe Practices, we appreciate your understanding that some of our amenities and offerings may be different than usual. If you have any questions regarding a specific service, please contact the Front Desk.
Dine
Campo is open for brunch, dinner and bar service by reservation for both our lodging guests and the public, with indoor and outdoor seating at 100% capacity. Seating at Bar Campo is also available. Room service is available for lodging guests. More information, including hours and menus, can be found here.
Spa
Well-being is the top priority at the Hacienda Spa, and as such, each treatment room is equipped with an air purifier, has its own HVAC unit and is fully sanitized between each service. Our therapists wash their hands at the start and end of every treatment. Guests receiving massage treatments are not required to wear a mask throughout their treatment.
Shop
The Farm Shop is open at 100% capacity from 9 am - 6 pm. All items on the Farm Shop website are available for local pick up, including pantry items from the Farm Foods Market.
Last updated April 12, 2023.