Fall on the Farm
September - November 2021
The cool, crisp mornings mark a changing of the season after a warm desert summer. Autumn in New Mexico is finally upon us. Roadside stands infuse the air with the warming, unmistakable scent of roasting green chile. Hot air balloons float gently across the horizon, puncturing picture-perfect blue skies with bright bursts of color. The magnificent fall foliage of our native cottonwood and aspen trees provide the perfect backdrop for exploring the trails of the Sandia Mountains, cycling the nearby Paseo del Bosque Trail or simply enjoying the views from the comfort of your private patio. The surrounding landscape and serene ambiance evoke a sense of wellness that truly awakens all the senses.
Discover a deeply relaxing environment at the Hacienda Spa, and experience unique, botanically based treatments. Indulge with seasonally-driven menus at Campo that feature the abundance of the harvest with locally-sourced organic ingredients. Wander through the Farm Shop to discover our artisan lavender and Farm Foods collections, and view our calendar for upcoming tours, tastings and more. Experience the best of New Mexico with a stay at Los Poblanos this autumn.
Seasonal Room Packages
Fall on the Farm Room Package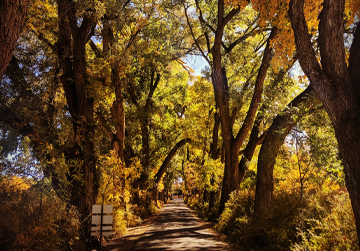 Welcome the change in season and a truly beautiful time of year on the farm with the Fall on the Farm Room Package. Explore the neighborhood with our cruiser bicycles, book a luxurious treatment at the Hacienda Spa, experience our Rio Grande Valley Cuisine with organic, seasonal meals at Campo and rest easy in our healthy, relaxing guest rooms. A restorative fall retreat is just around the corner.
This package is available Sunday through Thursday nights from September 1 to November 30, 2021 and includes:
A luxurious one-night stay at the Inn
Brunch for two at Campo (alcohol and gratuity are not included)
A seasonal culinary gift from our Farm Foods collection
15% off a single purchase at the Farm Shop
Double occupancy rates start at $328 and reservations may be made online.
Wellness Room Package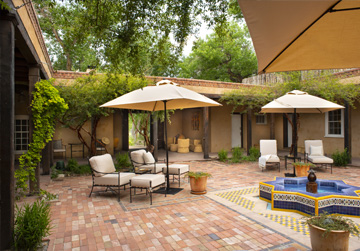 Seek respite on the farm with our Wellness Room Package, designed as a relaxing escape with luxurious accommodations, organic dining and credits to the Hacienda Spa. From the moment you turn down the cottonwood-lined drive, flanked by fields of lavender and rows of vegetables, life begins to slow down. Soak up the blissful benefits of this leisurely pace with restorative treatments at the Spa, daily classes in the Wellness Yurt and meditative walks through the serene grounds. You'll be amazed by how much renewal even one night away can provide.
This package is available Sunday through Thursday nights year-round and includes:
A luxurious one-night stay at the Inn
$100 credit to the Hacienda Spa
Daily classes in the Wellness Yurt
Brunch for two at Campo (alcohol and gratuity are not included)
Double occupancy rates start at $412 per night.
UP, UP AND AWAY ROOM PACKAGE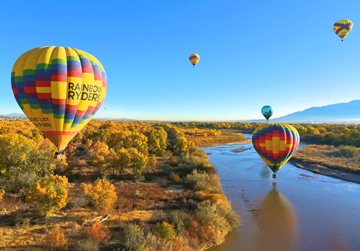 Have a sense of adventure? Discover the wonder of flight and soar above the Land of Enchantment in the basket of a hot air balloon as the sun rises above the Sandia Mountains.
This package is available year-round* and includes:
A luxurious two-night stay at the Inn
Brunch for two daily at Campo (alcohol and gratuity are not included)
Tickets for two for a sunrise balloon ride with Rainbow Ryders**
The average nightly rate starts at $515 for double occupancy with a two night minimum. Call the Inn to reserve at 505-344-9297 x 1023.
*Not available October 2 - 10, 2021.
**Flight is based upon availability and cannot be guaranteed based on weather. Shared or private flights available.
LAVENDER LOVERS ROOM PACKAGE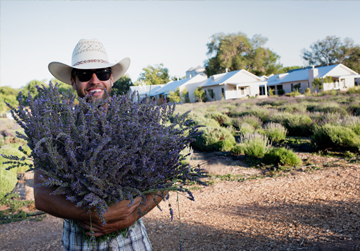 Transform your visit to our lavender farm into a luxurious retreat made even more relaxing with our Lavender Lovers Room Package. Allow yourself to truly relax and recharge with two restful nights at our boutique inn, an organic brunch for two each morning at Campo – where you'll find lavender thoughtfully incorporated into the menu – and a special collection of our favorite lavender products for the season.
This package is available year-round and includes:
A luxurious two-night stay at the Inn
Brunch for two at Campo both mornings (alcohol and gratuity are not included)
A seasonal selection of our Los Poblanos lavender products (assortment changes seasonally)
Double occupancy rates start at $352 per night.
Experience Well-being
RELAX and restore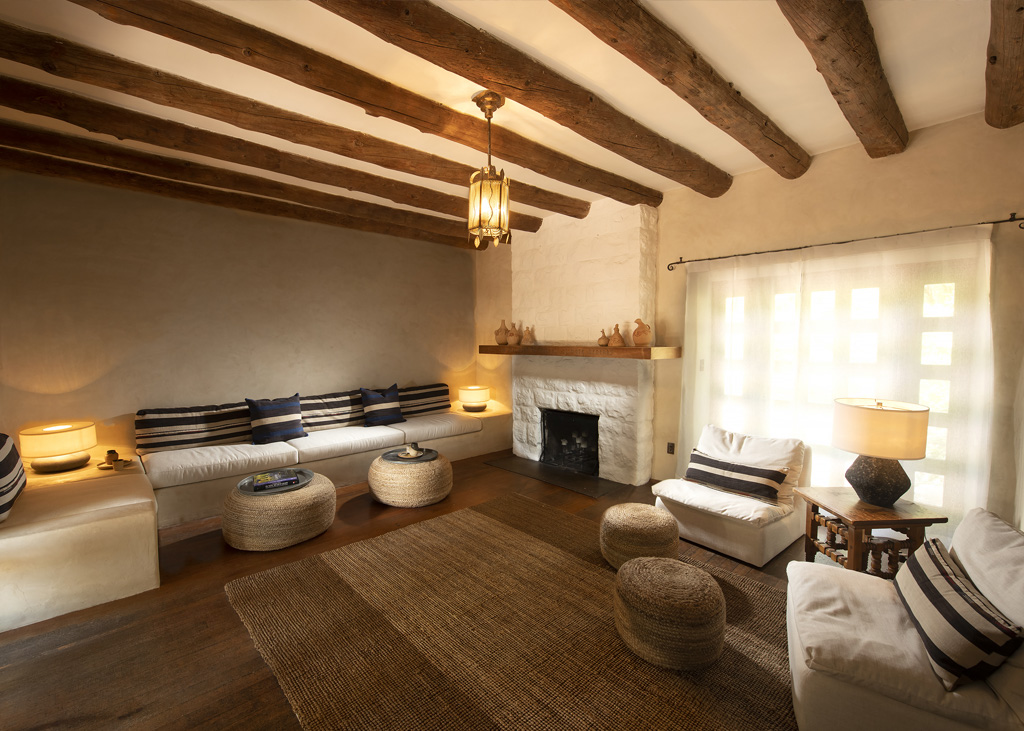 Fall is the perfect time to slow down and reflect before the holiday season arrives. Discover a deeply relaxing environment and profound sense of well-being at our new Hacienda Spa. The surrounding landscape and serene ambiance evoke a sense of wellness that completely awakens the senses. Informed by the elements of nature, the unique treatments and elegant space work harmoniously to provide the ultimate enchanting experience that is both relaxing and rejuvenating.
Our Fall Facial will revitalize and soothe skin after months in the sun, with special attention given to gentle exfoliation, hydration and replenishment. Masks, serums and creams will infuse the skin with moisture, while facial massages will allow the products to penetrate deeper layers of the skin and melt any stress away. Products like Sorella's Spiced Wine Toner, Papaya and Pumpkin Mask, Yogurt Kale Eye Serum and Mint Poppy Seed Polish are incorporated into this special seasonal facial, and will leave your skin feeling quenched and ready for cooler weather. The Fall Facial is available September through November 2021.
Revive and move with yoga and meditation in our Wellness Yurt, tucked in a quiet, forested area of the property. Led by skilled instructors, our daily yoga classes are relaxing and enjoyable for all skill levels. Wellness classes are offered daily and are complimentary for lodging guests.
get lost in nature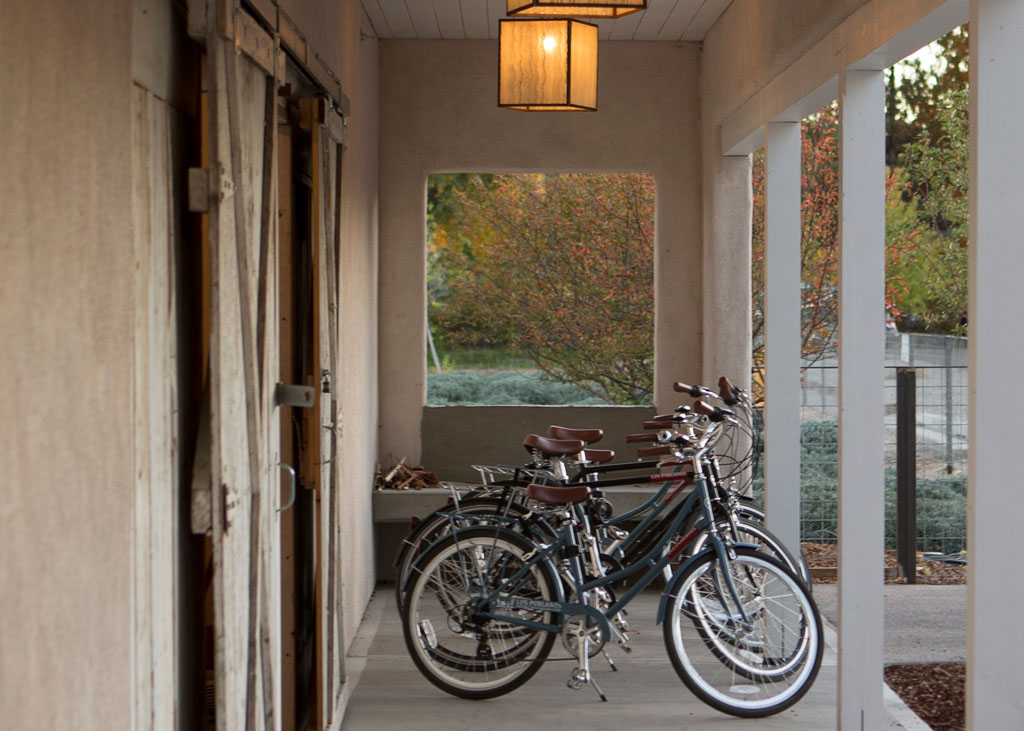 With cooler daytime temperatures comes the perfect opportunity to explore the Paseo del Bosque Trail on two wheels. We are so lucky to have this incredible urban park in our backyard! Borrow a cruiser bicycle and a map and explore on your own, or reserve the Scenic Bike Tour, where local guides from Routes Bicycles will take you on a private tour along the Bosque trail, capped off with a lovely picnic directly from Executive Chef Jonathan Perno's kitchen at Los Poblanos.
Our farm's location on the edge of the Rio Grande Bosque means we are perfectly situated to enjoy and explore our native ecosystem. Each autumn, the woodlands attract countless migratory birds, making New Mexico an internationally beloved birdwatching destination. Right across the street, the Los Poblanos Open Space is a wildlife habitat with miles of walkable farm roads to wander.
Spend the Holidays Here
Dia de los muertos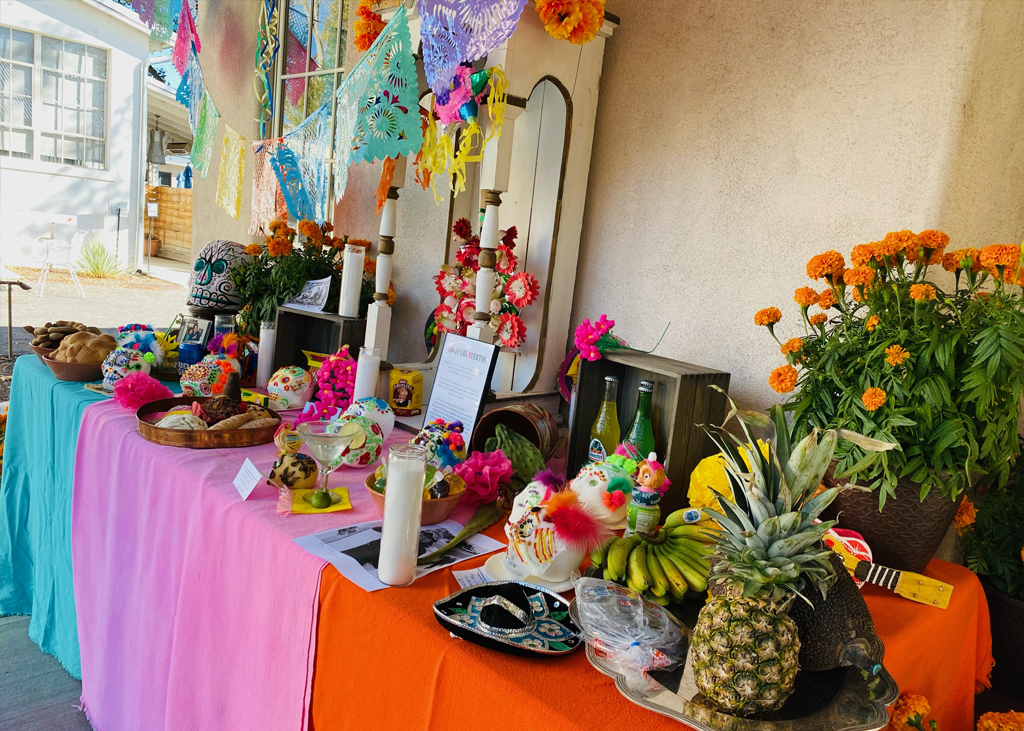 On the heels of Halloween comes a very important holiday in New Mexican culture: Dia de los Muertos, or Day of the Dead. November 2 is recognized as one of the most significant religious holidays in Mexico, where families take time to honor their deceased loved ones. No morbid affair, this is a passionate celebration of life and remembrance that includes music, sweet treats and magnificent expressions of creativity.
At Los Poblanos we'll be marking the occasion with a traditional ofrenda, sugar skull decorating for lodging guests and festive specials that Tuesday evening at Campo.
Thanksgiving & Christmas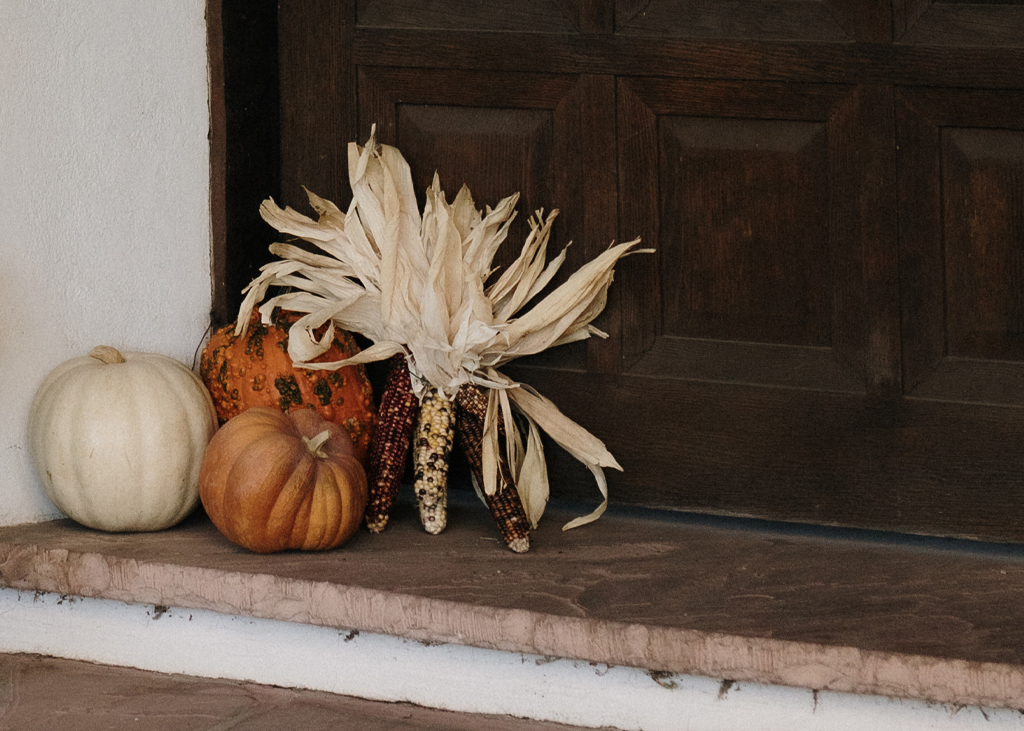 Take time to slow down and connect with loved ones this Thanksgiving weekend. Spend time together sharing stories fireside in the lobby over hot apple cider and enjoying outdoor lawn games the whole family will love. Indulge in holiday favorites at Campo, pick up holiday gifts for loved ones at the Farm Shop and recover from the busy season with treatments at the Hacienda Spa.
This season, Los Poblanos would like to allow our family to spend time with their families as a way to express gratitude for the dedication and long hours worked through the pandemic. We will be limiting our hours at Campo and the Hacienda Spa on both Thanksgiving and Christmas Day, and will be offering reservations to our lodging guests only. The Farm Shop will be closed on Thanksgiving, Christmas Day and New Year's Day. We are so thankful for your understanding in this decision and we look forward to serving you this holiday season.
To make Thanksgiving lodging and dining reservations, please contact our Reservations team at 505-344-9297 ext 0.
Autumn Harvest Retreat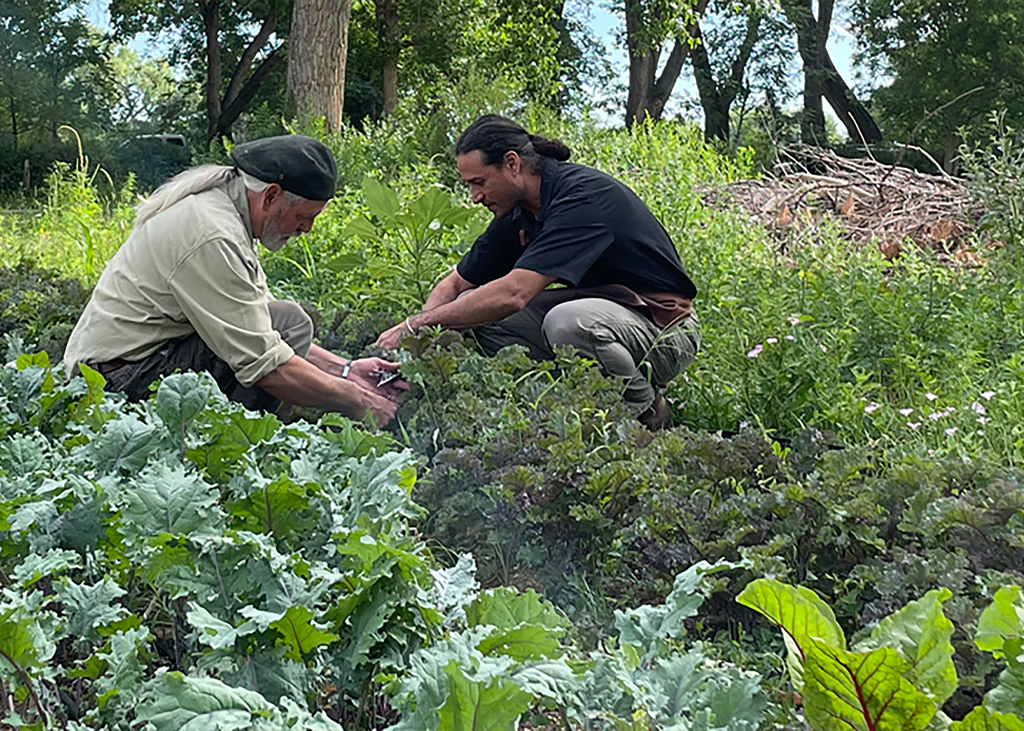 September 19 - 22, 2021
This September, join us for our second annual Autumn Harvest Retreat at Los Poblanos and celebrate peak farm harvest season with an immersive, behind-the-scenes experience of our field-to-fork culinary model. Spend a morning in the fields with our talented farm team to learn about our organic growing methods and taste fresh produce that's bursting with flavor. Meet our Executive Chef, Jonathan Perno, and Director of Wine & Spirits, Dylan Storment, as they lead interactive retreat sessions that showcase the thought and expertise that go into our award-winning food and beverage program. As you explore the farm from multiple dimensions, you'll come away with new insights that you can incorporate into your own gardens and kitchens at home.
Throughout this retreat, enjoy field-to-fork meals prepared by our award-winning culinary team, rest easy in our healthy, relaxing guest rooms and enjoy a thoughtfully planned schedule that allows for plenty of time to relax and experience the farm at one's leisure.
This retreat is now sold out. Email reservations@lospoblanos.com to join the waitlist.