Visit the Farm Shop
Enter through our Farm Foods Market and be greeted by the whirring espresso machine, a counter overflowing with perfect pastries and shelves filled with artisan foods. From our own Farm Foods collection of salts, herb blends and pantry staples to our favorite snacks and spreads, you're bound to discover a new favorite culinary treat. Peruse an ever-changing assortment of fresh breads baked steps away in the Campo bakery that pair perfectly with our house-made affetati misti and artisan cheeses to craft the perfect farm picnic that's best enjoyed outdoors in the abundant sunshine.
Rounding the corner, you'll stumble upon the Los Poblanos artisan lavender product collection. What started as amenities for our Inn years ago, the lavender collection has grown from our best-selling Lavender Salve and Hair Care to Botanical Fragrances, Aromatherapy products and Lavender Sanitizer. Just north of our cottonwood tree-lined drive and steps from the Farm Shop, our organic lavender fields are a signature part of the Los Poblanos experience. You may spot our dedicated farmers tending to the beloved plants that provide the essential oil and hydrosol for our products, and when the lavender is blooming, its fragrance is palpable in the air. Every product is made in small batches right here in New Mexico, using only natural and organic ingredients that are safe for all skin types and safe for the planet.
The rest of the shop is filled with locally-sourced items from makers and artisans who have truly mastered their craft. From cocktail bitters and barware to out-of-print books and cookware, the Farm Shop is brimming with gorgeous gifts to discover.
Visit the Farm Shop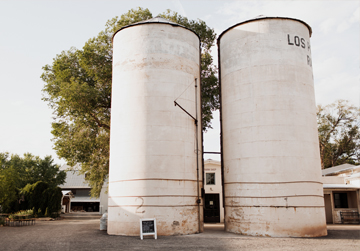 Farm Shop
Daily | 9:00 am – 6:00 pm

Farm Foods Counter
Daily | 9:00 am – 4:00 pm
Artisan Lavender Products
Straight from our fields and crafted with care in small batches, Los Poblanos artisan lavender products have a strong sense of place. Directly from the land of New Mexico, each product carries the story of our family-run organic lavender farm and historic boutique inn. With a distinctly Southwestern terroir, our organic lavender soaks up the sun and wind of the New Mexican high desert and the Rio Grande waters flowing through our ancient acequia canals. When the conditions are just right - usually in mid-July - our farm team begins the annual lavender harvest. We harvest early in the morning as the flowers are partially, but not completely, in bloom so we capture their peak oil content. Then it's off to be tied and dried in bundles, then packed into one of our handcrafted Portuguese copper stills to be transformed into the pure essential oil that ends up in our signature line of artisan lavender products. We grow lavender to preserve the region's rich agricultural heritage, to protect beautiful open space from development and to provide local farmers with an honest day's work. Shop the lavender collection
Farm Foods Market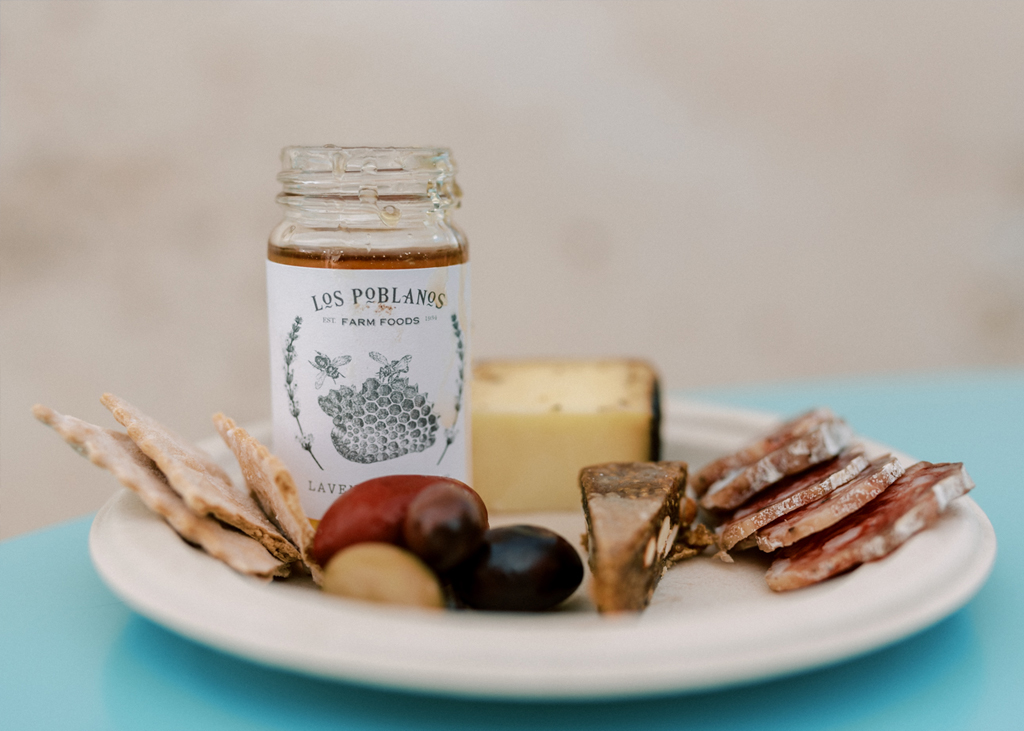 While many of the Farm Foods dry goods are available online, a visit is necessary to fully experience the thoughtfully curated selection of pantry food items, many of which are made in house. Peruse the Los Poblanos salt and spice collection, lavender honey, crackers and olives, condiments and oils, kitchen tools, cookbooks, coffee and tea, assorted bread and pastry items from the Campo kitchen and a deli case filled with artisan cheeses, house-cured meats, local pickles and our signature lavender lemonades. Whether you're an Inn guest putting together a picnic spread to enjoy on the farm, or a neighbor stopping by for accoutrements to entertain friends, the Farm Foods Market is stocked with culinary staples and little luxuries for any occasion.
From our Bakery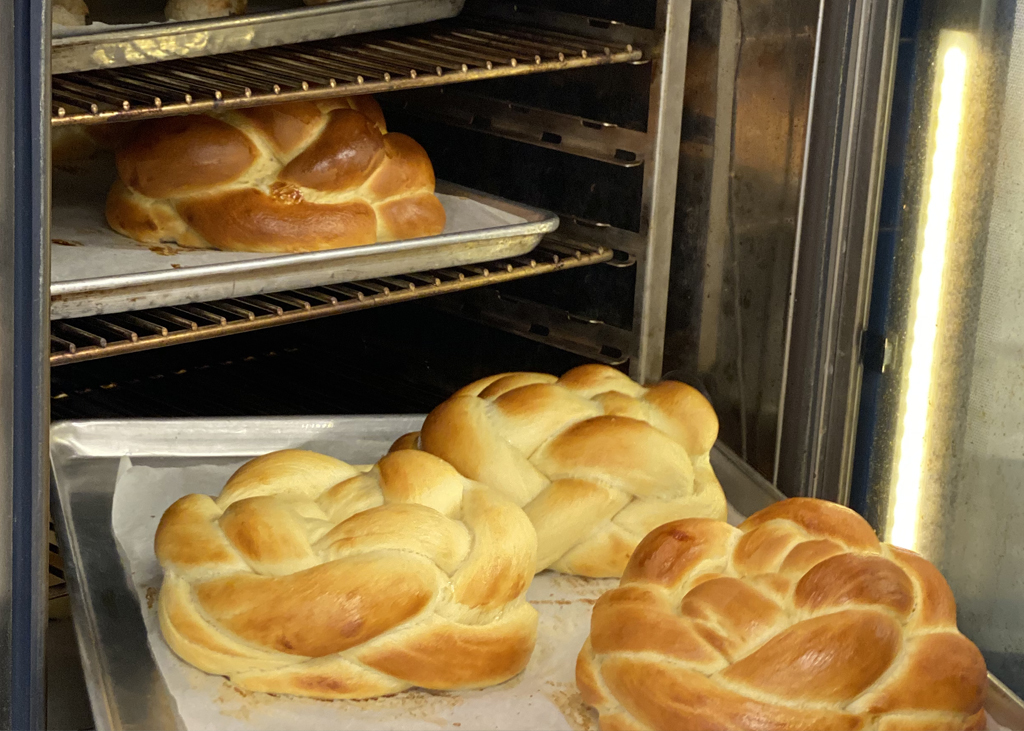 Our bakery team has mastered the art and science of the perfect loaf. Located inside the kitchen at Campo, the bakery team crafts fresh, small-batch artisan offerings for the Farm Shop and Campo every day, from breads and pastries to decadent desserts and cookies. Embracing a local and seasonal ethos, the entire culinary program at Los Poblanos maintains relationships with local farmers and producers while also utilizing ingredients from our own farm. Time and talent go into each handmade loaf as it requires days to prepare the perfect fermentation. Then, breads are baked using a European steam-injected oven which gives our French baguettes a perfectly thin, crispy crust. These beauties hit the Farm Foods bread shelves daily, still warm and ready for a smear of sweet butter and a dollop of our Green Chile Jam. Discover a range of breads, from green chile sourdough to blue corn polenta, or pick up a flaky croissant or gluten free muffin, all at the Farm Shop.
From our Butchery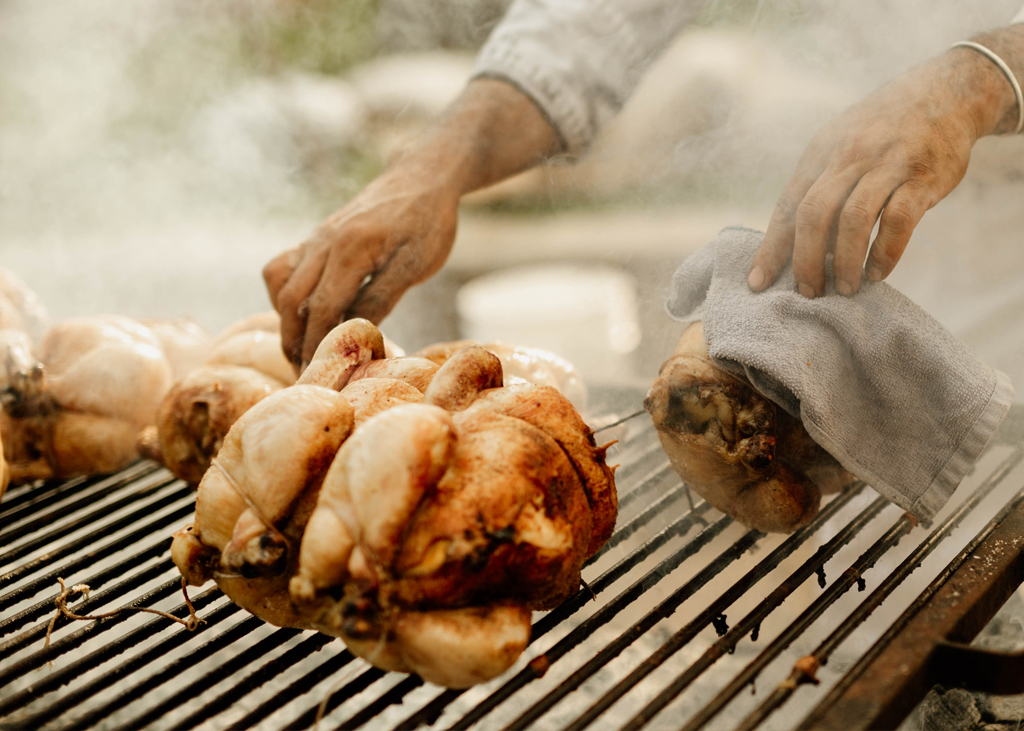 The butchery initiative at Los Poblanos has developed into a whole-animal operation sourced from local, family-run farms and supplies the entire culinary program with cuts of meat, house-made sausages and artisan charcuterie. This development has allowed the culinary model to expand upon longstanding and meaningful relationships with local farmers while adding an enhanced level of craft here at the farm. Dedication to quality begins with the meat itself, and everything you'll find in our butchery is humanely raised, sustainably harvested, and without fillers, antibiotics or hormones. In the Farm Foods Market, you'll find house-made rillettes and an affettati misti packaged for a picnic, and perfect paired with our artisanal cheeses and fresh, homemade bread. Our four-pack of signature, frozen sausages incorporate fresh, local ingredients and are brilliant when paired with our French baguette as a bun. Our culinary team says they are a real comfort food and are begging to be enjoyed out on the patio with a local brew.
Visit the Farm Shop to shop the butchery
From our Community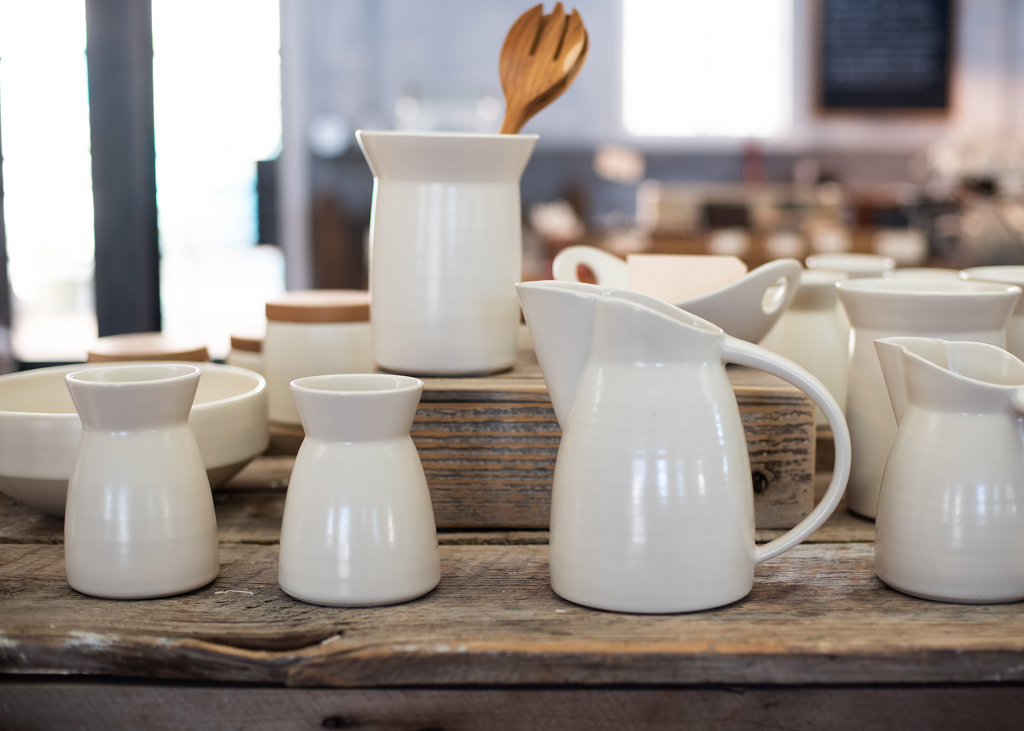 Supporting other makers and craftsmen is at the heart of our mission, and the Farm Shop represents the work of many outstanding artists and creatives in the Los Poblanos community. We are extremely proud of the friendships and relationships we have fostered over the years, many of which have resulted in unique collaborations with talented artisans and makers both in our local community and abroad. Whether we're working with this creative community to create custom product, featuring innovative sellers or highlighting a new, exciting artist that we want to introduce to you, we love cultivating meaningful, long-term relationships and consider our makers part of the extended Los Poblanos family.
History of the Farm Shop
The Farm Shop at Los Poblanos started out tucked in a small room in the corner of the historic Inn, back when there were only six guest rooms housed in the Hacienda. Since then, the Farm Shop had stints in our historic Lord & Burnham Greenhouse and what is now Campo. Today, the Farm Shop has grown into a beautiful, light-filled retail space inside the renovated, historic dairy barns with products that represent our wonderful corner of the Rio Grande Valley.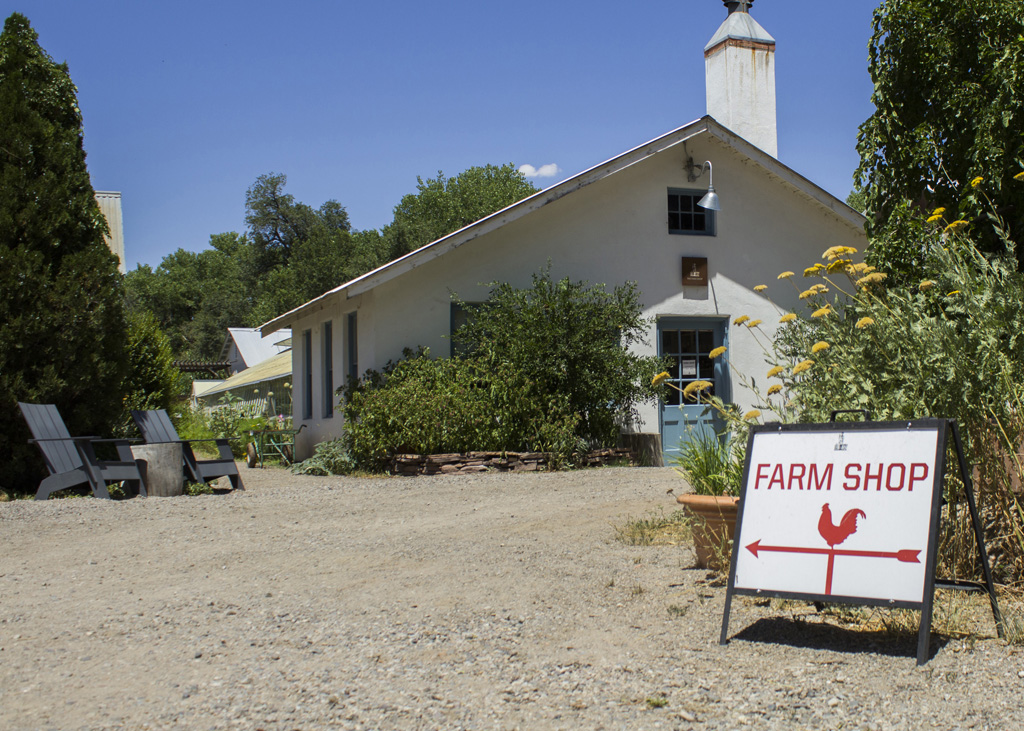 Farm Shop in the Lord & Burnham Greenhouse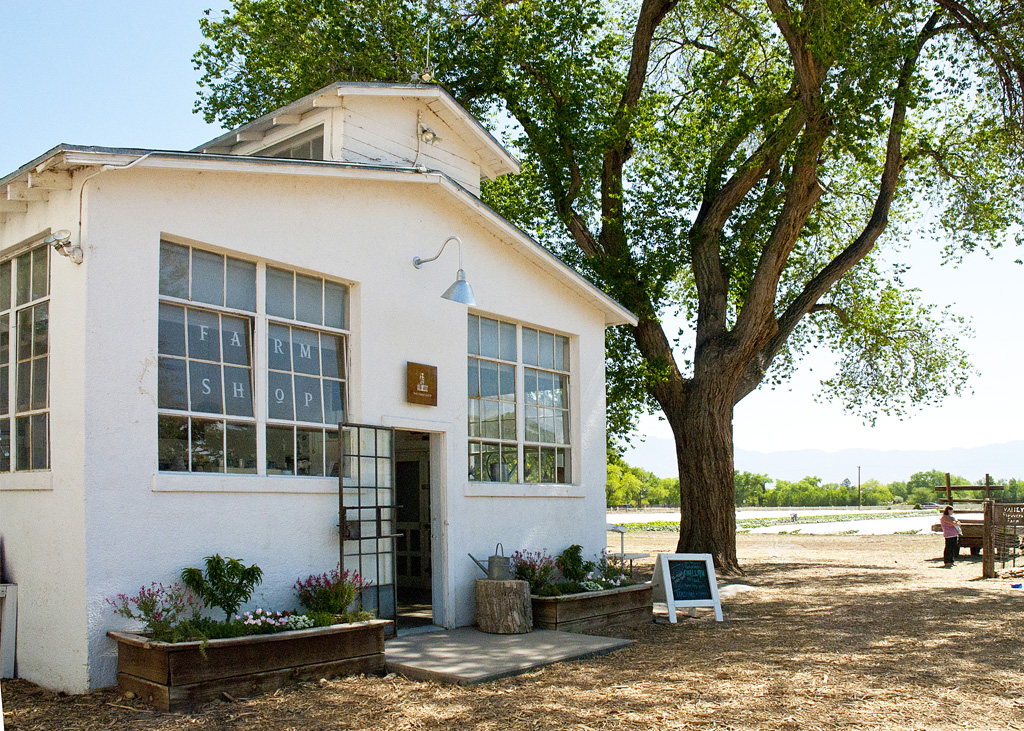 Farm Shop in what is now Campo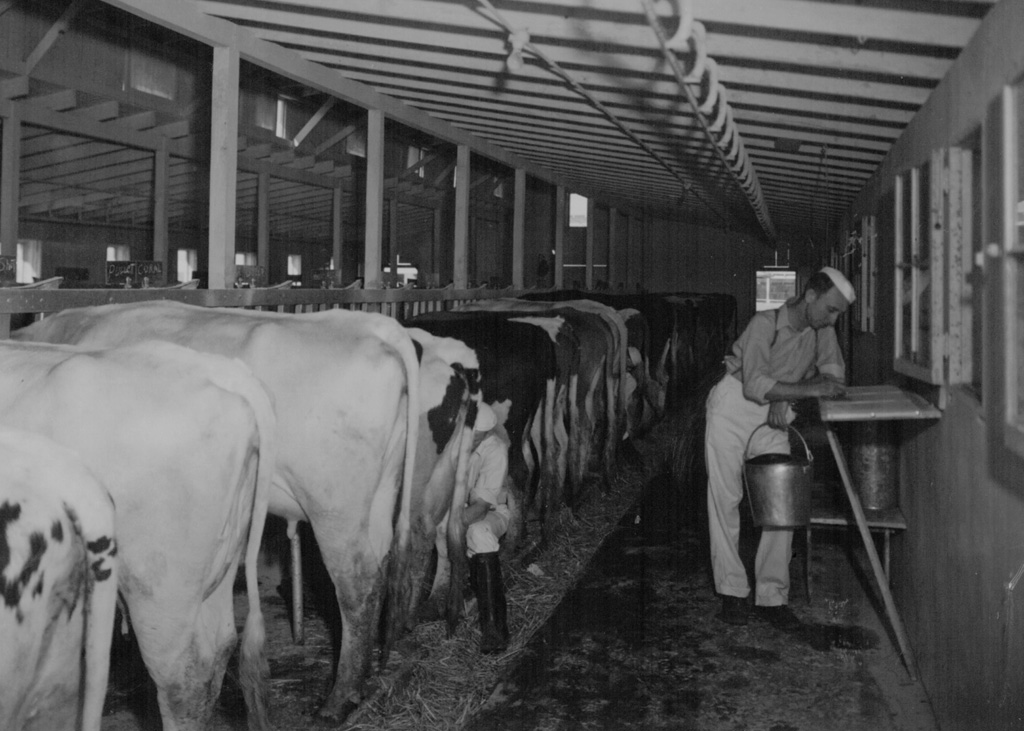 Historic Dairy Barns, photo by Laura Gilpin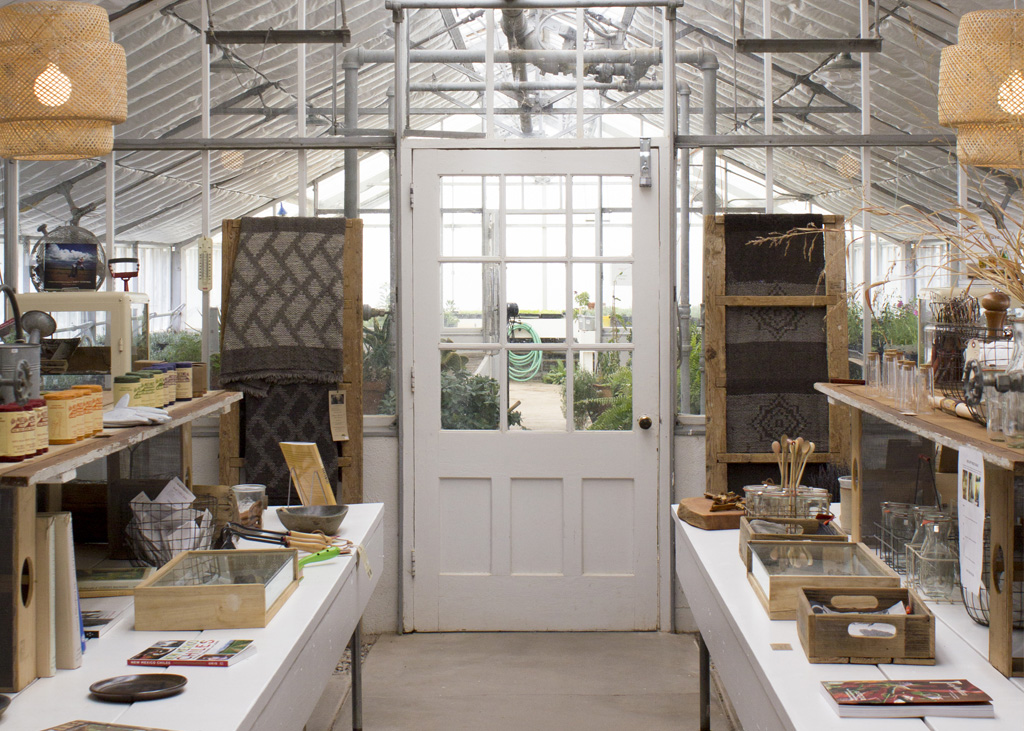 Greenhouse interior

Farm Shop in its new home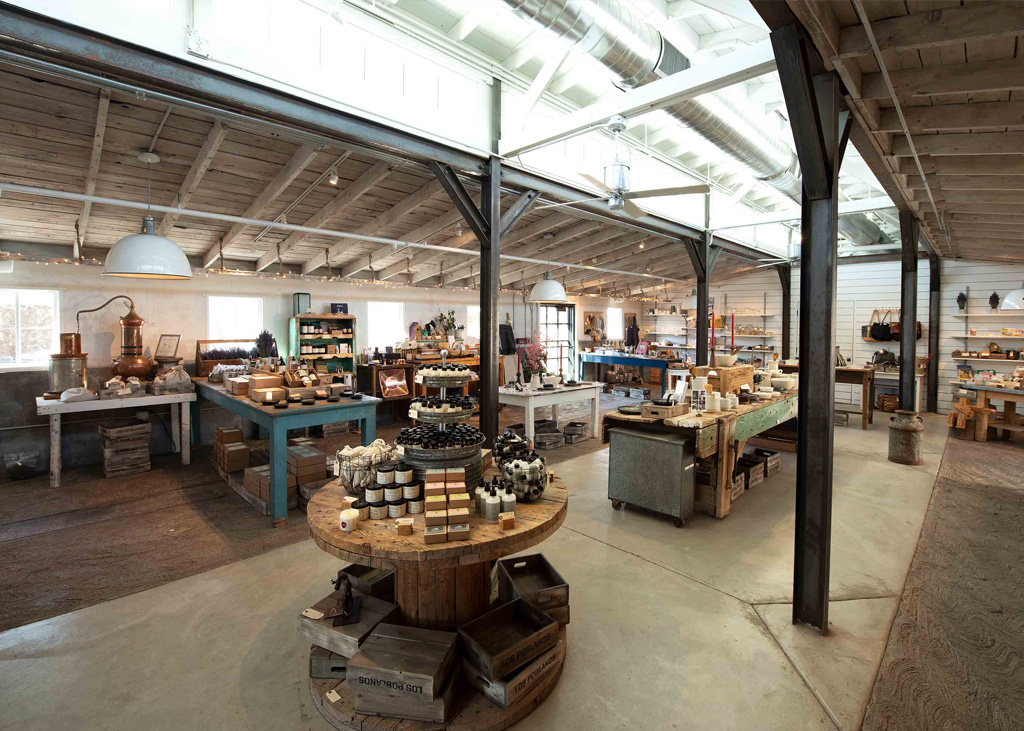 Farm Shop interior