Autumn Harvest Retreat
The season to gather
October 11 - 14, 2020
With countless crops flourishing at this time of year, join us for the Autumn Harvest Retreat and immerse yourself in the abundance of fall on the Los Poblanos farm. You'll savor fruit, vegetables and herbs bursting with flavor, enjoy time with our talented farmers, explore the Southwest through regional wines and experience our award-winning Rio Grande Valley Cuisine with ingredients harvested from our own fields. The field-to-fork retreat sessions lead up to an elaborate matanza feast, thoughtfully and carefully prepared over several days by our dedicated culinary team. Designed to awaken the senses and reconnect to the land, the Autumn Harvest Retreat provides a behind-the-scenes look at our food and farming model, which embodies the rich agricultural history of the property and reinforces the Los Poblanos mission of sustainable agriculture and historic preservation.
All sessions will be held in small, semi-private, socially distanced groups to ensure safety and comfort, with a thoughtfully planned schedule to allow for plenty of time to relax and experience the farm at one's leisure. Throughout this retreat, enjoy organic meals prepared by our award-winning culinary team and rest easy in our healthy, relaxing guest rooms.
This retreat includes:
A luxurious three night stay at the Inn--check in at 4 pm on Sunday, October 11, check out at 11 am on Wednesday, October 14
Complimentary arrival cocktail
Breakfast daily at Campo (alcohol and gratuity are not included)
Six-course matanza feast with wine pairings on Tuesday, October 13
Four field-to-fork sessions
One wellness session
20% off in-store purchases at the Farm Shop between October 11 and 14
Field-to-fork Session 1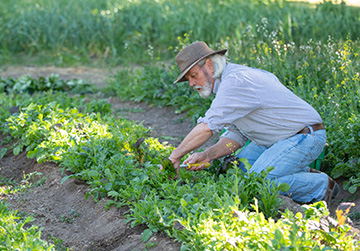 Farm School
Taste your way around our organic farm with our wonderful Farm and Landscape Manager, Wes Brittenham. You'll learn about how we grow the highest quality food by employing sustainable farming methods. The autumn harvest is a very special time on the farm, with different crops coming out of the ground every day. From squash, root vegetables and leafy greens, learn how to harvest vegetables for peak flavor from our dedicated experts.
Field-to-fork Session 2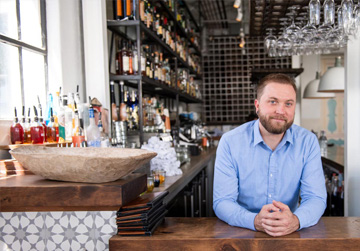 Exploring Southwest Wines
As the oldest wine-producing region in the United States, New Mexico has a rich, complex history of viniculture to explore. Join our talented Director of Wine and Spirits and Certified Sommelier, Dylan Storment, for a deep dive into the world of New Mexican and Southwestern wine. This experience will bring Bar Campo's award-winning menu to life and introduce you to local winemakers that have an unparalleled passion and expertise in producing fine high-desert wines.
Field-to-fork Session 3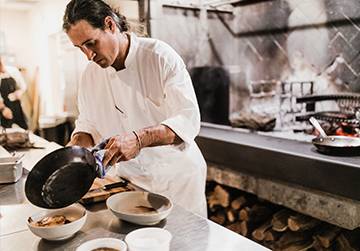 Rio Grande Valley Cuisine Demo
Our acclaimed Rio Grande Valley Cuisine is rooted in organic ingredients harvested from our fields and sourced from local farmers and herdsmen. Crafted with care and expertise by Executive Chef Jonathan Perno, a 2020 James Beard Award finalist, our cuisine reflects the values at the heart of Los Poblanos: excellence, community and authenticity. Our outstanding culinary team, led by Chef Perno, will guide an interactive demo that provides a behind-the-scenes look at how seasonal Campo dishes are brought from concept to reality. The session will be centered around a traditional New Mexican matanza, where a locally-raised pig and seasonal vegetables will be slow roasted in a deep outdoor pit until perfectly succulent.
Field-to-Fork Session 4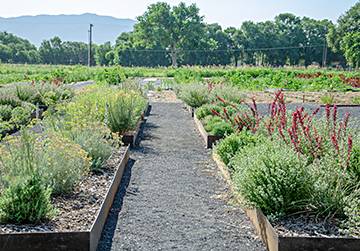 Herb Foraging Walk
Explore the rich palate of culinary herbs growing around the Los Poblanos property. This guided morning walk will engage the five senses as we seek out plants ranging from traditional native teas to uncommon varieties of familiar herbs that enliven the dishes prepared in the Campo kitchens.
Wellness Session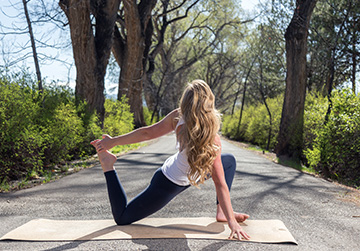 Outdoor Yoga Class
Breathe deep, stretch and find balance with an outdoor yoga class led by local mobile studio, YogaZo, that's designed to make you feel welcome and accepted, no matter how little or long you've practiced. Simply bring an open mind and wear clothes you feel good moving in. Freshly sanitized mats will be provided.
Harvest Celebration Matanza Feast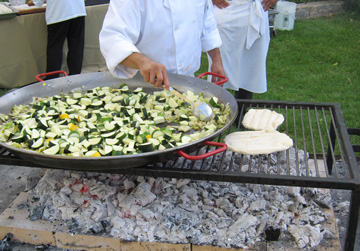 Enjoy a final-night feast that ties together the agricultural and culinary experiences of the Autumn Harvest Retreat. Executive Chef Perno will build a six-course matanza inspired tasting menu that will be paired with a wine or spirit selected by our Sommelier, Dylan Storment, to compliment the flavor profiles and cooking techniques used by Chef Perno's team. This magnificent celebration of the harvest will complete a series of unforgettable experiences on the farm.
How to reserve
To reserve, simply call the Inn at 505-344-9297 and speak with our Reservations team.
Single occupancy rates begin at $1434, plus tax and 4% service charge
Double occupancy rates begin at $1980, plus tax and 4% service charge