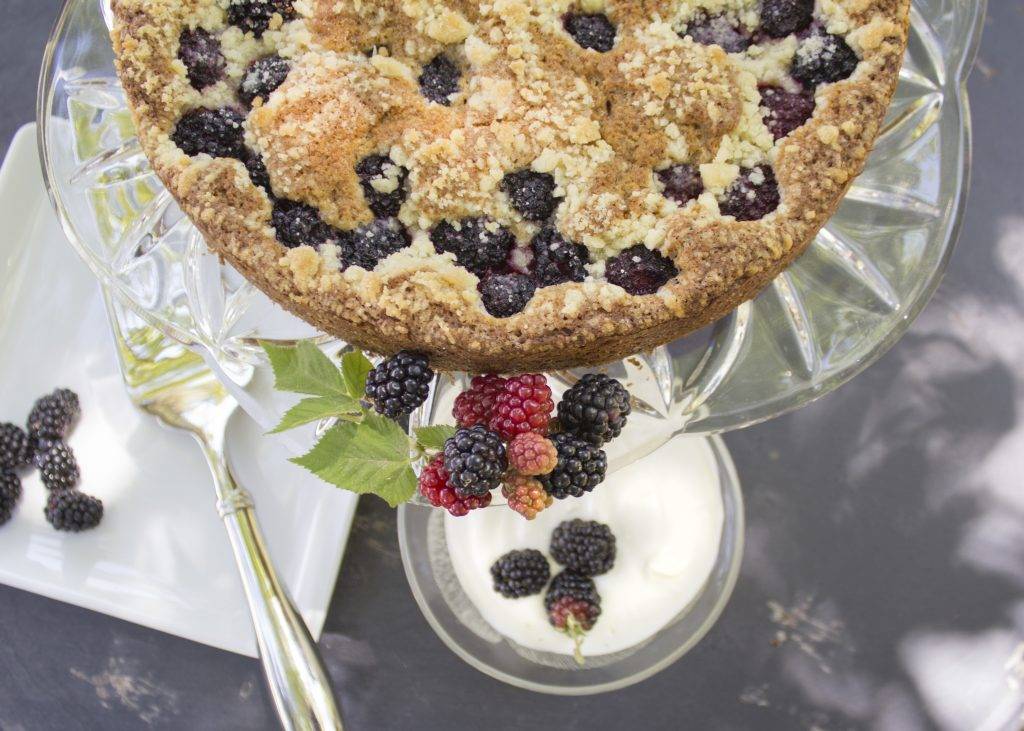 All across the farm, we have little blackberry brambles tucked here and there between the heirloom roses, fruit trees, figs, and wisteria vines. For most of the year they go relatively unnoticed compared to their flashier, more prominent counterparts, but come July and August when the berries start shifting from vibrant crimson to lovely deep, dark blue-violet, the blackberries become the star of the show. Often, in the early mornings, our pastry team can be found in the gardens harvesting the ripest berries for use in the kitchens. They stand out, attired in their crisp chef whites.
This week we are sharing Chef Perno's recipe for Blackberry Buckle, a celebratory little summer dessert that highlights the bright, beautiful flavor of one of our favorite summer berries. Though they are a unique type of pastry, buckles are often compared to coffee cakes and crumbles because of their cake-like texture and sweet streusel top. Traditionally they are made with blueberries, but since we grow such wonderful blackberries right here in the Rio Grande River Valley, it seemed only appropriate to adapt this recipe to include them.
This is a wonderful recipe for sharing and will, without doubt, make you the most popular guest at your next picnic or potluck. We served ours with sour cream, which is a lovely compliment to the warm, buttery cake studded with bursts of sweet-tart fruit. However, it would also be great with a dollop of fresh whipped cream and a sprinkle of powdered sugar. Any way you slice it, this one is a winner!
Blackberry Buckle | Makes 1 9-inch cake
For the cake:
1-1/2 cups all-purpose flour
1 cup packed brown sugar
1 teaspoon baking powder
1/2 teaspoon baking soda
1/4 teaspoon salt
1/4 teaspoon ground cinnamon
1/2 cup butter
1 slightly beaten egg
1/2 cup buttermilk or sour milk
1 teaspoon vanilla
1-1/2 cups blackberries
For the topping:
1/4 cup all-purpose flour
2 tablespoons granulated sugar
2 tablespoons butter
1 tablespoon powdered sugar
Instructions:
Grease a 9-inch spring form pan. Line the bottom with waxed paper. Grease the waxed paper, flour the pan, and set aside.
In a large mixing bowl, stir together the 1 1/2 cups of flour, brown sugar, baking powder, baking soda, salt, and cinnamon. Ising your hands or a pastry cutter, incorporate the 1/2 cup of butter into the dry ingredients until the mixture resembles coarse crumbs.
In a small mixing bowl, combine the eggs, buttermilk or sour milk, and vanilla.
Make a well in the center of the dry ingredients, pour the wet ingredients into the well and stir until just moistened. Spread batter in prepared pan and distribute the blackberries evenly across the top.
In a small mixing bowl, stir together the 1/4 cup flour, and sugar. Using your hands or a pastry cutter, incorporate the butter into the mixture until it resembles coarse crumbs. Sprinkle the mixture over the blackberries and batter.
Bake for about 50 minutes or until a wooden toothpick inserted near the center comes out clean.
Remove from the oven and let cool in the pan for 30 minutes on a wire rack. Once cool, invert the cake onto a plate and remove waxed paper from the bottom. Immediately invert the cake again onto a serving plate, sprinkle with powdered sugar, and serve warm with sour cream or fresh whipped cream.