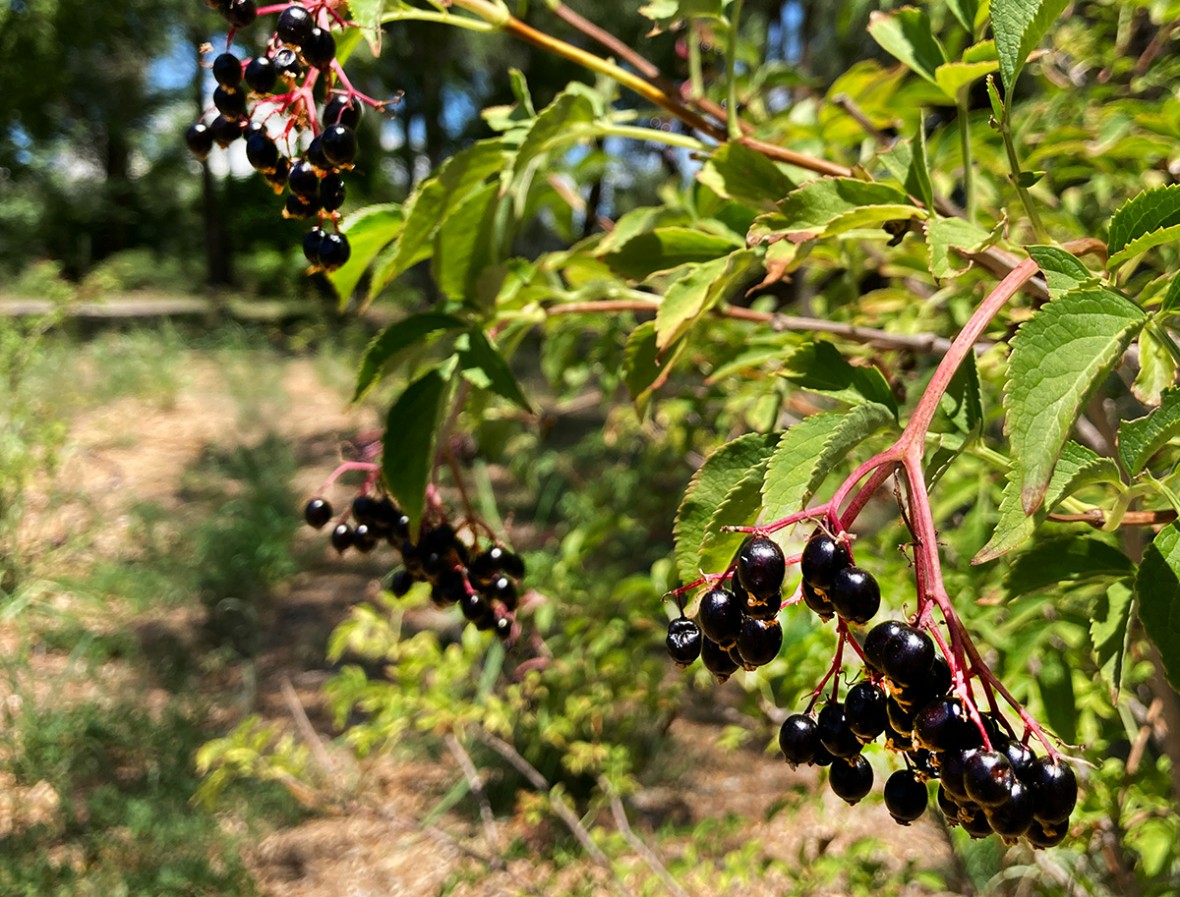 Fruit trees are integrated throughout the landscape at Los Poblanos. We grow a wide variety, each with a distinct season and individual flavor. The farm team meets regularly with the culinary team, and much of what we plant reflects direct requests from chefs, bakers and others who help us to develop a farm that supports the diversity of Los Poblanos. From the mulberry syrup in your cocktail, to a plum tart in the restaurant and the blossoms and branches that adorn our public spaces, fruit trees enliven every season on the farm. Some are hardy and reliable, while others have challenges that can lead to bounty or failure.
Early Summer
The mulberries on the farm produce vast quantities of fruit which is harvested for weeks on end in early summer. The kitchen prefers the berrires tart and partially ripe, but they use them in many ways all the way to the deep purple, sweet, late-season fruit. Mulberry is harvested late April, May, June, July.
We have a number of apricots around the farm. Like peaches, they are early bloomers and sometimes we lose the entire crop, but due to the various micro-climates, some trees may still produce fruit. All the stone fruits have this late frost issue. Apricots were spotty in 2022, but we did get some good harvests. Apricot harvest is in early summer, May, June.
Three or four varieties of sour cherries are planted in a row along the North acequia. These trees are natural dwarf cherries that grow to about 8-12 ft. tall, making harvest easy. Planted four years ago, last year was the first harvest and it was a good one. This year, frost got them all and we did not have a cherry harvest. Cherry harvest is in early summer, May, June.
Mid Summer
We have a variety of peaches – Red Haven, Hale Haven, Contender and White peaches are among the types found at the north border of the fenced pasture. These semi-dwarf trees (12-15 ft.) provide lovely pink blooms in early spring and terrific fall color when the leaves change. Early blooms put them at risk of frost damage and this year was no exception. While 2021's harvest was bountiful, in 2022 two late frosts at blossom time left us peach less. Peach harvest is in summer, July August.
There are a variety of plum trees at the farm and near Campo/Field Rooms. Plums are harvested in summer, June and July.
Figs are a bit of a challenge here, but we try. They are sometimes damaged by very low winter temperatures and can die to the ground if it gets too cold. They also benefit from being planted on south or west exposures near walls. A soft fruit, we must keep our eyes on the plants as birds and the appropriately named fig-eater beetle find the ripening fruit irresistible. Figs are harvested in summer, July, August.
More a large shrub than small tree, elderberries produce beautiful flat clusters of cream-colored flowers followed by small juicy fruits that are harvested when succulent and ripe. The rich purple fruit is prized by the bakery, and the short season is one looked forward to each year. This plant is rarely bothered by cold or frost, so the harvest is reliable if limited. Elderberry is harvested in summer, late June, July.
Late Summer/ Early Autumn
We have several apple trees on the farm, including one that is probably 85-95 years old. Sadly, the variety of this old tree is lost to history, but it is very productive, and we hope to take cuttings to graft onto rootstocks to preserve this historic tree into the future. This tree sits at the east edge of the La Quinta parking lot. There is also an old Winesap apple in the woods near the yurt. Our arborists are doing some restorative pruning on this tree to encourage productive growth. Apples bloom late so they are not often affected by late frosts, thus we can expect reliable production. Apple harvest is in autumn, September, October.
We have a couple of old quinces on the property, and six newer ones planted at the farm a few years ago. The old ones produce fruit that ripens in the fall and is harvested after the first good frost. Quince is used in the kitchen to make membrillo, a sort of gelled paste, and the fruit can also be made into fruit leather, or baked with nuts, brown sugar and cinnamon. Quice is harvested in autumn post-frost, October.
A small grove of four persimmon trees adorn a patio near the Farm Rooms. The squat orange fruits are harvested in autumn, post-frost, October.
There are some nice pomegranates around the farm. The brilliant orange flowers are a showstopper in late spring and early summer. Because they flower later, the frosts rarely damage fruit production. They ripen all summer and are harvested in the autumn. Most of our pomegranates are a variety called Wonderful. This is the most common variety and is found in most markets. We also have one Utah pomegranate near some guest rooms. This one is more cold-hardy than most pomegranates. It produces a fruit that ripens to a golden color rather than the leathery reddish burgundy of the Wonderful. Pomegranates are susceptible to low winter temperature damage and fare best if planted near walls for reflected heat in the winter. If we get to zero or below which happens rarely, this plant can be killed to ground level. If that happens, it takes about seven years to re-grow and become productive again. Pomegranates are harvested in autumn, September, October.
The jujube is a tree native to China and the fruit is sometimes called Chinese Date, as it has a date-like quality and flavor, especially when dried or candied. Like all fruit trees, this is an excellent pollinator plant, though the flowers on the jujube are tiny and not showy like other fruit tree blossoms. The fruit ripens in late summer and is golden brown to caramel colored when fully ripe. They can be eaten fresh or prepared with different methods. We are experimenting with this plant and its fruit it in several ways, from the kitchen to cocktails and more. Jujube is harvested in autumn, September, October.