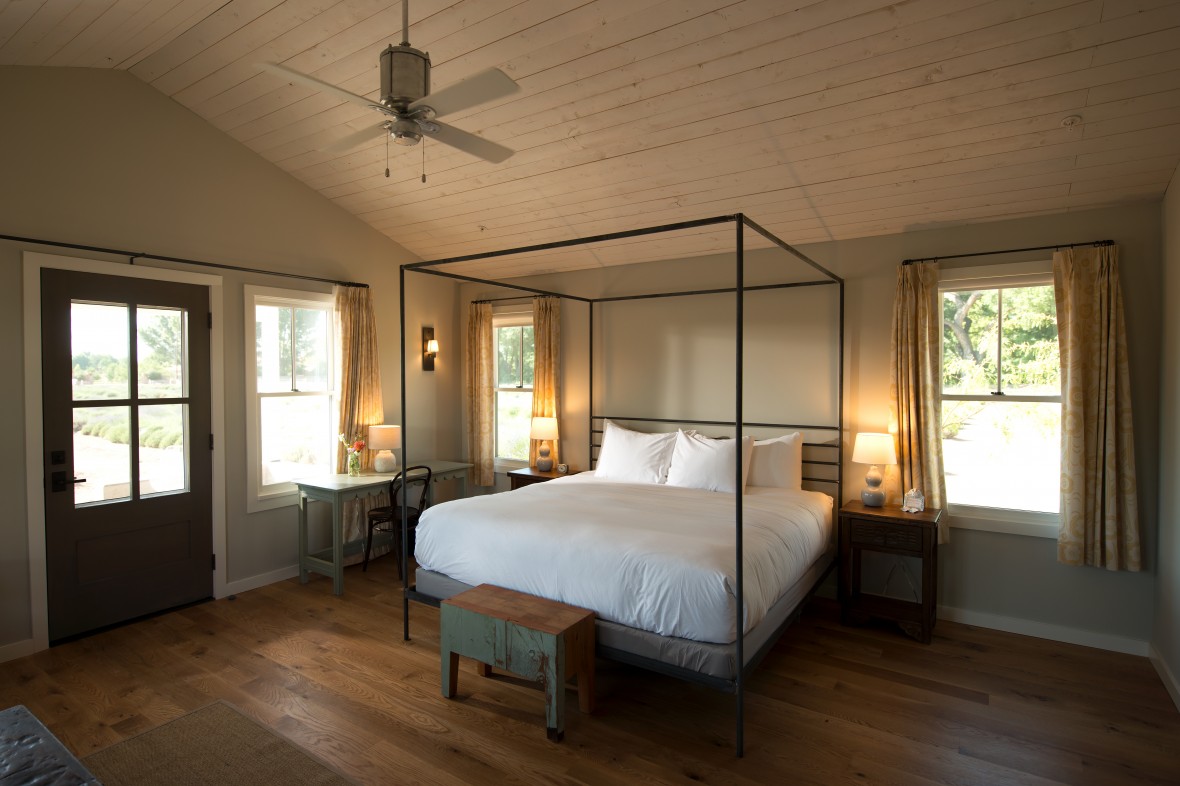 Sustainability is at the core of every decision we make here on the farm, and while we aren't often touting the health and cleanliness of our rooms, our thorough daily cleaning practices are something in which we take enormous pride.
Building on architect John Gaw Meem's historic designs, all of our rooms at Los Poblanos feature multiple operable windows to allow a cross draft of fresh air to spill in. It sounds silly that fresh air should be a luxury, but very few hotels these days actually have it and most depend on recirculating air. Our patio doors let in the warm, sunny afternoon and the chilly evening air, encouraging a restorative night's sleep. While we often highlight our food and our lavender products, it's the fresh New Mexican air that keeps many of our most loyal guests coming back!
Ok, our lavender amenities - we make these ourselves using organic lavender we grow and distill right here on the farm, literally steps from your guest room. In 20 years of running the inn, we have yet to learn of even one other hotel property worldwide that makes its own amenities using ingredients cultivated onsite. There has to be some others somewhere, so please let us know if you're aware of any. Lavender, lavender essential oil, and lavender hydrosol (steamed plant water) are also known for their antibacterial and antiseptic properties, so we use it throughout the property for everything - cleaning, healing cuts and nicks and hydrating dry desert hands. But waking up to the smell of lavender wafting through your window and then bathing using products made on site is truly sublime.
Apart from our housekeeping team's mission to delivering the cleanest rooms possible, everything else in your room has been carefully curated with healthiness and sustainability in mind - organic cotton sheets and robes, fair-trade organic coffee and tea, hardwood floors versus wall-to wall carpeting, patios for lounging, desks for writing to your family, and finally, for your mental heath, sweeping majestic views of fields, gardens, open blue skies and wildlife.
After eating breakfast at Campo, which features fresh organic ingredients grown by our own farmers as well as from our trusted community of farmers of the Rio Grande River Valley, you can finish it all off with a walk or bike ride along the Rio Grande River.
Thank you for supporting Los Poblanos and our dedication to sustainability and health. We look forward to welcoming you to the farm soon.

Sincerely,
Melissa Rivera, Inn Manager and Camille Gonzalez, Housekeeping Manager