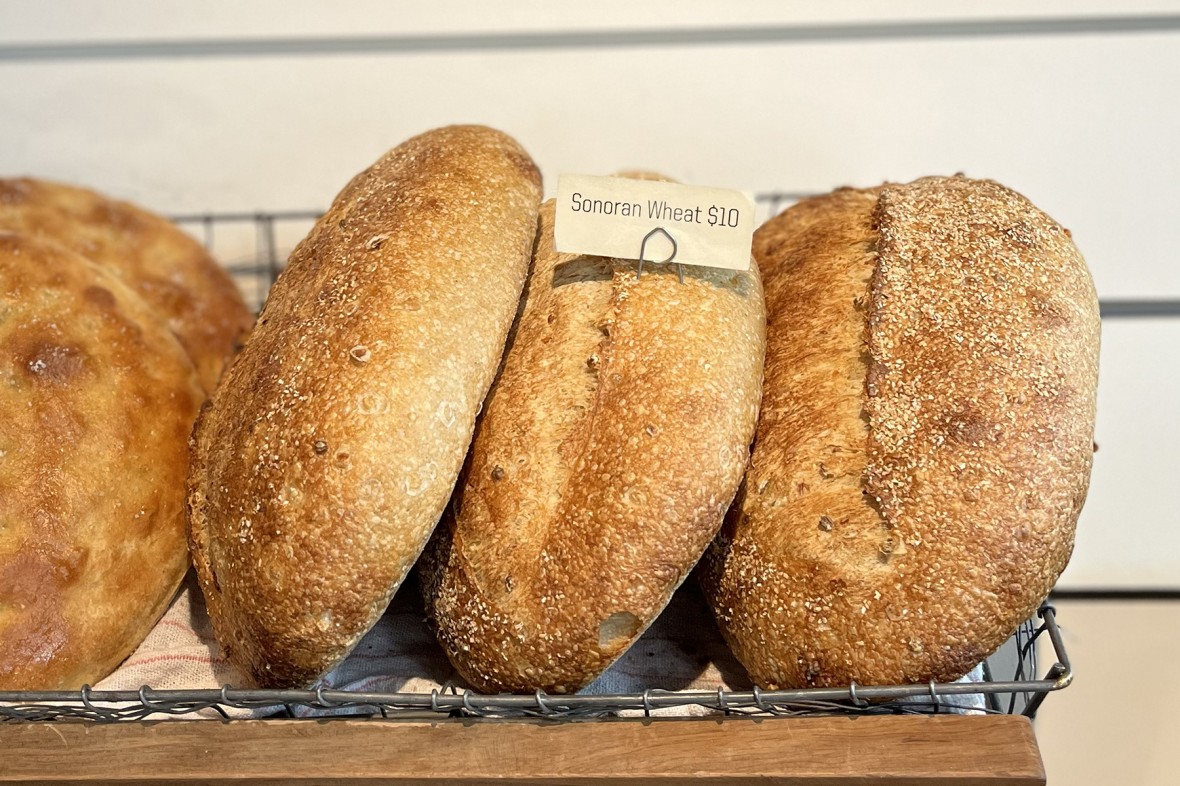 The transition to fall has us gearing up for full-on baking season – warming the kitchen with fresh bread and making plans to share festive holiday treats. Our culinary and bakery teams turn to hearty, nutritious heritage grains to bring the flavor of the Rio Grande Valley to our seasonal menus.
Each grain offers unique qualities, and our teams have become creative experts at integrating heirloom grains into all of our menus, using White Sonora Wheat, Tibetan Purple Barley, Turkey Red Wheat, Danko Rye and more to revive the texture and taste of New Mexico's agricultural history.
We source our heirloom grains with the Southwest Grain Collaborative (SGC), an organization built around revitalizing New Mexico's grain infrastructure and supporting regenerative organic farming. The SGC actively partners with small-scale farmers in rural and indigenous communities across the state to rekindle traditional agricultural practices and promote economic development.
Cultivated for centuries and largely unaltered by modern breeding methods, heirloom grains are minimally processed in smaller batches, preserving a higher proportion of their nutritional content. They typically feature a more balanced ratio of healthy fats and, depending on the specific variety, often contain greater protein content and reduced gluten levels compared to conventional refined and genetically modified flours.
You can experience these heirloom grains in person at our Farm Shop quick-serve, Campo restaurant, Afternoon Tea, and our cocktail lounges at Town and Ranch and Bar Norte. Find them online and in our retail spaces to experiment in your own kitchen. We have a few tips from our team to get you started.
White Sonoran Wheat
With a rich history dating back to the Spanish missions, this heirloom grain had nearly faded into obscurity before being revived by local farmers and adventurous bakers. White Sonora Wheat bread is a staple in the Farm Shop and on the table at Campo. This bread, with its rustic crust and tender crumb, utilizes all parts of this heirloom grain. Whole wheat berries are ground into a fine soft white wheat flour. The flour is then sifted and the germ is reserved. Sifting ensures the perfect texture. Cooked whole wheat berries are folded into the dough before the loaves are portioned, shaped and then dusted with the wheat germ to include the full nutritional profile of the whole grain. This versatile wheat flour also makes its way into our tortillas, croissants, cookies crackers and more.
Danko Rye
Danko Rye is a nutritious and hearty grain with a full, earthy flavor. The strong rye flavor and lower gluten content, results in a hearty loaf that we utilize in our Afternoon Tea sandwiches as well as our LP Reuben special on the Campo Brunch Menu. It would also work well in your favorite cracker recipe.
Tibetan Purple Barley
Tibetan Purple Barley integrates a delightful flavor and unique color into pastries at Los Poblanos. The sweet, nutty notes of this heirloom grain as a flaky pastry make a perfect base for seasonal sorbet, crafted by our bakery team and fresh-picked fruit, or a savory creation inspired by the day's harvest. Your final confection will have a slight purple cast.
Q&A on heirloom grains with Violet Jones, Pastry Sous Chef