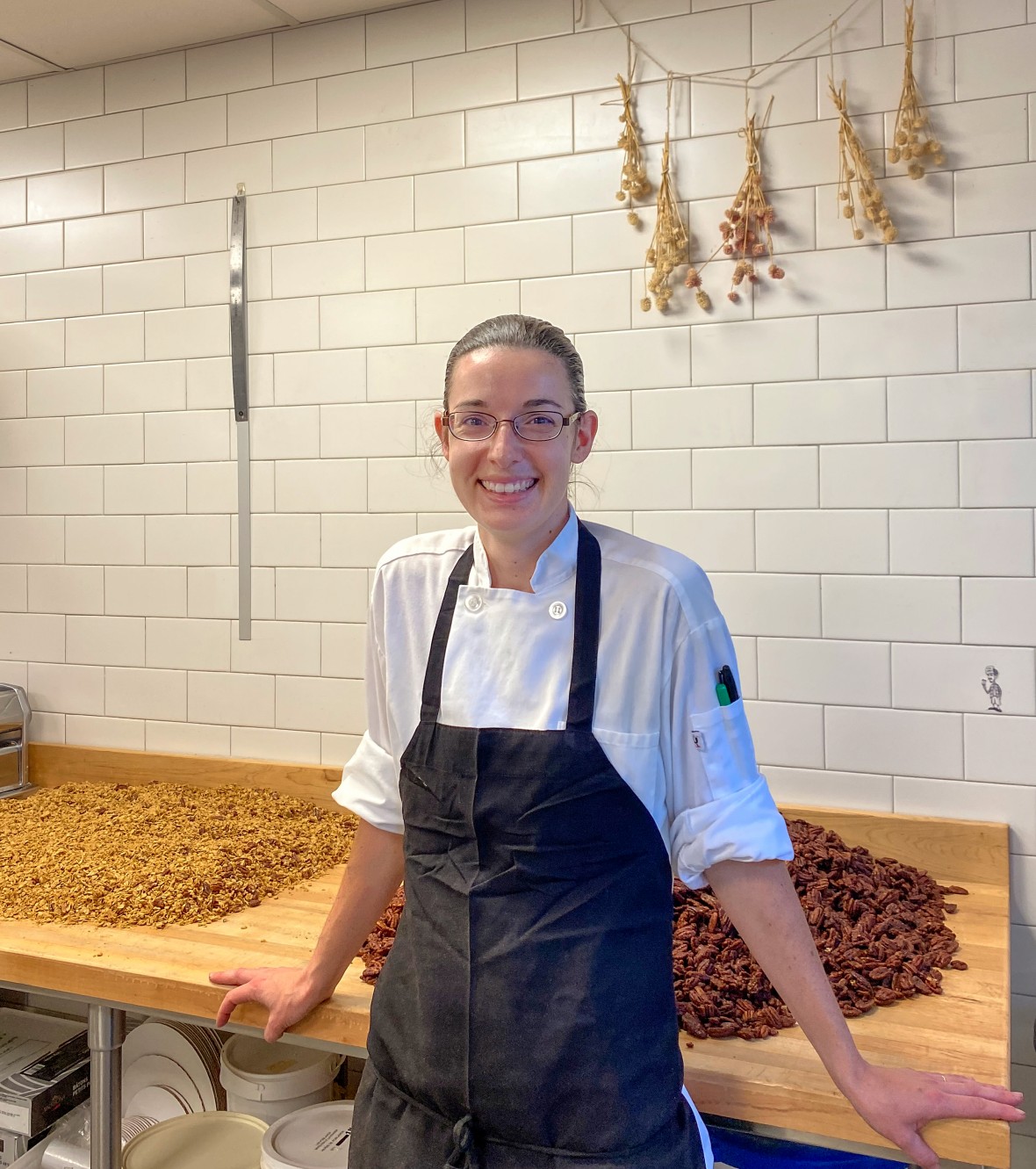 Welcome Caroline
We're thrilled to welcome Caroline Ballam, our new Pastry Chef, both to Los Poblanos and to New Mexico. She joins the award-winning Campo team with over a decade of professional baking and pastry experience working in renowned kitchens and luxury properties across the country.
Caroline's interest in baking began at age seven, when she started making cookies for her dad's lunches and breakfast pastries for her mom to enjoy in the morning. This hobby became a passion as she took culinary classes in high school and began competing and placing in SkillsUSA for commercial baking. From there, Caroline furthered her skills at The Culinary Institute of America, studying Baking and Pastry Arts Management. As her career has developed, Caroline has not only refined her technical baking skills, but developed her talents of leading and shaping a team, and comments on how she "loves to both teach and create."

After living all over the country, Caroline and her husband Derek realized they had differing ideas about the perfect place to settle down. It all came down to weather. Caroline is from the East Coast and loves to experience four seasons a year while Derek loved their time living in Las Vegas, Nevada because of the dry, arid climate. New Mexico was always the ideal place they could both agree on. Now that she's here, Caroline is soaking up Albuquerque's beautiful fall weather as she works to master high altitude baking and settle into her new home.

Executive Chef Jonathan Perno says, "I handpicked Caroline for this role because of her talent and background. I know she'll raise the bar in this kitchen." Chef Perno proceeded to slice into a buttery, flaky croissant and show off its crumb. "She's already raising the bar," he says, "look at how beautiful this croissant is." Caroline says, "There is so much potential here that I can't wait to bring out. I'm excited to highlight New Mexican flavors and ingredients through pastry." Upon her first visit to the farm, Caroline fell in love with our field-to-fork model and is inspired by Chef Jonathan's dedication to supporting local farmers and communities. She's excited to use ingredients that have been harvested from the Los Poblanos fields, just steps away from the bakery.

Caroline's genuine love for her craft, paired with her talent and curiosity makes her a wonderful addition to the talented culinary team at Los Poblanos. She says, "pastry is lucky to be the last thing a guest experiences, so we get to create the lasting memory for diners and provide the final 'wow' moment." We invite you to experience the wonderful goods coming out of our bakery by joining us for breakfast, lunch or dinner, or stopping by the Farm Shop for freshly baked artisan breads and pastries.