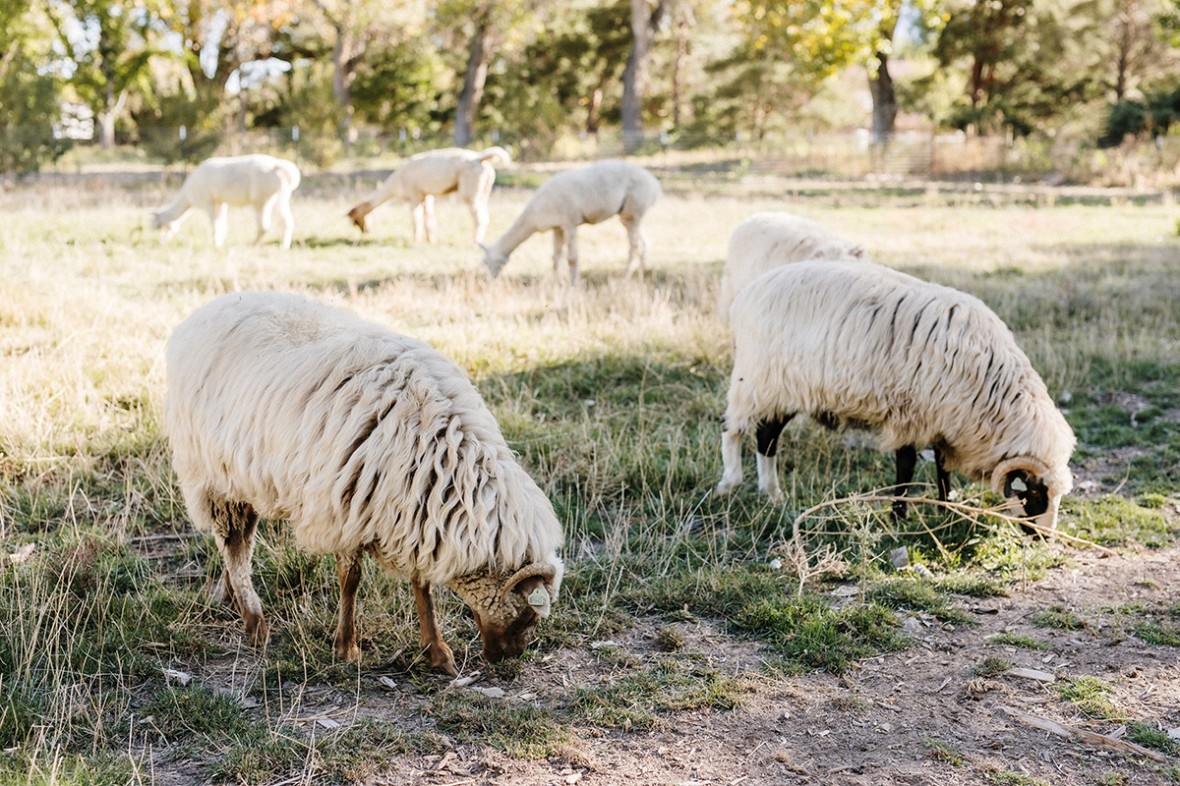 Turning lemons into lemonade in the New Mexico desert
At Los Poblanos we dig deep, literally, as we turn the soil and plant seeds that will nurture us into the future. In their own words, here's a glimpse of what our farm team is up to.
The gardens, farm and fields continue to be worked. Mother Nature waits for no one. Fruit trees are being carefully pruned, mindful of the spring to come and the bounty of the harvest which represents hope for the future. Compost is being made with contributions from the farm - manure and bedding from our alpacas, chickens and sheep, plant material from the lavender fields, leaves from the trees and flowers and vegetables past their prime.
Seeds are being planted. Seeds in the greenhouse, seeds in the soil, seeds in our collective imaginations as we share our visions of the opportunities and challenges we are facing together. Farmer, Chef, Baker, Mixologist and Distiller all come together to share skills and questions that draw creativity from each of us, ultimately conceptualizing future food and beverage menus that will highlight flavors from our fields.

On our vegetable farm
We are tucking in our winter crops that will sustain us until spring. In the meantime, we are making plans for the 2021 growing season. In the coming year, our focus is to improve the farm by growing more produce in the same amount of space, providing the highest quality produce to our kitchen, and experimenting with no-till methods of farming to foster healthy soil. Working closely with the chefs to reduce food waste, we will maximize our composting operation to reuse and recycle all of our green waste.
In the flower fields and greenhouse
The team is working to dig up Dahlia tubers, plant cover crops and flowers, propagate lavender and grow herbs. The Dahlia tubers will be propagated to further develop our cut flower program. Ranunculus, Anemone, Larkspur and Sweet Peas have been planted to boost our spring flower harvest. Cover crops blanket the fields in a wash of green that will feed the life in our soils to promote a more fruitful growing season. Lavender cuttings are putting down roots, creating the next generation for our fields.
Distillation continues
Lavender colors so much of what we do here. From the greenhouse to our fields to the alembic copper stills, so much of the distillation team's time is spent with our most beloved botanical, producing oil for our artisan product line. The winter gives us time to dream and experiment with more native herb distillation and creative solutions to waste, like recycling Campo's orange peels into fragrant hydrosols. When we are not working in the fields, we are constantly learning and adding compost to the fertile soil of our minds.
Planting seeds for the future
It is a busy time on the farm, and the work we put in now will ensure that the next growing season provides us with an abundant harvest time. 2020 proved to be a year of challenges and changes. We will take the lessons we learned this year and apply them to 2021, and we can make the next growing season one to be proud of.