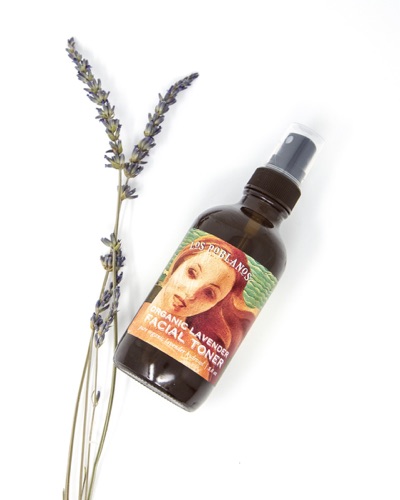 Los Poblanos is thrilled to introduce the newest member of their lavender apothecary line – Organic Lavender Facial Toner. We live, work and play in the high desert – and so does our skin. Organic Lavender Facial Toner provides a refreshing, hydrating experience to combat arid desert conditions, and relaxes with its calming lavender fragrance. Pair it with Los Poblanos Lavender Skin Care Oil and consider your morning skincare routine complete.
Steam-distilled on the farm, this Organic Lavender Facial Toner consists of 100% pure organic hydrosol of Lavandula Hybrida Grosso (a natural hybrid or Lavandin) and has an herbal, grassy fragrance, much like a lavender field after the rain. Hydrosol is the plant water produced during the steam distillation of essential oil and may be used directly on the skin.

In a world where most skincare products are filled with chemicals and additives, Los Poblanos is celebrating all-natural products that come directly from the land of New Mexico and work well with all skin types. "Lavender Hydrosol is a secret weapon in my medicine cabinet – it's my go-to for reducing inflammation and redness. It gently hydrates and leaves me feeling uplifted, fresh and ready to take on the day," says Licensed Esthetician Brandilyn Fagan.

Using a copper alembic still, Los Poblanos employs a centuries-old distillation technique to produce the purest field-to-face experience that will enhance any beauty regimen. Los Poblanos consults with highly discerning aromatherapists, traditional naturopaths, distillers and educators when developing new products, and this Organic Lavender Facial Toner is no exception.

Since 1999, Los Poblanos has been growing, harvesting and distilling lavender on land that was the headquarters for the historic Los Poblanos Ranch. Organic lavender farming enables Los Poblanos to further their preservation mission by balancing a rich agricultural history with environmental concerns such as water conservation and soil structure. Lavender is a low water use plant that thrives in our arid environment, and the Los Poblanos fields have grown to hold thousands of plants after years of hand propagating the original lavender plants in the historic greenhouse.

To shop this product and others in the Los Poblanos apothecary line, visit the Farm Shop.