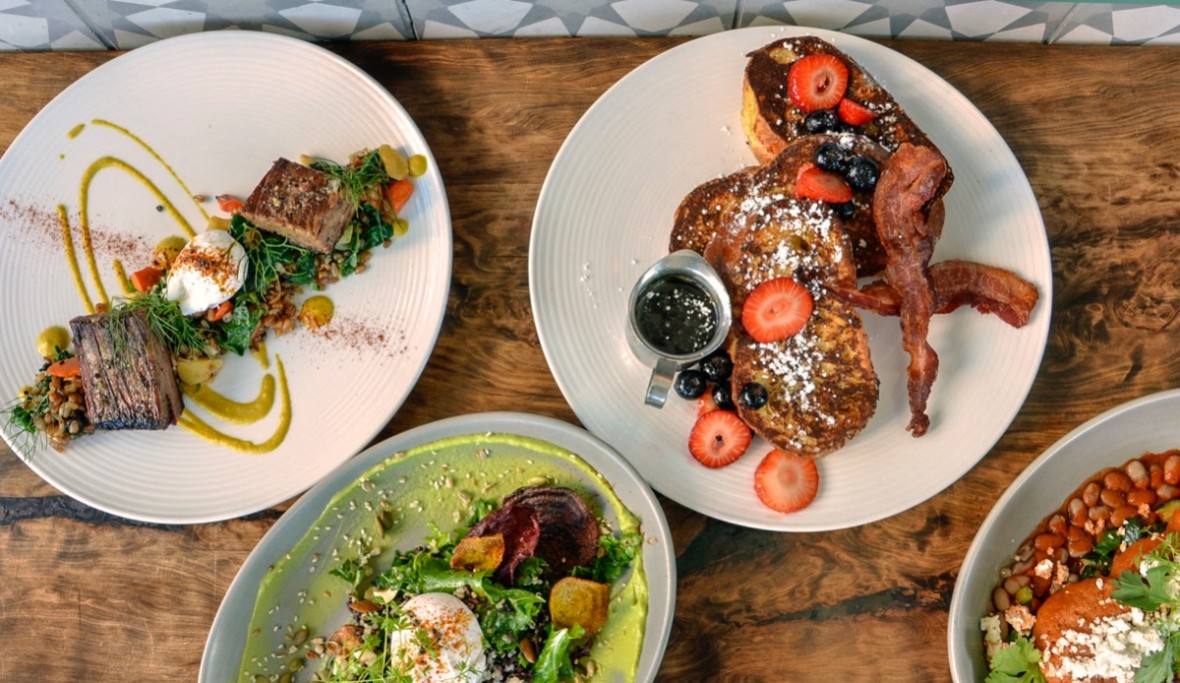 Welcome spring with a new menu at Campo
Led by James Beard Award semi-finalist, Executive Chef Jonathan Perno, Campo's Rio Grande Valley Cuisine is rooted in organic ingredients that are celebrated with each seasonal menu change. With cuisine that marries our own farm's harvest with ingredients sourced from local farmers and herdsman, each dish exemplifies a dedication to quality which is experienced in every bite.
The new dinner menu features a refreshed assortment of beginnings, house-made pastas and main courses, including a milk-braised New Mexican pork loin with a hot sauce butter and Mole Rojo featuring Shepherd's Lamb, the only certified-organic lamb in New Mexico.
Fresh flavors for breakfast too
Inspired by our chef's personal experiences and the daily harvest, breakfast at Campo is the best way to start any day. Drawing inspiration from his grandmother's cooking during lent, our morning Sous Chef, Rey, creatively crafted the Torta de Huevo, which whips eggs into a light dumpling and perfectly pairs with red chile, calabasitas and beans. From challah French toast to smoked brisket and egg, there is something to delight every palate.
Meet the mixologist
Dylan Storment
Sommelier, Director of Wine & Spirits
There's an impressive collection of incredibly talented people around the farm with a true dedication to their craft. With over ten years at Los Poblanos, Dylan plays a crucial role in developing the Wine & Spirits program and offers an exciting mix of local and international producers to the Bar Campo menu.

An Interview with Dylan
Favorite booze or wine on the list? For booze – I'm a big bourbon and Scotch guy; for my bourbon I like a high wheat profile in the bill. When I'm drinking Scotch— it's Islay all the way. We have a bottle of William Larue Weller on the shelf that's pretty amazing. As for Scotch, there's some Bruichladdich Octomore that I wouldn't ever pass up. At the end of the day, amaro makes everything better, and we have a unique selection to suit every palate. For wine – that's a tough one, I love far too many. Currently, we have an '04 (killer vintage) Châteauneuf-du-Pape that's screaming out loud. Also, one of the best Merlots I've had in recent years; the '13 Snowden "Lost Vineyard" Merlot is tasting beautifully. As the weather gets a bit warmer, and we're sitting on the patio, I'd hope to reach for Swiss producer Jean-Rene Germanier's uplifting Fendant from the Grand Cru of Vetroz.
Favorite drink? At the end of the day, a perfect Negroni is hard to beat. A Boulvardier can be even better in the cooler months. Though, I'm a fan of fine spirits served straight, served on one large cube.
Favorite pairing? Oysters on the half shell with a great Champagne is a hard match to beat. A rare lamb rack and Cote-Rotie as well!
Best Monday/Tuesday special at Bar Campo? There has been some incredible fried chicken coming out of our kitchen on Mondays and Tuesdays – and did someone just say something about Champagne…?
Craziest bar story? Yep. Lips, sealed.
Learn more about our culinary team here.