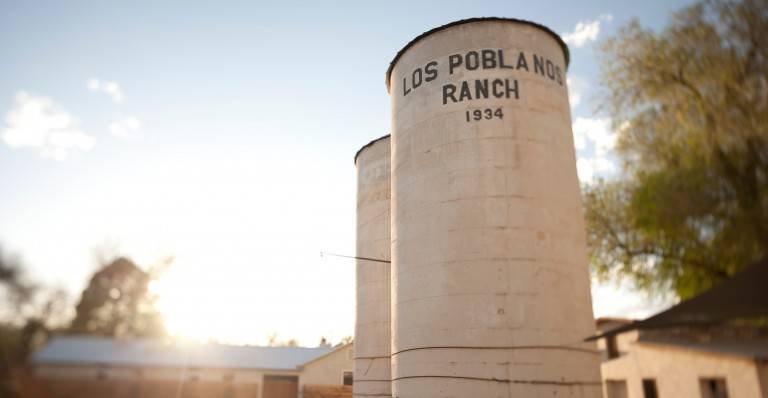 Los Poblanos has been a part of the New Mexican landscape for as long as almost anybody can remember. From it's time in the 1930s as an 800-acre ranch owned by the Congressman, Albert Simms, and his wife, Ruth Hanna McCormick Simms to it's life today as a historic inn and organic farm proudly producing its own artisan lavender products and Rio Grande Valley cuisine. Throughout it's 80-year history, Los Poblanos has worked its way into the hearts and minds of every person who has ever strolled the grounds, spent the night, or come to celebrate. Su Casa Magazine captured it best when they said, "one could spend a lifetime at Los Poblanos and never fall out of love." We wholeheartedly agree and it is our greatest pleasure to be able to share this special place with our guests and visitors.
On a Mission
As both a family and a community, we seek to preserve the historic Los Poblanos Ranch by cultivating a dynamic business dedicated to sustainable agriculture, hospitality, historic preservation, and community. Under the stewardship of Executive Director Matt Rembe, the business has grown in fulfillment of that mission. We have built up our historic inn from six guest rooms to twenty-two, which also houses our field-to-fork restaurant that specializes in Rio Grande Valley cuisine; created a line of small-batch, hand-crafted farm foods and spa products using our own farm-grown lavender and herbs; opened the brick-and-mortar Farm Shop store to sell our products along with a thoughtfully curated selection of other local and artisan goods; our events staff have made Los Poblanos into a must-have venue for weddings, meetings, and celebrations of all kinds; and finally, our dedicated team of farmers have thoughtfully transformed the surrounding fields into a fully organic farm that produces our signature lavender as well as fruits, vegetables, spices, and herbs for our restaurant and private event kitchens.
The next phase of growth for us will be the renovation of our historic dairy barns (the original home of the dairy co-op that started New Mexico's own Creamland Dairies). The barns are set to include a new restaurant, bar, small-batch bakery, Farm Shop, and lavender production space. Additionally, we will add 26 new rooms to our Inn that will look out over our fields and the majestic Sandia Mountains. We are beyond excited to be able to restore part of our historic property and to be able to once again share it with the community.
For those who would like to experience first-hand all that we do here we invite you to take a look at our events calendar, where we have listed all of our upcoming Lavender Labs events (workshops, dining, demos, and more!) as well as other fun goings on around the property. Come for a class or stay for the weekend – either way we'd love to see you all down at the farm!
For a glimpse into the magic of Los Poblanos turn the volume up and take a look at this wonderful short film by Cottage Eight Films:
Credits: Silo photo by Josh Hailey. Video by Cottage Eight Films.