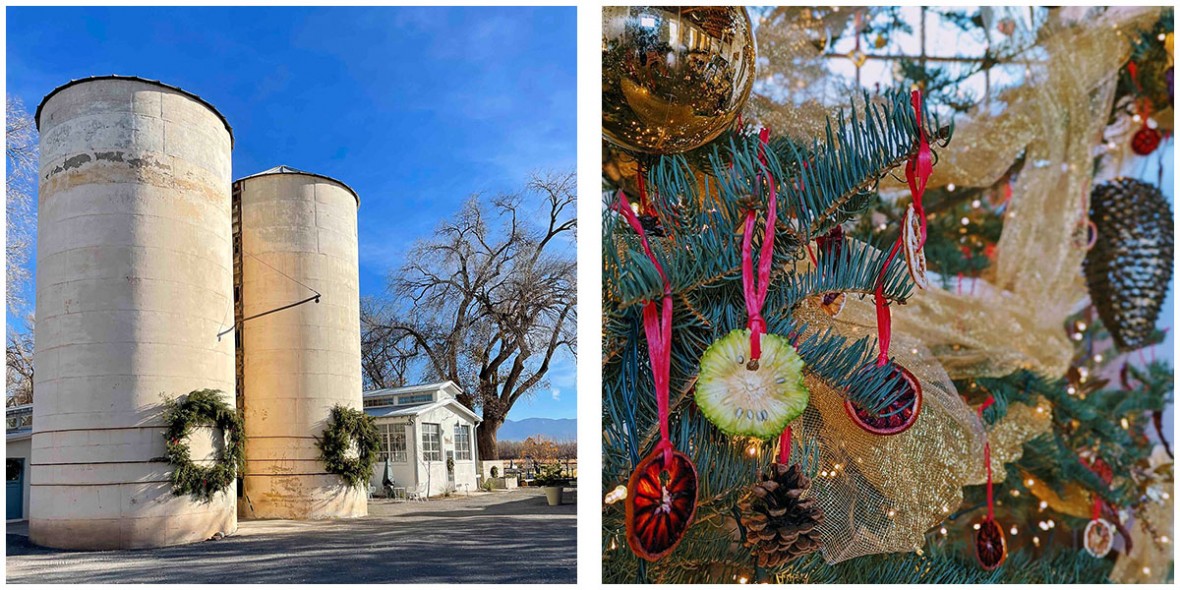 These days, we're feeling pretty festive here on the farm. Over the last week, we've transformed the property from a celebration of the fall harvest season to a spectacular display of holiday cheer. The pumpkins and corn have given way to Christmas trees and wreaths. The distinctive scent of piñon wood burning in our outdoor chimeneas and the sight of migratory sandhill cranes flying gracefully overhead are two familiar signs that winter is indeed here.
---
Los Poblanos has a rich history of holiday traditions. Ruth and Albert Simms, the owners of Los Poblanos in the 1930s and 40s, were well known for their generosity around the holiday season. The Simms were said to have brought gifts to a communal Christmas tree in the Los Ranchos village for many years. They also held holiday celebrations at the La Quinta Cultural Center for their friends, colleagues and neighbors to enjoy.
Since the opening of Los Poblanos Inn by the Rembe family in the late 1990s, winter has been a special season for visitors to revel in the festive spirit on this historic property. This year, our hardworking farm team has been busy harvesting greenery, making wreaths and stringing lights to make Los Poblanos shine with holiday cheer. The Farm Shop is brimming with handcrafted, artisanal products and gifts to check off everyone on your list. The halls of La Quinta are thoroughly decked, ready for our Afternoon Tea and Rembe Lecture Series. Luminarias, or farolitos, line the roofs of La Quinta and the Hacienda Spa, and their glow creates an unmistakably New Mexican scene each evening.

After another challenging year, we are especially thankful for the comfort and joy we find in preparing the property for the holidays. For us at Los Poblanos, that means indulging in the simple pleasure of biscochito cookies and a hot cup of Chocolate de Nuevo Mexico while feeling deep gratitude for being able to gather with friends and family again.
No matter where you are celebrating this year, we are sending you our best holiday wishes and some festive New Mexican cheer!