Spring on the Farm
March - May 2021
There's nothing quite like the way spring awakens our little corner of the North Valley. As the days lengthen ever so slightly and temperatures slowly begin to warm, our dedicated farmers germinate vegetables, herbs and flowers in the greenhouse, grown from seeds saved from previous seasons. Lavender cuttings from our fields were taken to the greenhouse during the winter months, have since sprouted roots and are now transplanted into larger pots to encourage more growth. Soon they'll move outdoors, joining the rest of our magnificent lavender fields. Outside, our beloved lavender plants are lovingly sheared to promote new growth as the weather warms, and in the kitchen gardens, hearty greens and root vegetables are seeded directly into the cool soil. Daffodils and crocus slowly peek their heads above ground, and our flowering trees burst into color seemingly overnight. Most years, migrating Canada geese make the farm their winter home, and welcome a gaggle of goslings who sweetly parade across the property and learn to swim in our lotus pond.
As spring brings new life to the farm, there are countless ways to spend this wonderful season with us. From reimagined lodging packages ideal for a staycation and fresh dining experiences to several new spring activities, all are thoughtfully curated with wellness and safety in mind. Our offerings will grow as the season continues, so be sure to check back for the latest goings-on around the farm during this lovely time of year.
Seasonal Room Packages
Spring on the Farm Room Package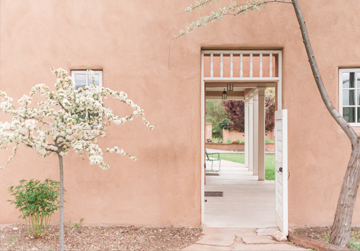 Embrace the changing season with our Spring on the Farm room package and welcome longer days and ample sunshine as life awakens on the farm. Ancient cottonwood trees begin to green and the Rose Greely garden bursts into life, setting the stage for a memorable escape in our beautiful corner of the North Valley. Join us and enjoy award-winning dining, a seasonal culinary gift and thoughtfully planned activities during this special season.
This package is available March 1 – May 31, 2021 and includes:
A luxurious one-night stay at the Inn
Brunch for two at Campo (alcohol and gratuity are not included)
A seasonal culinary gift from our Farm Foods collection
20% off at the Farm Shop during your stay
Double occupancy rates start at $290.
Lavender Lovers Room Package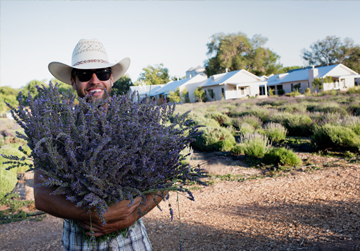 Transform your visit to our lavender farm into a luxurious retreat made even more relaxing with our Lavender Lovers package. Allow yourself to truly relax and recharge with two restful nights at our boutique inn, an organic brunch for two each morning at Campo – where you'll find lavender thoughtfully incorporated into the menu – and a special collection of our favorite lavender products for the season.
This package is available year-round and includes:
A luxurious two-night stay at the Inn
Brunch for two at Campo both mornings (alcohol and gratuity are not included)
A seasonal selection of our Los Poblanos lavender products (assortment changes seasonally)
Double occupancy rates start at $320 per night.
Celebrate the Holidays
and Stay at the Inn
Memorial Day Weekend - May 28 - 31, 2021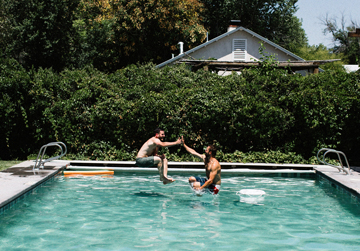 With summer just around the corner, Memorial Day weekend at Los Poblanos promises a fun and festive place to be, with something for everyone to enjoy. Gorgeous temperatures beg us to spend time outside, and with patio dining at Campo, bicycles for cruising the Bosque Trail bike path and our saltwater pool to enjoy, it's easy to oblige. For families staying with us, we'll have a fun lineup of activities to keep the young ones - and the young at heart - busy and entertained. Make sweet memories while enjoying seasonal paletas made in-house by our talented team, family crafts and yard games this special holiday weekend.
Culinary Experiences
Monthly Menu Takeover at Campo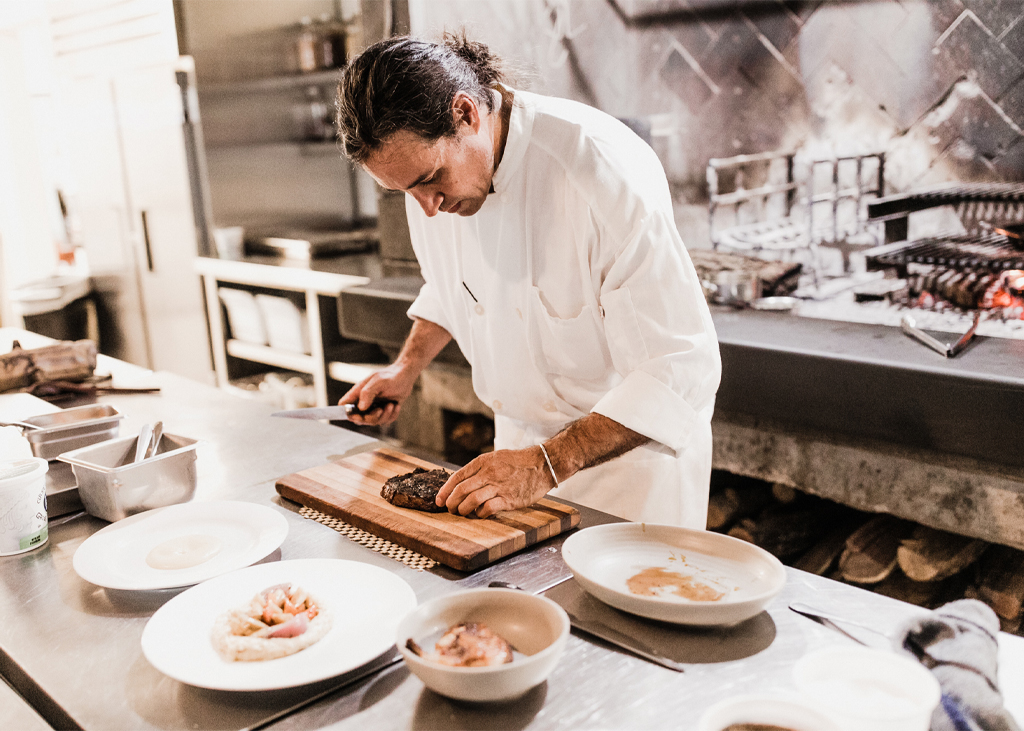 The award-winning culinary team at Campo is pleased to introduce a Monthly Menu Takeover that will showcase an element of New Mexico's rich culinary traditions and celebrate the local ingredients, farmers and cultural history that are central to our Rio Grande Valley Cuisine. These special evenings will replace the supper menu (served from 4:00 - 8:00 pm) and recur on the last Tuesday of every month.
APRIL 27 | Mavis's Goat Cheese
View menu and reserve
MAY 25 | Spring Alliums grown at Los Poblanos, Amyo Farm and Vida Verde Farm
View menu and reserve
Please note, advance reservations are required.
At the conclusion of an incredible meal at Campo, there's nothing better than a leisurely stroll across the farm to your home for the night in one of our luxurious guest rooms. Complete your evening with a stay at the Inn and enjoy 20% off our best room rate, available exclusively for guests joining the Monthly Menu Takeovers, for a stay on the night of the dinner. To reserve, just have your Campo reservation confirmation number ready, and give our reservations team a call at 505-344-9297 x 1023.
Campo Music Series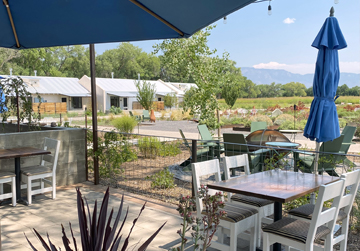 Beginning in May, we'll be welcoming local musicians to the Campo patio each Thursday evening this summer. Paired with beautiful New Mexican weather and incredible, organic Campo menus, you just may want to visit each week.
MAY 6, 5 - 8 pm | Los Paisanos de Chihuahua with Mateo Rembe
MAY 13, 6 - 8 pm | Kevin Herig
MAY 20, 5 - 8 pm | Memphis P-Tails
MAY 27, 6 - 8 pm | Johnny Wayne Lloyd
Please note, advance reservations are required.
Tea at La Quinta
Mother's Day Tea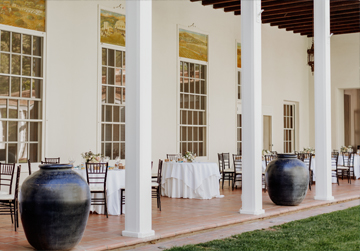 As the historic Los Poblanos gardens burst into bloom, join us for a very special afternoon in celebration of Mother's Day, with a magnificent tea service and an immersive guided experience around the property. Enjoy lovely organic teas from Taos' small-batch, handcrafted tea company, tea.o.graphy, a sweet and savory menu prepared by Campo's award-winning culinary team and live music from accomplished classical guitarist, Daniel Golden. Following an elegant tea service, you'll be invited to tour the Los Poblanos property, stopping along the way to chat with our talented team and learn about our historic gardens, botanical distillation practices and artisan products on the farm, and to meet Dana Blair, our incredible teaographer.
Staggered, socially distanced seatings available from 1:00 to 2:30 PM.
$95 per person + tax and service.
Mother's Day Tea is now sold out. Please email laquinta@lospoblanos.com to join the waitlist.
Afternoon Tea at La Quinta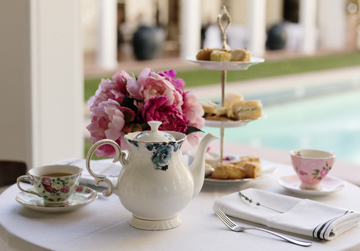 Hosted at John Gaw Meem's 1935 masterpiece, Afternoon Tea at La Quinta promises to be an immersive cultural experience. Revel in the magnificence of Meem's architectural gem, La Quinta, alongside stunning work by artists from the WPA era. Enjoy a beautiful selection of teas from Taos' small-batch, handcrafted tea company, tea.o.graphy, and our culinary team's seasonally-driven take on a traditional afternoon tea menu, with a selection of sweet and savory bites. Following tea service, you'll be invited to join a short, 20-minute docent-led tour at either 3:30 PM or 4:30 PM, highlighting some of the remarkable features of the historic La Quinta building and the artists who contributed to it, and you will leave with a small gift from Los Poblanos.
Seatings are available Wednesday and Sunday between 2:00 and 3:15 PM, from May 12 through October 10.
$52 per person + tax and service.
Spring Activities
Saltwater Pool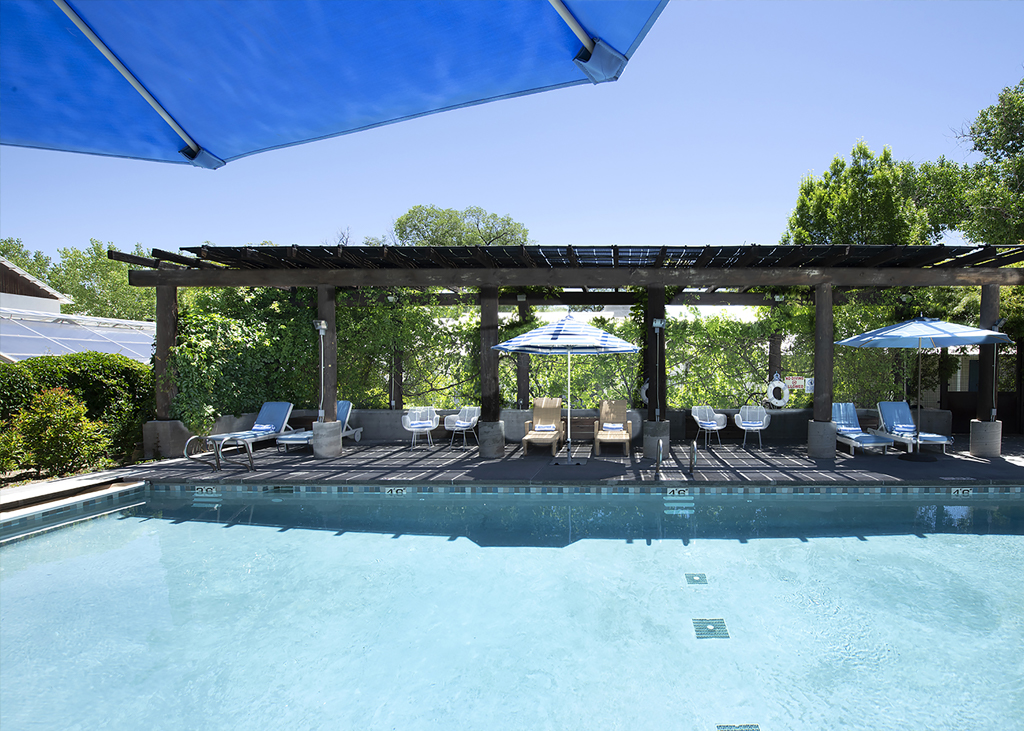 With fireplace season wrapping up on March 21, we're celebrating warmer weather and the opening our saltwater pool, which officially reopens on March 21, 2021. Lodging guests are invited to reserve time at the pool through the front desk upon check in. The pool area will be limited to a maximum of ten people until otherwise indicated.
GET OUTSIDE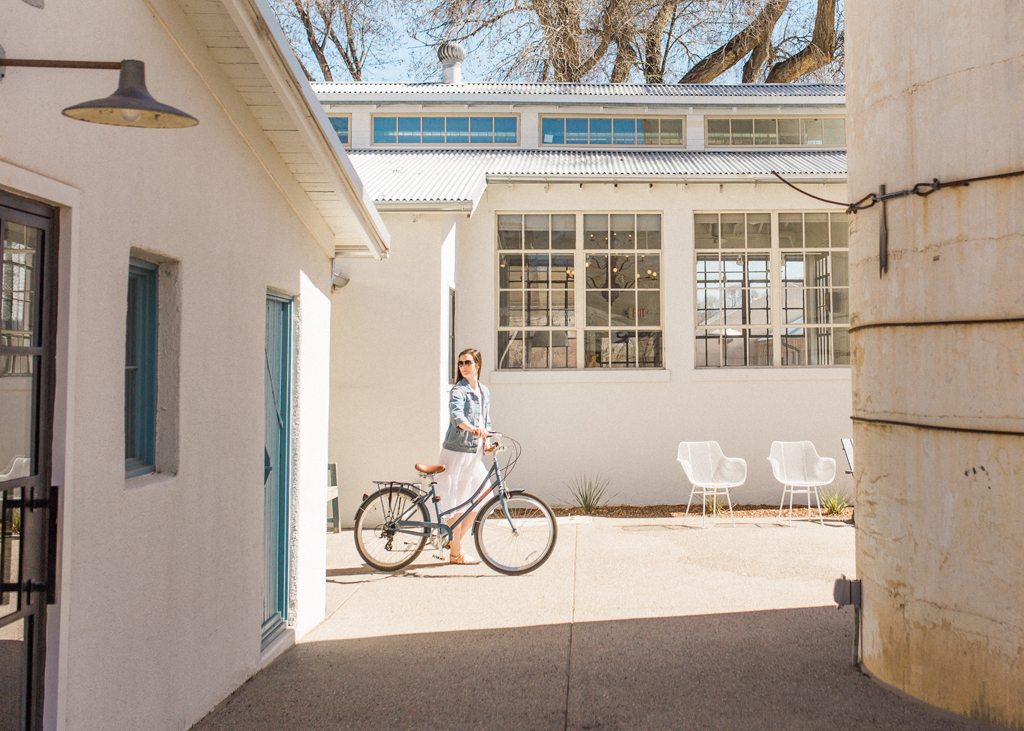 Slow down and take in the serenity and beauty of the farm with a walk or bicycle ride around the farm or on the adjacent to the Bosque Trail. Right across the street, the Los Poblanos Open Space is a wildlife habitat with miles of walkable farm roads. If you're seeking more adventure, we have favorite trails for hiking and mountain biking to share.
FARM SAFARI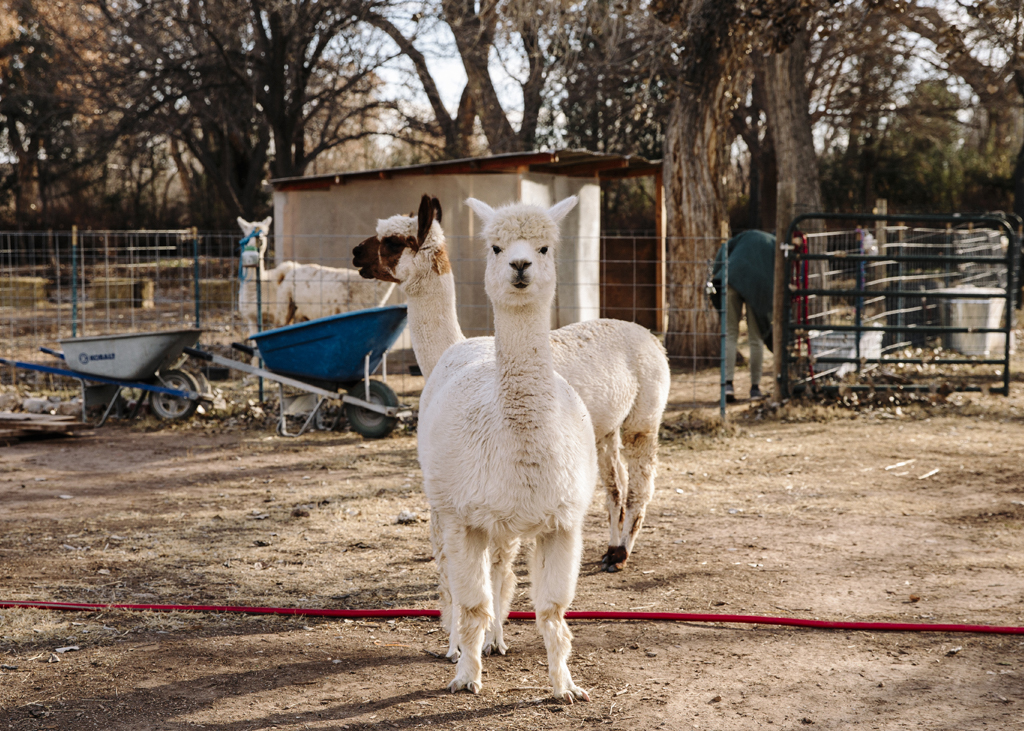 Reserve a private cruise around the Los Poblanos farm on a guided golf cart tour. We'll meet you with your favorite Bar Campo refresco and head over to the farm to meet our friendly flock of animals, learn about our sustainable beekeeping practices and organic kitchen gardens that are bursting with new life this time of year. Then we'll visit the lavender fields with a set of binoculars to try and spot some migratory birds and take in the beauty of the Sandia Mountains. The Farm Safari is exclusively for our lodging guests. $25 per adult, $15 per child, maximum of four guests. We kindly ask that arrangements be made 48 hours in advance. Available upon request through April 25, 2021, based upon availability. Please email Kate Garner to schedule your private experience.
HISTORIC TOUR & NM WINE TASTING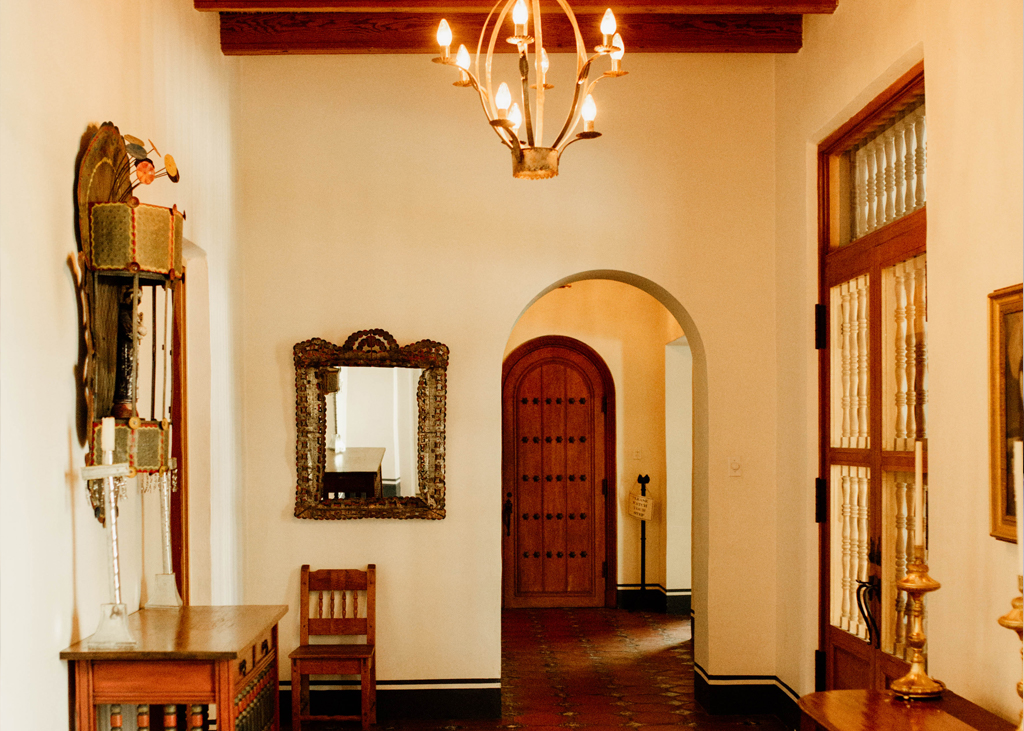 Experience the magnificence of John Gaw Meem's La Quinta building with a private guided tour of the interior, followed by a wine tasting on the historic gazebo terrace. The tour and tasting are designed to showcase some of the best art, architecture and winemaking that are proudly New Mexican. La Quinta was built in 1935 as a cultural center for the local community, and we are excited to share it with guests again this season. This engaging and unique experience is being offered exclusively to our lodging guests. $50 per person, maximum of four guests. We kindly ask that arrangements be made 48 hours in advance. Available upon request through. April 25, 2021, based upon availability. Please email Kate Garner to schedule your private experience.
april tour & tea tasting
THEME: gardens of los poblanos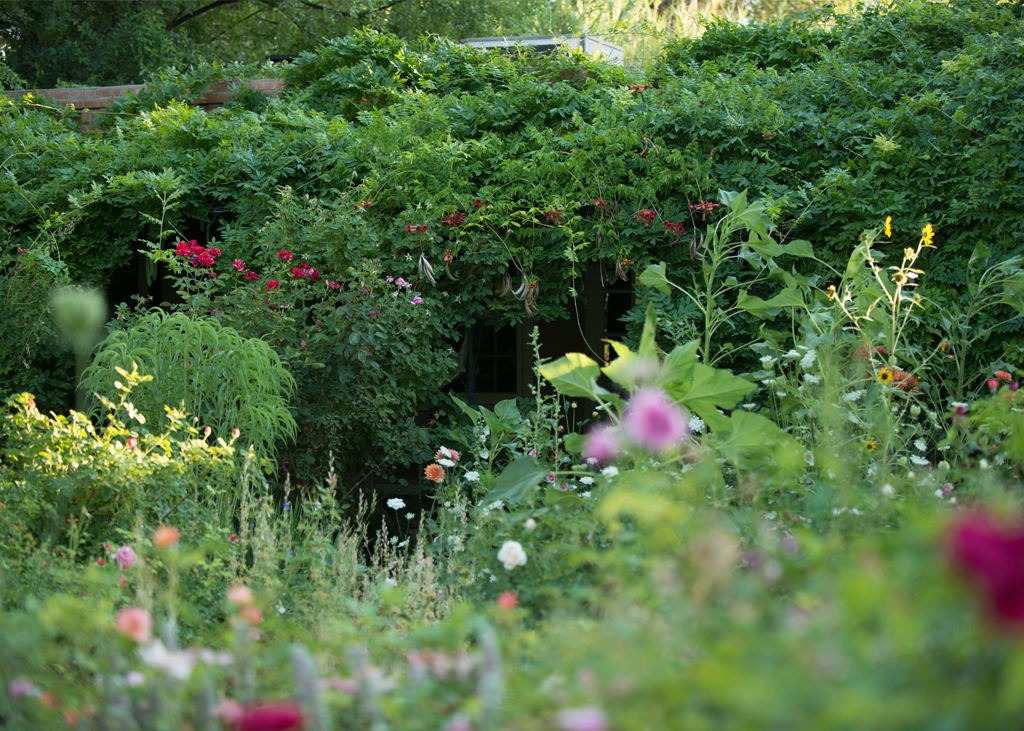 The lush grounds of Los Poblanos are home to countless varieties of plants, including those native to the Rio Grande Bosque as well as those introduced over nearly one hundred years of horticulture design. Join us for a guided tour this spring as our gardens burst into life with magnificent color and fragrant blooms. We'll visit the historic Rose Greely garden, La Quinta's formal manicured lawns and the original Lord & Burnham greenhouse where many of our plants begin their journey from seed to flower. Following the tour, enjoy a tea tasting on our gazebo terrace featuring botanical-inspired teas from our Taos-based partner, tea.o.graphy. Tours will be held in small, socially distanced groups. $25 per person, minimum two guests. We kindly ask that arrangements be made 48 hours in advance. This tour is available upon request through April 25, 2021, based upon availability. Please email Kate Garner to schedule.
Artisan Shopping
Farm Shop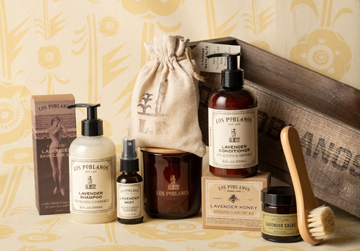 The Farm Shop at Los Poblanos is the one-stop shop you need to tick everyone off your shopping list, whether you're searching for Mother's Day gifts, graduation or birthdays presents or something special just because. From our artisan lavender products to handmade jewelry and local ceramics to charming children's toys, you're sure to find the perfect gift for each of your loved ones.
Check out the Farm Foods Market at the shop entrance, and make sure to peruse our seasonal baked goods, artisan breads and house-made sausages.
Not able to visit the farm? Farm Shop is always open online.