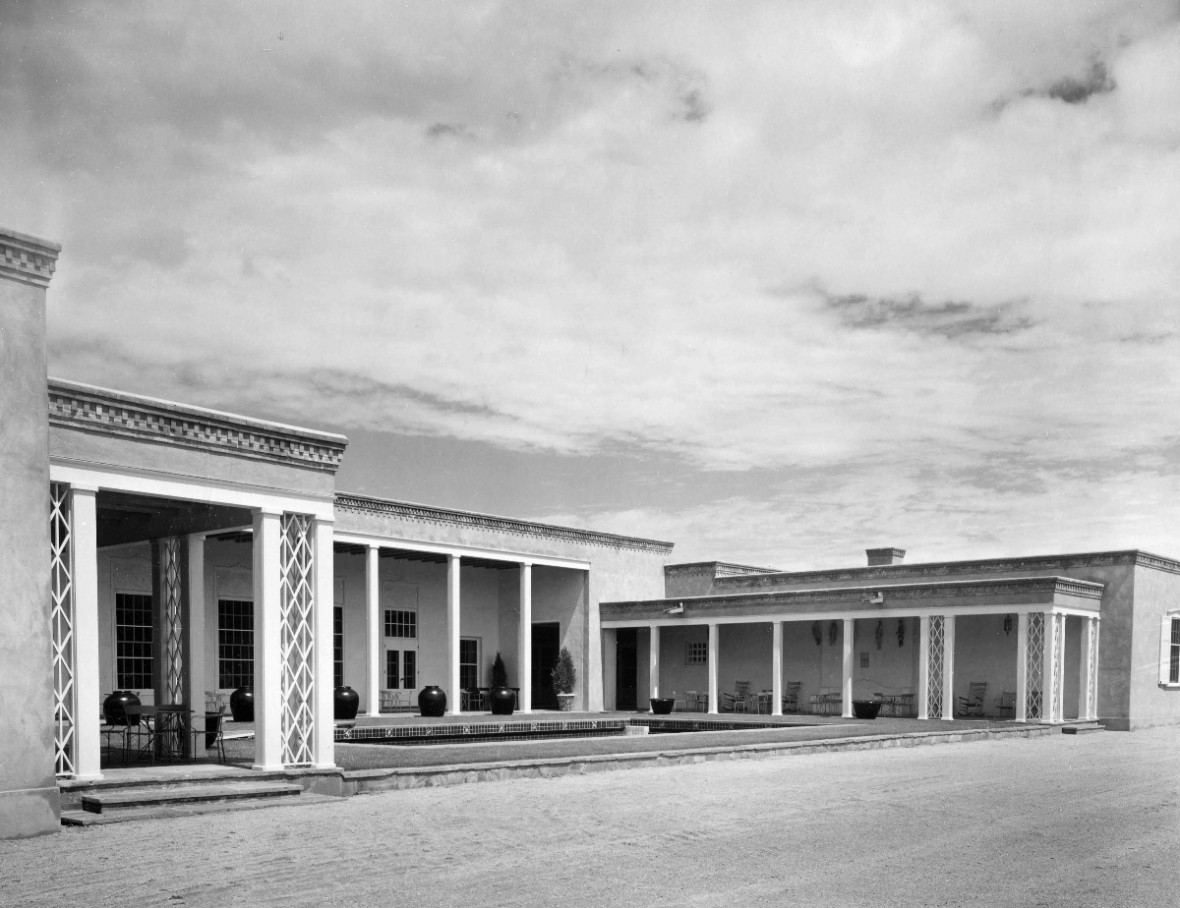 John Gaw Meem's Journey to the Southwest
It was the spring of 1920 when 25-year old John Gaw Meem IV headed west from New York City. His destination: the Sunmount Sanatorium in Santa Fe, New Mexico. Like many others in the early 20th century, Meem had contracted tuberculosis and been advised by his doctors to recover at a sanatorium in the arid southwest. In a moment of serendipity shortly thereafter, Meem noticed a poster for the Santa Fe Railway and decided on the spot to move to New Mexico for his recovery.
This fortuitous decision ultimately had an incredible influence on our state, and set in motion Meem's path to establishing the Territorial Revival style of architecture that we proudly preserve here at Los Poblanos.

Though his stay in Santa Fe was intended to be temporary, Meem quickly fell in love with the people and places he encountered in New Mexico. His fellow residents at the sanatorium were a collective of creative types, including artists, anthropologists and architects. These new friends inspired him to change careers from engineering to architecture. Visiting Spanish mission churches and Pueblo communities across the state sparked his interest in historic preservation, as well as his belief that architecture should echo the natural landscape to which it is inextricably connected. Throughout the 1920s, Meem established a successful architecture practice and his health continued to improve thanks to the curative high desert climate. With mild winters, low humidity and over 300 days of sunshine, it's easy to see why New Mexico has long been considered an oasis of health and restoration.

This November, we celebrate Meem's birth month and reflect on the impact he has had on our state over the past 100 years. Los Poblanos Ranch and the La Quinta Cultural Center are magnificent examples of his acclaimed architectural style in a vernacular building and formal public building respectively. As stewards of this property, we are committed to preserving the historic buildings and sharing Meem's legacy with our guests and community. In that spirit, we continue to promote a unique model of well-being here that integrates New Mexican history and culture with all the natural health benefits our climate, environment and 25-acre property afford.