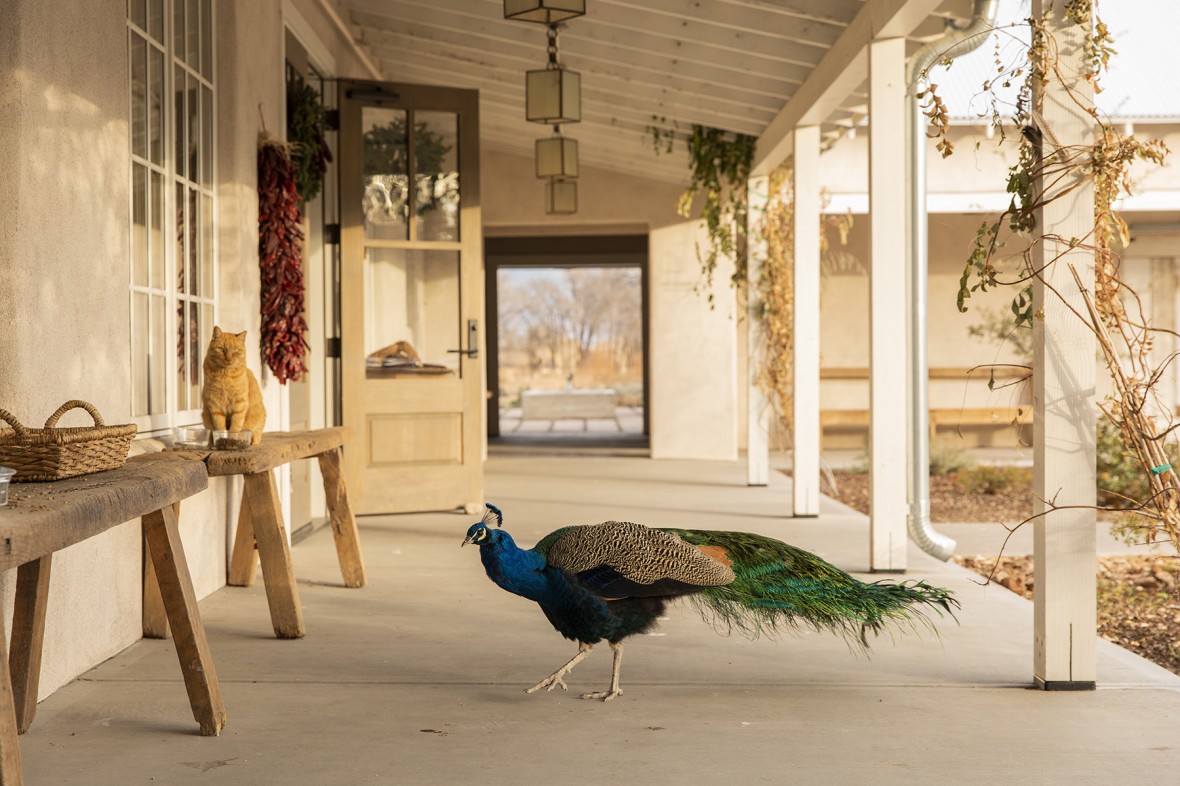 Winter at Los Poblanos is a quiet, peaceful time of respite for our farm and grounds team. But as the days start to lengthen, the soil warms up and preparations for the growing season begin. Tilling, pruning, fertilizing and propagation are routine this time of year as we anticipate the arrival of spring.
Even before greenhouse planting begins, seeds are cold stratified in our walk-in cooler. This process mimics the natural cycle of a fallen seed overwintering in the cold, snowy ground, until temperatures rise and coax the seed out of its dormancy period. As the seedlings mature, they travel from the greenhouse to the hoop house where, after a hardening off period when the seedlings adjust to cooler temperatures, they are finally settled in the New Mexico soil. This cycle is repeated every three weeks for a continuing succession of planting, growing and harvesting.
In the coming months our gardens will be cut back, perennials trimmed, shrubs and roses pruned, and mulch and enriching compost added to planting areas. Meanwhile our fields will undergo a tilling process to remove the roots and rhizomes of invasive grasses. The prepared soil will later be filled with vegetables, herbs, flowers or cover crops after the tilling and removal is done. In our lavender fields, older, non-productive plants will be removed and replaced in the spring with fresh plants propagated in the greenhouse over the fall and winter.
We enlarged our chicken run over the winter and our Lavender Guineas have their own coop. The peacocks are preparing for their big display season and Mouse the cat is looking forward to swapping fireside naps for garden siestas. Shearing begins in April but for now, the sheep and alpacas are content in their thick winter coats. Brothers Topy and Arlo, our newest alpacas, are being trained to halter and lead, as practice for future walks around the property.
We are looking forward to a warm day in March when our lead beekeeper Lara Lovell will peek into the hives to assess any need to repopulate colonies that may have been lost over the winter. (Congratulations to Lara for being invited to join the Board of Directors of the New Mexico Beekeepers Association!) We are also planning to add a new hive to our Slovenian bee house this year.

​​​​​​​
Top and left photo by Ricky Rhodes. Center and right photo by Elizabeth Wells Photography.
Expert Tips: Spring Fever
If you're eager to get your garden started, now is the time to review seed catalogs and collect any seeds you need for the upcoming season. Cool-season veggies and herbs (think leaf and root crops) can be started indoors on sunny windowsills. They can be planted outside with protection in late March into April. For warm-season stuff, plant outside after the first week of May to avoid late frost (if you live in the Albuquerque area). Starting seed indoors four to six weeks before outdoor planting is good for most things.
- Wes Brittenham, Director of Horticulture