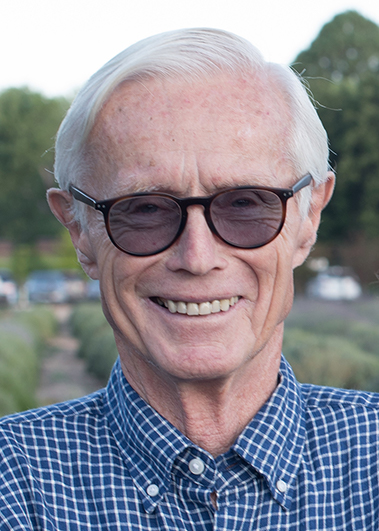 Dr. Armin Rembe - Doctor, Collector, Farmer, Preservationist, Master Beekeeper and beloved patriarch of the Rembe family, died peacefully at age 86 on Sunday, April 25, surrounded by his loving family at their home, the historic Los Poblanos Ranch.
The first oncologist-hematologist in Albuquerque, Armin was devoted to his patients and their families throughout his career, often making house calls and even trading care for lambs and chickens. He loved and studied everything about New Mexico and became an avid collector of Spanish colonial art and proudly served as a judge at Spanish Market in Santa Fe. Retiring from medicine, he started a second career as "Farmin' Armin," growing organic vegetables and eventually lavender, as part of a project to both perpetuate farming in the Rio Grande River Valley and minimize water use in agriculture.
Born in Seattle, WA, in 1934, Armin attended Lakeside High School and graduated from the University of Washington with undergraduate and medical degrees. In 1962, he went on a blind date and fell hard for Penny Taylor, waking his parents the same night to meet "the girl he was going to marry" and proposing on their third date. He adored Penny for 59 years. He was a wonderful father who believed in the value of hard work and enjoying the simple things in life. He truly lived in the moment.

One of Armin's proudest achievements was being a steward of Los Poblanos, to which he devoted 45 years of his life. He was impassioned by the cultural and agricultural history of the property and the work of architect John Gaw Meem, whom he strongly admired for his design sensitivity and invaluable role in historic preservation for New Mexico.

Armin was preceded in death by his parents, Armin and Doris, and his brother, Cody. He is survived by his beloved wife of 58 years, Penny; his two sisters, Toni Rembe Rock and Victoria Walker; his four children, Emily, Armin, Jay and Matthew; son-in-law Mark; daughters-in-law, Shawnie, Jolene and Teresa; and eight grandchildren, who loved their granddad/papa dearly: Isabel, Penny, Abbey, Austin, Jack, Claire, Mateo and Max.

The Rembe family would like to express their appreciation and gratitude for the wonderful care Armin received. Thank you Vangie, Renee, Shlomit, Victoria and Presbyterian Hospice. The Rembe family would also like to express gratitude for the continued support and dedication of the Los Poblanos staff, who work tirelessly to further the mission of Los Poblanos.
In lieu of flowers, those who wish to express sympathy may consider making a contribution to one of the following non-profit organizations in Dr. Armin Rembe's name:
Albuquerque Museum Foundation
Albuquerque Community Foundation
Spanish Colonial Arts Society