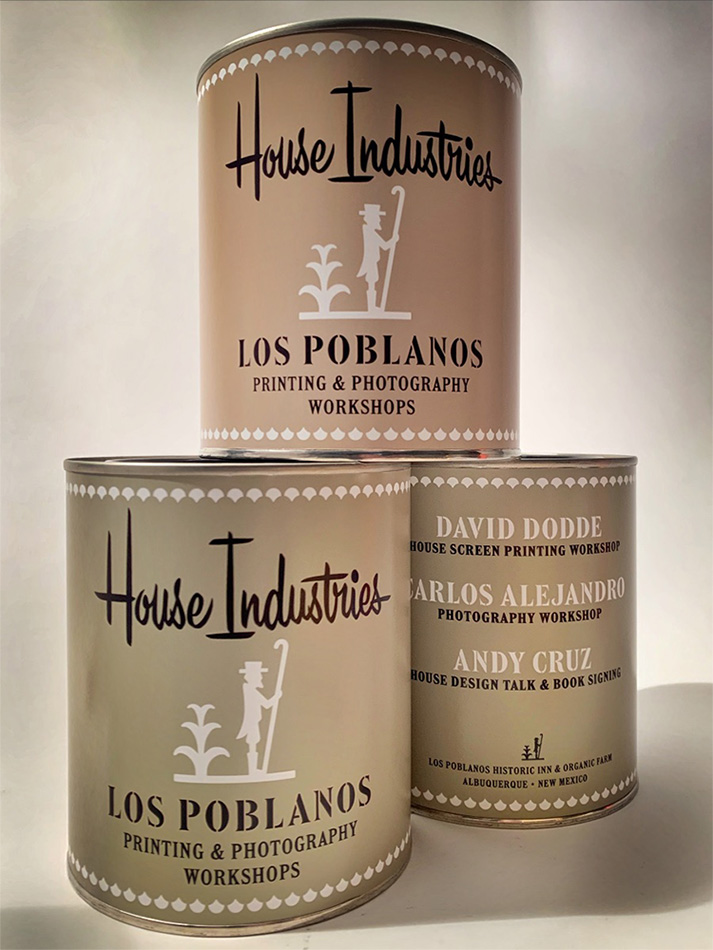 A Weekend with the Masters
Please join us for a very special design-focused weekend in partnership with one of the leading typography foundries in the world - House Industries. House has worked with some of the world's leading designer estates – Charles & Ray Eames, Richard Neutra, Aero Saarinen and even Rat Fink! They have also collaborated with design-driven companies like Herman Miller, Rapha, Uniqlo, Baccarat and Heath Ceramics. Over the years, founder Andy Cruz has partnered with incredible design talent and we're thrilled to host a collaborative weekend this November 22-24, bringing together renowned photographer Carlos Alejandro and award-winning artist, designer and print-maker David Dodde. Don't miss the Screen Printing Master Workshop, photography classes, a book signing and A Design Evening with the Masters featuring new work by Alejandro and Dodde featuring the faces of Los Poblanos, a House design talk and live music from local band the Dukes.

Screen Printing Master Workshop
Experience an intensive one-day workshop that will introduce, develop and enhance skills and help you conquer any serigraphy challenge. Spend an immersive day with master screen printer David Dodde and create a collection of art to take home.
A Design Evening with the Masters
We're thrilled to host a collaborative event bringing together renowned design heroes Andy Cruz, Carlos Alejandro and David Dodde. View breathtaking photographs featuring the faces of the Los Poblanos family captured by Alejandro, and screen printed works by Dodde inspired by these images. Experience a design talk from Andy Cruz, peruse design objects and enjoy live music, cocktails and hors d'oeuvres, all set at the stunning, historic La Quinta.
Carlos Alejandro Photography Workshop | Portrait of Place
Join the talented Carlos Alejandro, House Industries photographer and strategic partner with 27 years of advertising and editorial experience, to wander the Los Poblanos grounds and learn how to turn ideas into images that communicate a clear, powerful message.
Carlos Alejandro Photography Workshop | Portraits of People
Explore light, lens, location and moment to portray a person, persona or both with Carlos Alejandro. Using a phone or camera, understand how to use both natural and artificial light to capture a stunning and thoughtful portrait.
Book signing, exhibition and pop-up shop
House Industries founder Andy Cruz is a proven design titan with work in permanent collections including the Smithsonian Institution's Cooper-Hewitt and the Henry Ford Museum of American Innovation. Don't miss this opportunity to meet him, view the gallery exhibition and shop some of his work.