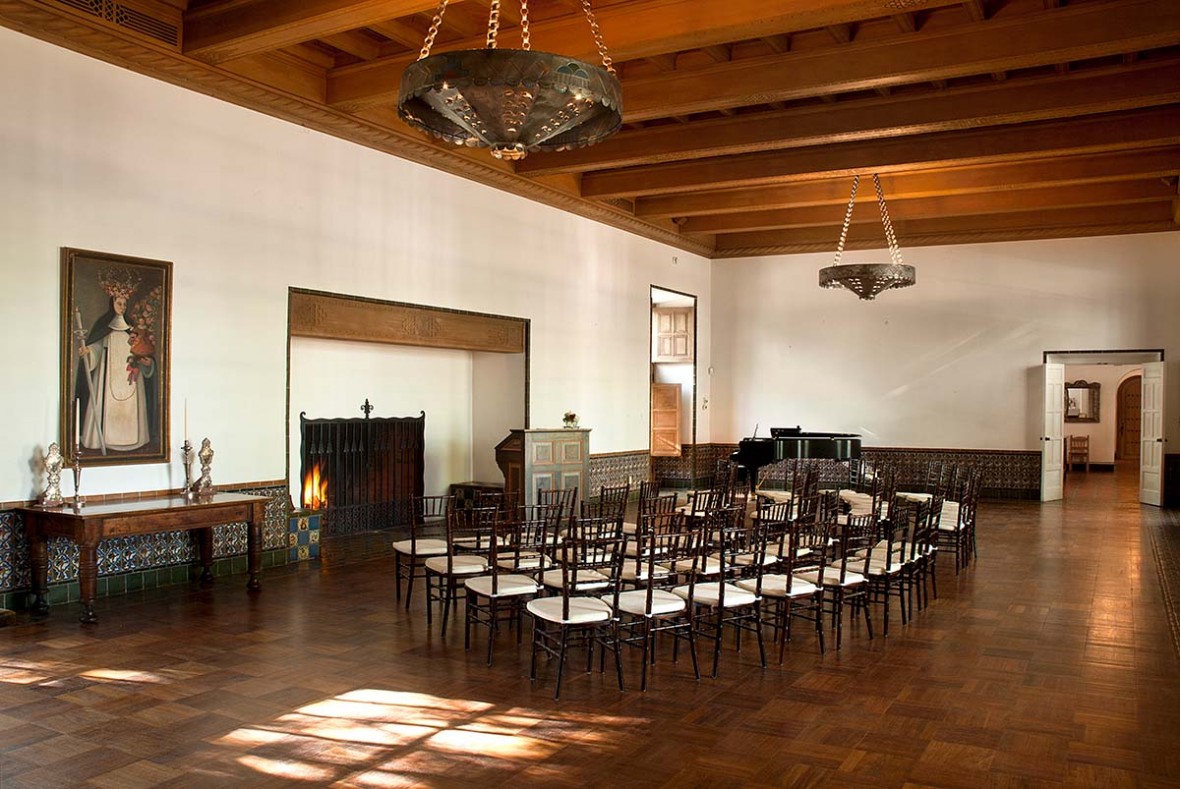 We are thrilled to introduce the Dr. Armin Rembe Lecture Series at La Quinta, occurring monthly beginning on October 20. Named in honor of Dr. Rembe, who passed away this spring, and inspired by his love of Los Poblanos, his curiosity, intelligence and community relations, this series aims to celebrate his legacy by promoting stimulating conversations rooted in the core values and mission of Los Poblanos. The lecture series is also a nod to the rich history of La Quinta Cultural Center of the 1930s and 1940s, when the Simms family held lectures and events that promoted the arts.
As we work to preserve La Quinta as an important architectural landmark, we also aim to emulate its dynamic programming through our own curated events and experiences. Join us for a culturally rich day at La Quinta by joining us for afternoon tea before the evening lecture.
Upcoming Lectures
Reflections on the Los Poblanos Farm with Wes Brittenham
October 20, 2021
For our inaugural lecture in the La Quinta Lecture Series, Los Poblanos Director of Horticulture, Wes Brittenham, will illuminate the ideas behind our sustainable farming practices at Los Poblanos. Framing his talk around the tenets of regenerative agriculture, Wes will highlight examples of the five Healthy Soils Principles, and how they are incorporated into the daily farming practices in our fields through the seasons. These intentional practices foster a holistic approach to our organic farming and gardening philosophy that help us to work with nature, and with the unique conditions found across the property. Join us for a lively conversation that will touch on timely topics including composting, organic gardening, wildlife habitat preservation, native plants and more.
About Wes: Wes Brittenham grew up in Albuquerque and has over four decades of horticultural experience. From plant nurseries and flower shops, to residential and large commercial landscape design, installation and maintenance, his background is as diverse as gardens can be. He is a landscape designer and his work ranges from austere contemporary with Asian influences to wild natural gardens. He works with Native and Adaptive plants using elements of water harvesting and conservation, permaculture, edible and medicinal plants, and plants for pollinators and wildlife habitat. He has always been a backyard farmer, growing vegetables, herbs and other plants that are appropriate for our southwestern environment. Here at Los Poblanos, he oversees all growing things, from the Historic Gardens to the newer more xeric and multi-functional landscapes, as well as the Kitchen Garden and our beloved fields of lavender. As an artist and gardener, Wes is right at home with the history, culture, art and architecture that make Los Poblanos Historic Inn and Organic Farm such a wonderful place to be.
The Evolution of Los Poblanos Architecture & Landscape with Professor Chris Wilson
November 10, 2021
As the author of Facing Southwest: The Life & Houses of John Gaw Meem, Chris Wilson knows the deep history of Los Poblanos. Learn how Meem, the architect, and owner Ruth Simms sought to develop a regional classical style, the Territorial Revival, to distinguish Albuquerque from Santa Fe's Spanish Pueblo Revival. This lecture will be held in Meem's 1934 masterpiece, the La Quinta Cultural Center at Los Poblanos, immersing guests in the result of their collaboration. Having worked closely with the Rembe family for the past 20 years, Wilson will also share the guiding design principals behind the recent Inn expansions, which extended the vocabulary of Territorial Revival and utilitarian farm buildings while seamlessly blending architecture and landscape through a rich variety of courtyards and garden rooms.
About Professor Wilson: J.B. Jackson Chair of Cultural Landscape Studies, Emeritus and founding director of the UNM's Historic Preservation and Regionalism Program, Chris Wilson, is a leading scholar of the cultural and architectural history of the Southwest. His book, The Myth of Santa Fe: Creating a Modern Regional Tradition, tells how the city transformed itself in the early 20th Century into a leading arts and tourism center. His co-authored, The Plazas of New Mexico, celebrates the state's three public space traditions—Pueblo and Spanish Colonial plazas and Anglo courthouse squares—and the annual cycles of rituals and celebrations that have sustained communities from generation to generation.
Gustave Baumann, Holiday Printmaking Traditions
December 8, 2021
Of the many New Mexican artists who worked on Los Poblanos Ranch and La Quinta in the 1930s, Gustave Baumann was certainly one of the most esteemed. The beautifully carved wood doors and fireplace mantle at La Quinta are the work of a master at the top of his game. What is perhaps less well known about Baumann, however, is that he had a wonderful sense of humor. And nowhere was this more apparent than in Baumann's annual holiday card tradition. Join us this December for a lecture presented by Thomas Leech, co-author of Gustave Baumann and Friends: Artist Cards from Holidays Past, to hear about Baumann's renowned wood-block printmaking skills, whimsical sense of humor and his role within the Santa Fe artistic community.
About Thomas Leech: Thomas Leech is the Curator and Director of the Press at the Palace of the Governors in Santa Fe. A decade's-long admirer of Gustave Baumann, Leech has curated exhibits and published articles on the master's life and work.
Flamenco in Albuquerque, presented with the Cervantes Institute
January 5, 2022
Our January lecture is presented in partnership with the Cervantes Institute, an international non-profit organization focused on celebrating Spanish language and culture with a strong presence in Albuquerque. Join us as we dive into the world of Flamenco in Albuquerque, a tradition with roots here dating back hundreds of years. A short introduction will put in context the significance of flamenco in our city, followed by a performance that demonstrates the beauty of this renowned artform.
Featured partners, presenters and musicians include Silvia Rodríguez Grijalba (Executive Director, Instituto Cervantes de Albuquerque), Mario Febres (flamenco guitar player), Giovanna Hinojosa (teacher at the Conservatory of Flamenco Arts) and Vincente Griego (flamenco singer).
View more details on the full lecture series on our calendar.