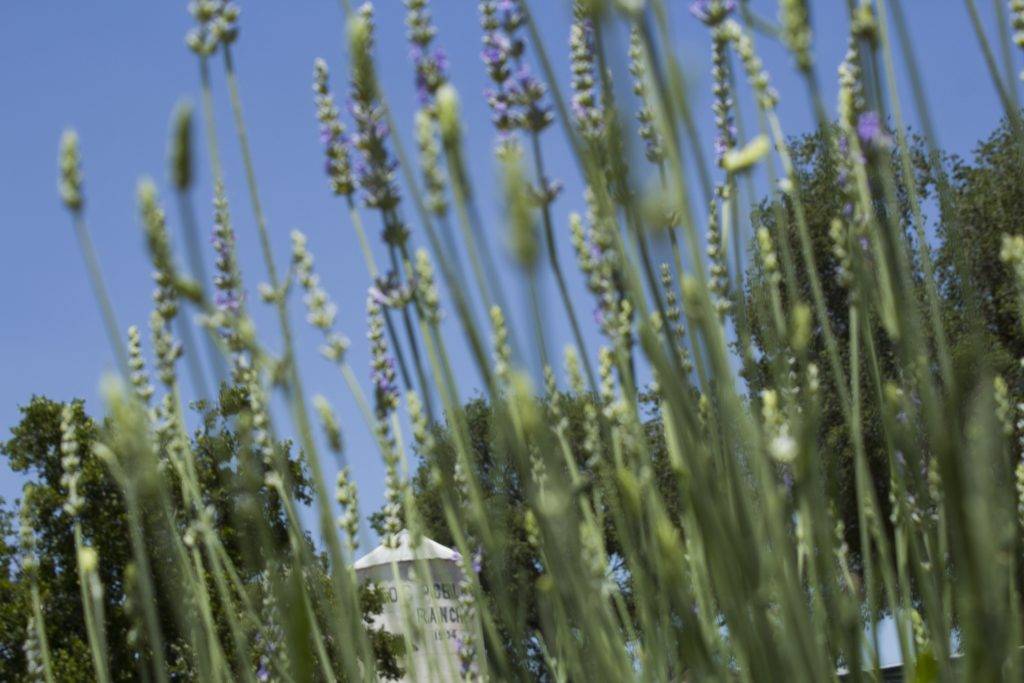 Some people wait all year for the winter holidays to roll around, but here at LP we wait with giddy excitement for something else completely: Lavender Season. So, as the first velvety purple blooms begin to emerge, we are pleased to announce that the time is finally here! And to celebrate we have packed our Events Calendar full-to-brimming with Lavender Labs events (that's what we call our collection of lavender-centric workshops, classes, dinners, etc.). All through the months of June and July we invite the community to come learn about and experience lavender. Whether you're new to it or an old hand, there is something for everyone during our Labs.
Highlights of the season include (but are definitely not limited to!):
Lavender 101 – Saturday, July 25 | 6 to 8pm – This is the perfect class for those looking to learn more about the unique healing properties of lavender. You will have the opportunity to smell, touch, and taste varieties from all over the world, while learning what makes them special and how to use them in your own lives. This class will be lead by Christa Obuchowski, whose experience and knowledge of botanicals – especially lavender – is immeasurable. This experience is designed to work with the Lavender Self Care Class taking place the next day. Update: This class has already sold out!
Lavender Self Care Class – Sunday, July 26 | 9am to 5pm – Immerse yourself in lavender with this full-day class designed to heal the mind and body. Begin the morning with a sound meditation in the lavender fields, lead by Aimee Conlee (our Lavender Wholesale Manager and resident Lady Lavender), which will include breathing, light stretching, and relaxation techniques involving sound. Following the meditation, enjoy a guided walk through our fields, led by aromatherapist Christa Obuchowski, who will give an in-depth discussion about the botany of lavender, and its long history as a healing plant. After a leisurely break for lunch under the cottonwoods, Christa will instruct students on how to make a cooling mist, bath soak, as well as other therapeutic lavender compositions.
For those of you looking for the ultimate lavender experience, we suggest taking both classes as well as booking a night at the Inn. Just imagine waking up in a beautiful sun-filled room, and taking a lavender scented bath before heading over to the restaurant for a gourmet field-to-fork breakfast. All before a full-day of relaxation and enrichment for your body and mind, can you say "ahhhh"?
Long Table Dining Series: Lavender Dinner – Friday, July 8th & Saturday, July 9th | 6 to 9pm – Join us as we continue our Long Table Dining Series featuring culinary lavender and Rio Grande Valley Cuisine. Los Poblanos will be hosting a four-course dinner highlighting lavender and the flavors of summer in the North Valley. Chef Jonathan Perno has created a special menu to share both nights that pays homage to our favorite botanical. Wine pairings have been thoughtfully curated by our Beverage Manager and resident sommelier, Dylan Storment. To complete the experience, every guest will take home a lavender favor from the farm at the end of the evening.
Lavender Distillation Demo – Friday, July 29 & Sunday, July 31 | 11am to 12pm – Come see how the fruits (or more accurately, the oils) of our labor are made! We spend all year getting our organic Grosso Lavender plants ready for this process. Join our farmers and owner, Armin Rembe, for a fascinating demonstration as we capture lavender oil through steam distillation. The essence of lavender is extracted using steam to liberate the oils. The essential oil rises to the top where it is drawn off and bottled, ready to be enjoyed. The distillate water, also known as hydrosol, flows from the bottom of the separator, where only the water has accumulated, and is bottled for use in our artisan lavender products.