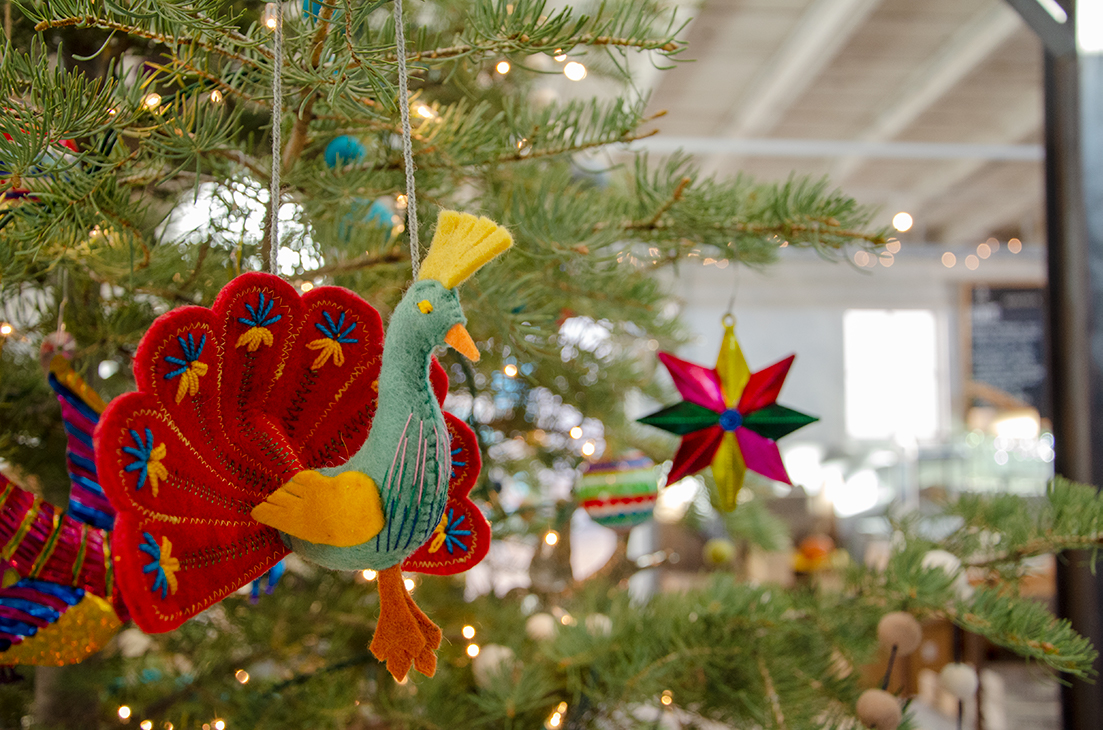 Shop for the holidays with local makers
Come in from the cold, meet the magnificent makers and kickstart your holiday shopping.
Get started on your holiday shopping list at the Farm Shop while meeting a few of our wonderful artisan makers and partners, listed below. Shop their offerings, pick up seasonal treats from our bakery and shop our full line of organic lavender products.

The Darlands Old Monticello Farm
The Darlands create traditional balsamic in Monticello, New Mexico with estate-grown organic grapes aged in rare wood casks from Modena, Italy. If you want the perfect gift for a devout chef, food enthusiast or newlywed foodies, look no further.
Tea.o.graphy
Tea.o.graphy is a local tea company from Taos, NM. Dana, owner and teaographer, blends each tea by hand using only natural herbs and teas from across the globe, with no artificial flavors or chemicals. Tea.o.graphy teas are featured at Los Poblanos in the Farm Shop, at Campo and in guest rooms.
Eldora Chocolate
Steve at Eldora makes chocolate that engages the soul, inspires the senses and respects the valuable resources of this earth as nature intended. Committed to real ingredients that retain healthy benefits, Eldora Chocolate incorporates flavors such as mole, raspberry, sour cherry, Mexican coffee nibs and lavender lemon.
Nicky Ovitt
A native New Mexican who grew up among the collection of Alexander Girard in Santa Fe, Nicky illustrates, designs and produces goods that are vintage-inspired with classic American roots. With a dedication to sourcing domestic labor and materials, Nicky's product line is cute, clever and very giftable.

Kei & Molly Textiles
Kei and Molly are two social entrepreneurs committed to impacting the lives of immigrants, refugees and trained artisans in our local community by providing employment in craft and production. Using eco-friendly inks and 100% natural fibers, they create sustainable and beautifully designed textiles that are colorful and cheery.
Kit Watches
Drawing a sense of innovation from time in New York City and an understanding of quality craftsmanship from visits to Germany, founder and artist Jeanne was inspired to create a practical and well-designed watch. With thoughtfully selected details, Kit Watches are truly quality items that are designed to withstand the test of time.
Trilby Nelson
Using her art and design background, Trilby Nelson textiles celebrate color, pattern and texture. Her products strive to leave a minimal impact on the environment by sourcing sustainable materials and working closely with U.S. manufacturers. Her cheerful blankets brighten any room, and are the perfect year-round weight.
Tucker Woodshop
Edmund Tucker hand-crafts beautiful items made from scrap wood foraged from wood shops around Albuquerque and Colorado. We are especially fond of his collection of building block sets, made of solid wood. They are handmade in Albuquerque and are a delightful addition to any child's toy box.
November 15 | 5-8pm